 About
«Cute and Fluffy» is the very funny video slot for those who like pets and its heroes are really nice and fluffy. Here you can see such pets as a kitten and a puppy making their common work at home. They are having fun, playing, a kitten is playing with a wool ball, while a puppy is playing about with a bone. In the other words if you enjoy small and soft purring balls under your feet and funny puppies, this online slot machine would definitely suit your taste. However we think not only the animal lovers can be interested in this slot. It can bring really good payoffs and we have experienced what means playing for a huge jackpot even when you are risking to lose everything. Well, let's take it in order.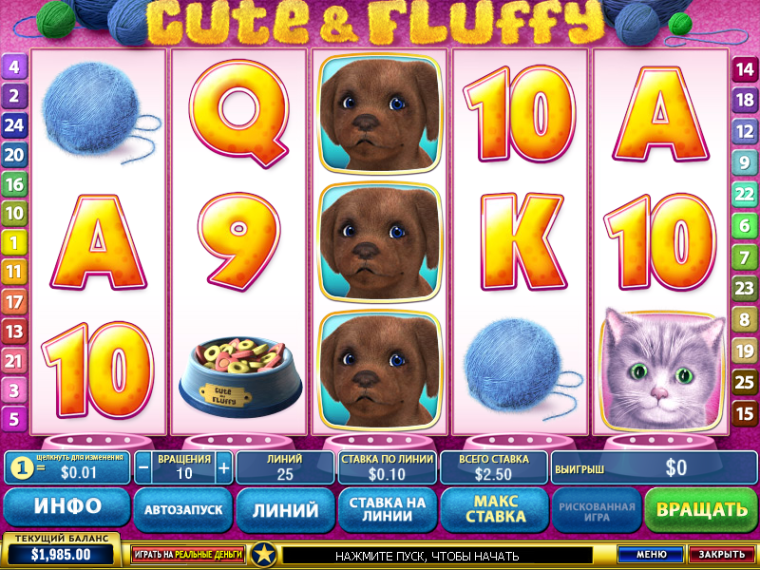 Play Cute and Fluffy
«Cute and Fluffy» online slot machine, which was developed by Playtech company, has five reels and twenty five pay lines. Its producer is already the reason to play this game. The matter is that Playtech always produces high quality games. This video slot is another confirmation of this fact. The characters of this game were developed with 3D technologies, that's why they remind characters of 3D cartoons. The animation and the background music of this game are pretty excellent, so it is hardly possible to take your eyes of this game.
The token denomination can vary in range from one cent to a quarter of dollars. It is possible to stake up to ten tokens per spin. Taking in account twenty five active lines, the maximal acceptable bet is sixty two dollars and a half per spin.
An image of the kitten plays part of Scatter in this game. Three, four and five such symbols bring the player ten, fifty and five hundred bets accordingly. We should say that the kitten drops out at the reels not so frequently as the puppy does, which also throws the bone into a plate in the bottom. As soon as you pick four bones there, the bonus game of «Cute and Fluffy» slot machine, during which it is easy to win free spins with extra multipliers, is getting started. We have hit it three times, so we know what we are talking about. Last time it seemed that it never finishes, so generously we were gifted with free spins, and got the amazing win. Would you like to try it? More you are playing, higher your
chances
are. No, there is nothing with probability theory here. Bones are just collected in the plates and give you more chances for success during free spins. You don't pay for these spins and your win is rising up depending on the multiplier index. But please be aware that bones are collected while you are playing by the same bet. As soon as you change it, number of bones is reseted and you have to start from the beginning! However if you stake the previous bet, you can see all the collected bones. You can quit the game and launch it again and have the same number of bones.
Cute and Fluffy Symbols, Wild, Scatter
The gaming symbols, which you can see at the screen of «Cute and Fluffy» slot machine, are images of the kitten (Scatter symbol), the puppy (Wild symbol), a dog's bone (Bonus symbol), dog food, a kitten's bed, a wool ball, a plate with food, as well as card symbols also imaged in 3D style. The interface of «Cute and Fluffy» game is also very interesting. You can see many balls at the top and the title is fluffy and seems to be as soft as the pets are. This video slot makes a good impression and it has lots of interesting things, including Wild and Scatter symbols, extra multipliers of payoffs, free spins, the bonus game, as well as the gambling feature where we were very lucky!
Cute and Fluffy Bonus games
In the bonus round of «Cute and Fluffy» video slot you can win five free spins with double multipliers.
Jackpots
The most valuable symbol of this game is the puppy. Pick five puppies at the screen and win the jackpot in amount of 10000 bets. The puppy also plays part of Wild symbol here and can replace any other icons except of Bonus and Scatter symbols. The dog food is the second-highest symbol of «Cute and Fluffy» video slot, which gifts you with 1000 bets.
Cute and Fluffy Interface
You can see the following controlling buttons in the bottom part of the interface of «Cute and Fluffy» video slot:
Bet Max – start a new spin by the maximal bet.
Spin – start a new spin.
Lines – select active lines.
Bet per line – select an amount of the bet per line.
+/- - select the coin value.
Auto start – the automatic game mode.
Gamble – play in the gambling feature.
Conclusion
We like the animation of this video slot a lot. The kitten is hanging its paw, hides behind the ball, looks out from its bed and when the puppy throws the bone, it flies across the screen. You can also see the beautiful animation after the gambling feature. We have played in the bonus round and risked with a half of the win after it and when we won, the rain of golden coins has fallen down on us. It was very beautiful!
Where to play Cute and Fluffy for free or real money?
You can play on «Cute and Fluffy» slot machine in the famous
William Hill Casino
or you can also pass the registration in
Las-Vegas Casino
.Your responses about «Cute and Fluffy» slot machine would help us making Casinoz more interesting and useful for the readers. Please share your impressions in comments to the review and rate this game. Your opinion is very important for us.