 About
This review deals with the popular online video poker released by Microgaming. It is called the Double Bonus Poker and differs from the classic versions of this game in the presence of three independent types of four of a kind, which are paid according to different multipliers that are equal or even higher than for a straight flush.
Read about this and other nuances of the rules for Double Bonus Poker below.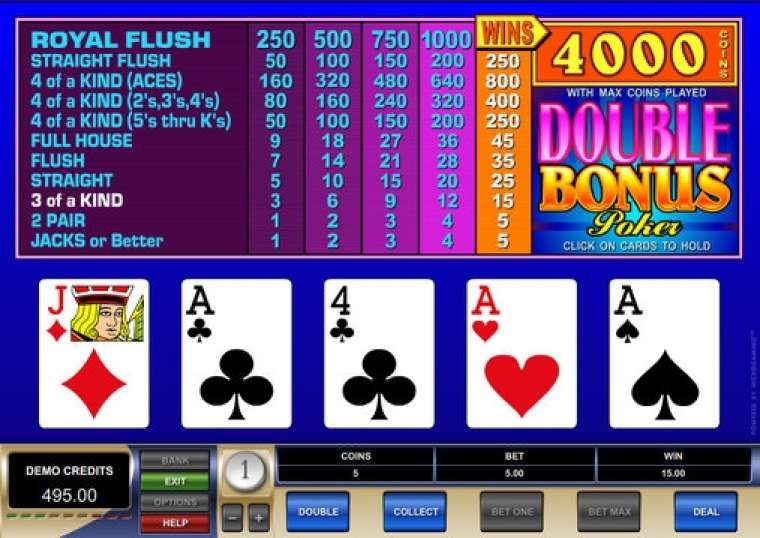 Play Double Bonus Poker
Double Bonus Poker is a free video poker manufactured by Microgaming, which is offered in web-based or download-based casinos.
It is played using one standard deck without jokers. The cards are shuffled before each deal.
The aim of Double Bonus Poker is to collect a paid hand. It is allowed to exchange up to five cards once for free.
The classic poker hands starting with a pair of jacks are valid in Double Bonus Poker. However, it offers three types of four of a kind: four of a kind from fives to kings, four of a kind from deuces to fours and four aces (listed in ascending order).
They are very valuable hands. The lowest-ranking one of them is paid like a straight flush, and the other two hands are paid even higher.
The bet may vary from one to five coins. Their values at Crazy Vegas Casino range from twenty-five cents to five dollars. If you collect the highest-ranking hand (a royal flush) betting five coins, it will be paid according to the disproportionately high multiplier (4,000 coins).
The received payout can be increased in a risk game. The user should randomly select one of the four hole cards, hoping that it will be higher in rank than the dealer's upcard. In this case, the payout will be doubled. Otherwise, the bet goes to a casino.
Double Bonus Poker Bonus games
Only disproportionally high multipliers for certain hands can be considered to be bonus payouts. Other bonuses are not provided in Double Bonus Poker.
Jackpots
Progressive jackpots are not drawn in Double Bonus Poker.
Double Bonus Poker Interface
Double Bonus Poker has an interface that is typical for models released by Microgaming. The paytable is located at the top of the screen. The cards appear below. The control panel with the following elements is available at the bottom:
Deal is used to deal new cards
Draw allows exchanging cards that are not held
Collect is used to transfer the payout to the account
Double allows doubling the payout
-/+ allow selecting the coin value
Help provides information
Exit is used to exit the game
Bet shows the coin value
Coins shows the bet size in coins
Win shows the payout amount
Users can select the bet size in coins by clicking on the corresponding column in the paytable. The options in Double Bonus Poker are almost unavailable (only audio effects).
Conclusion
The four of a kind has been very popular among many fans of board and video poker. Taking into the consideration its importance in Double Bonus Poker, there is no doubt that this variant of poker game will gain a lot of fans.
The further publications on the portal Casinoz will cover the ways to master Bonus Poker. Now we can advise you to wager five coins and keep in mind that there are high multipliers for four of a kind. Pay attention to the equal payouts for a pair and two pairs.
Where to play Double Bonus Poker for free or real money?
Crazy Vegas Casino should be mentioned among the online casinos where you can find Double Bonus Poker. All readers of Casinoz have the opportunity to test this video poker without registration for fun.