 About
Perhaps the flowers have some power in the biological are botanical sense. It is observed directly over the bees and butterflies and indirectly over the harvest, over the mood of people, over allergy, after all. But in our case we are dealing with a euphemism, in which the Flower Power has the meaning of the Power of Goodness and Peace over the strength and anger. It comes from the vocabulary of the hippie subculture whose heyday was at the end of the 60s and who were called Flower Children. Of course, monetary relationships were strange for them, but even the hippies might be interested in the slot machine Flower Power, at least because of the accustomed design.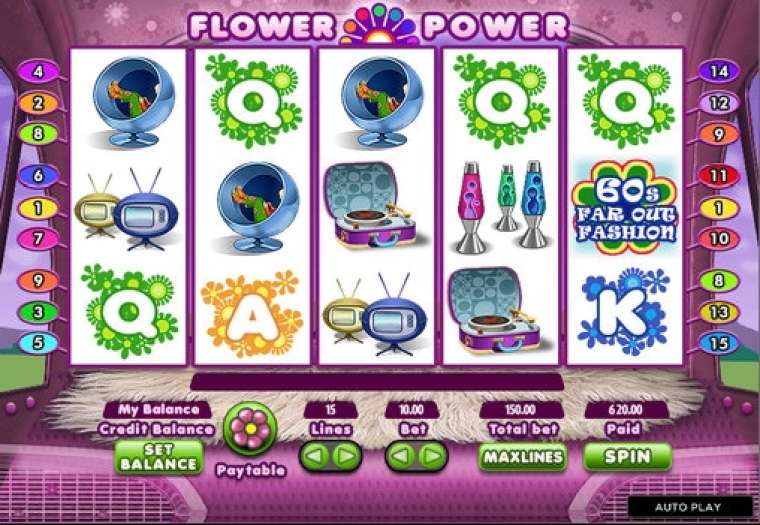 Play Flower Power
Flower Power is a three-reel, non-progressive, classic, three-line slot, manufactured by Microgaming. It has only a wild symbol among additional options. The maximum jackpot is $25,000.
Flower Power Symbols, Wild, Scatter
Being the common classic slot, Flower Power has been able to reflect the general principles of hippie subculture in its design. Even traditional inscriptions Bar, Double Bar and Triple Bar have been inscribed by script and accompanied by multicolored chamomiles. The chamomile is also a separate symbol on the reels, like the dove's foot that is a peace sign. The inscription Flower Power, made in the style of graffiti wall with rainbow colors, serves as a wild symbol.
Flower Power Bonus games
Flower Power does not have bonus rounds.
Jackpots
The range of bets in the game varies from $0.25 up to $15. The maximum size of the jackpot is $25,000.
Flower Power Interface
Spin allows spinning the reels
Bet Max allows making the highest bet
Bet One is used to activate the line
Expert triggers automatic mode.
Conclusion
The layout of the interface is standard for three-reel classic slots from Microgaming. The playing field has been combined with the pay table and the large game logo on a single screen. The background of the slot has been made of all tints of lilac and purple, almost with psychedelic elements (keep in mind the music and LSD) and covered with chamomiles. The payout table and logo slightly melt into the background, but it does not interfere with the gameplay. It rather creates an atmosphere of flower psychedelics. All fonts of the inscriptions correspond to the irresponsible hippie style. The large logo Flower Power of different colors and pacific sign calls to peacefully and quietly accept either loss or jackpot.
Where to play Flower Power for free or real money?
If you do not want to fail with the selection of slot machines, seek professional advices. You can not always find specialists on this issue. We have knowledge of different users, namely the players who have visited casinos with different goals and various budgets, so we have a more complete and objective picture of the situation. In particular, Betfair Casino satisfies all needs of modern gamers.