 French Roulette Review
Various articles and reviews that have been published earlier on the portal Casinoz mention the fact that French Roulette is the most profitable kind of this incredibly popular game of chance all over the world. Therefore the special attention is always paid to online versions from different manufacturers of software for online casinos.
We discuss the model of French roulette from the company SoftSwiss below. It is a high-quality and spectacular game with classic rules and convenient control panel. It is worth paying close attention to.
Rating
Excellent
8.88 /10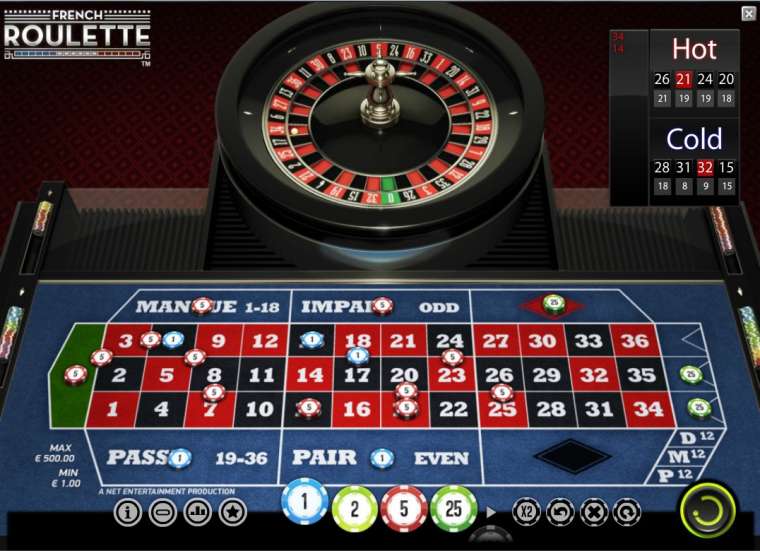 Play French Roulette
French Roulette has traditional rules for French roulette.
The main goal of the game is to guess a number, group of numbers or winning sector and make the appropriate bet.
Let's find out which bets can be made in this version:
Inside bets: Straight, Split, Street, Corner and Six Line.
Outside bets: Column bets, Dozen bets, Rouge ou Noir, Pair ou Impair, Manque, Passe.
Call bets: on sectors (Tier du Cylindre, Les Orphelins, Voisins du Zero, Jeu Zero), Number and Neighbors.
Odds for them are ordinary.
Read more about all types of bets (especially about call bets) and roulette rules in the separate article on our website.
The size of straight bets varies from one to up to 27.77 credits. It is possible to stake from one to five hundred credits on equal chances.
Only one rule is valid in French roulette. According to it, half of outside bets are returned to the user if the ball falls into the pocket marked 0. We are going to remind our readers that French roulette is more profitable compared to other versions.
French Roulette Interface
The table layout has inscriptions only in French. But you will easily understand them, because when you hover over any sector, its numbers with bets are highlighted.
Window for call bets is located from the left side from the wheel. On the right side you can see a board with the recent winning numbers, data about bets, etc.
If you play according to the same scheme, the button which allows repeating the bets made in the previous round will be in handy for you.
The gameplay is easier to understand if you do not disable the voice comments of the virtual dealer (originally they are activated by default).
There is no autoplay in French Roulette. The opportunity to accelerate rotation of the wheel is not provided. Players can not disable greetings that appear in case of any payout. They slow down the game and sometimes look like a mockery when the received amount does not cover the made bet.
Payout odds are available in the special table. There is a detailed section with a description of the rules and characteristics of the interface.
There is no need to download French Roulette. It is run directly in the browser on the site of an online casino.
Conclusion
The game has very cool graphics and animations. It should be recommended due to its excellent interface that offers convenient control panel and a lot of nice features.
By the way, gamblers can scold developers for a disadvantage. According to one tradition of casinos, the roulette wheel should never stop, as it is considered maivais ton to do this. In this game, the wheel stops rotating when the ball falls into any numbered pocket.
General advices about playing this roulette can be found in the special section of our site.
Where to play French Roulette for free or real money?
It is possible to play for money or test French roulette at Evolution Casino. Gambles may start playing roulette without registration in demo mode directly on the website Casinoz.
We would like to know your opinion about this model. Share your opinions about French roulette in the comments.