 About
Three card poker is not the most popular variation of this game, but it has the quite huge number of fans. Moreover, some manufacturers of software for online casinos released several versions of this poker with various nuances of the rules. Casinoz offers you to familiarize yourself with High Speed Poker Gold released by the well-known Microgaming.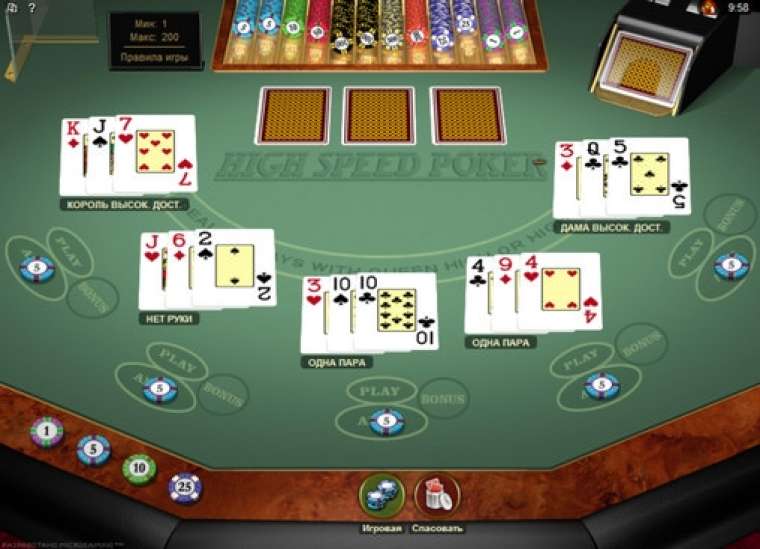 General description
High Speed Poker Gold is a
three card poker
. It is allowed to wager on 1-5 hands in it. A standard 52-card deck without jokers is used in this game. The range of bets at Spin Palace Casino varies from one to two hundred dollars.
Winnings are paid out for hands if they are higher in rank than the dealer's hand, as well as in the situation when the player calls, and the dealer does not have at least the lowest-ranking hand. You can also get payouts for bonus hands and side bets.
The rules for this game don't differ from the basic principles of three card poker. Let's discuss them.
The player receives three upcards on all boxes. Three dealer's cards are dealt face down.
The lowest-ranking dealer's hand is a queen.
Cards are not exchanged.
If the client decides to continue playing, he or she makes a bet on the field Play. It is equal to an ante.
If the dealer does not have any combination, the client's payout is equal to one ante.
If the dealer's cards have a combination lower in rank compared to the user's hand, the payout is equal to one ante and one call.
Bonuses and side bets are discussed below.
Bonus games
Certain combinations in player's cards are rewarded with bonuses, which are paid out despite the outcome (except for the situation when the player folds). Payouts are made for such hands:
Straight - 1:1
Three of a kind - 4:1
Straight flush - 7:1
In addition, players can make side bets on the field Bonus. They are allowed only if the ante is made, and their sizes can differ. The following hands are paid for this bet:
Three cards of the same color - 2:1
Three cards of the same suit - 6:1
Three cards of the same rank - 27:1
This bet is independent of the ante.
Jackpots
Interface
The design of High Speed Poker Gold simulates the real three card poker table with the layout for five boxes. The control panel is located near the edges of the table. There are chips and buttons on it. They are used to select the bet size. We are not going to explain their functions, because you can download this poker in different languages if English is not your native language.
High Speed Poker Gold has user settings (sound, rapid deal, auto rebet, and so on). Fans of statistics can analyze the recent gaming session, as the data on it are saved.
Conclusion
High Speed Poker Gold is an excellent variation of three card poker, which should be tested by all fans of this genre. It belongs to Microgaming Gold Series. As you know, all of these models have excellent graphics, stunning realism and very user-friendly interface. High Speed Poker Gold can even be called the best three card poker for online casinos.
The fundamentals of the basic strategy for three card poker will soon appear in the corresponding section of the portal Casinoz.
Where to play for free or real money?
It is allowed to play three card poker called Play High Speed Poker Gold at Spin Palace Casino and other online casinos running on software released by Microgaming. All of them allow you to make real and free bets.