 About
An ancient kind of roulette named La Boule is one of the rarest in the modern online casinos. It was the most popular game in nineteenth century, when it was extremely desired in the gambling houses of European countries. It is far not easy to find it in the modern online casinos, but it is still included to the gaming assortment of some producers. One of such brands is iSoftBet. This software developer has released a gambling game named La Boule Roulette, which we would like to talk about to the readers of Casinoz.su in the following review.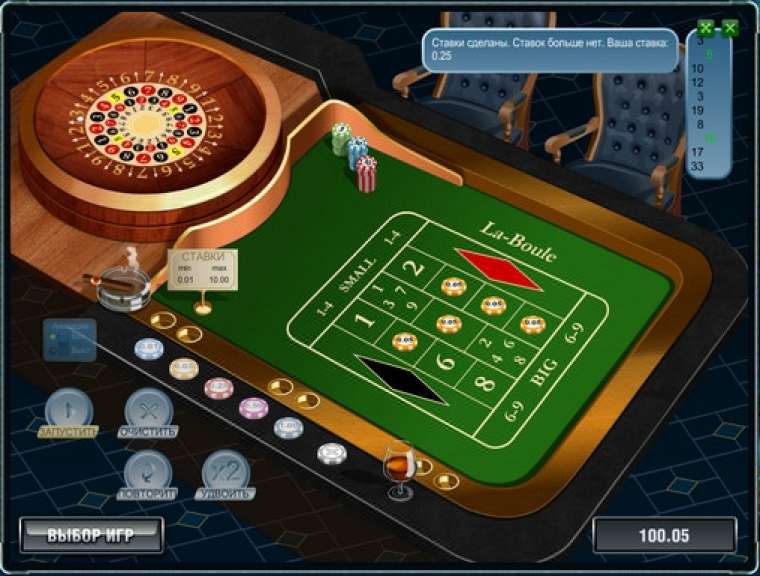 General description
La Boule Roulette is an online version of la boule roulette with classic rules of game, which are carefully explained in the special article at our website.
We wouldn't describe all kinds of bet, accepted in La Boule Roulette, here. The aim of the game is also clear. You just have to guess the winning number and make corresponding bets.
The gameplay of La Boule Roulette is quite standard. You make bets, then the ball, which determines a number for payoffs, is launched.
The possible values of the gaming chips of La Boule Roulette are one, five or twenty five dollars. It is possible to stake from one to twenty five dollars per number, while up to one hundred dollars is accepted per equal chances.
Bonus games
Any bonus rounds or additional payouts are not provided by the rules of La Boule Roulette.
Jackpots
A progressive jackpot is not raffled in La Boule Roulette.
Interface
As the interface of La Boule Roulette online game is available only in English language, we have prepared some tips by the functions of different elements of the control panel, which would be useful for the beginners:
Launch the Ball – start a round.
Same Bet – repeat the bet.
Cancel – cancel the bets.
Rules – look through the rules of the game.
Credit – a quantity of available credits.
Bet – an amount of the bet.
Win – an amount of the winning.
Exit – exit the game.
Balance – a state of account.
Autospin – an automatic game mode.
Chat – open a chat.
The latest winning numbers are displayed in the special table.
The user's settings allow only switching off the sound and tuning volume. There is also an informational section in La Boule Roulette.
Conclusion
We should confess that the graphics of La Boule Roulette game doesn't impress much. Comparing with modern models, it looks quite old-fashioned, although playing this roulette is quite convenient. Moreover, this kind of roulette can be found very rarely in the online casinos now, so there is no wide selection.
Where to play for free or real money?
You can play La Boule Roulette in the online casinos, powered by the software, developed by iSoftBet Company. One of them is NetBet Casino, where it is possible to test online gambling games even without registration. Moreover, it is also possible to launch this roulette right at Casinoz.
Please share your impressions of La Boule Roulette online game in comments to the review. Your opinion is very important for us.