 About
The real wizard can make even marble shine with a bright yellow light. However studying such a complicated skill seems to be quite difficult. Otherwise, how could we explain that only three of eight balls presented in «Marbles» game are lighten up with a glow after touch of your magic wand. However even such a result lets you expect a good payout.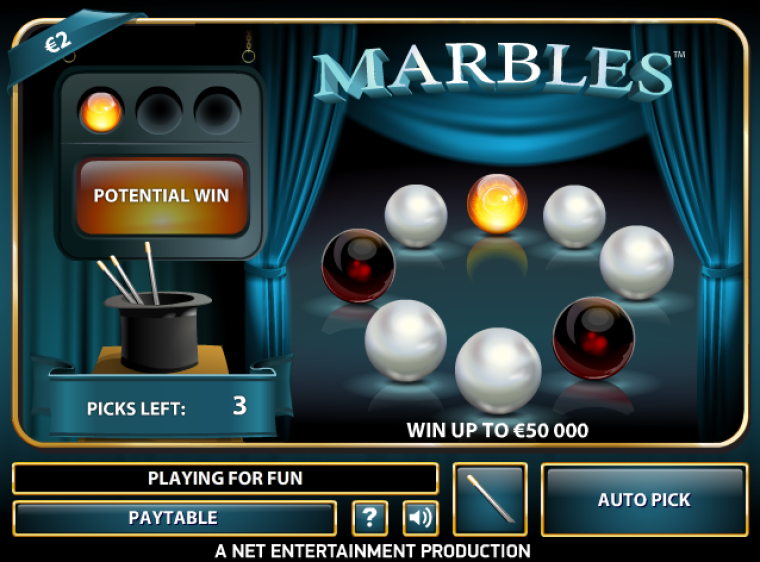 Play Marbles
«Marbles» is a
free online entertaining game
developed by Net Entertainment company, which can be played exceptionally by two euro staked.
The aim of the game is to light up three balls at the screen. There are totally eight balls here, but you can pick only six of them.
If three of them are lighten up, the player is guaranteed with a payoff. Its amount is random and displayed in the special window («Potential Win»).
The theoretical payback index announced by the producer of «Marbles» game is 90,3%.
Marbles Bonus games
Any bonus payouts are not provided by the rules of «Marbles» online game.
Jackpots
A progressive jackpot is not drawn in «Marbles», but the maximal payoff is fifty thousands euro here.
Marbles Interface
At the screen of «Marbles» game you can see eight white marble balls located in a circle at the stage. At left from them you can see six magic wands in a black top hat. Each of them can be used only once, so they mean number of remaining attempts.
When you touch one of the balls with a wand, it whether lights up with yellow glow or fades and turns into dark red. Yellow balls are your lucky attempts which take you closer to success. They are duplicated in the special table in the left top corner of the screen.
At the control panel which is situated in the bottom part of the screen, you can find few important elements, such as controlling buttons, windows, the informational line and settings.
The special button («Auto Pick») is used for automatic picking the balls if the gambler doesn't want to make it manually. Next to it you can see a button which sets up design of the magic wand. It is also possible to switch off the sound of «Marbles» and read more about the game in the informational section.
Conclusion
Actually, «Marbles» model is an original kind of scratch card. However its design lets us classify it to the category of entertaining games.
The optimal strategy for «Marbles» game is not provided, so the players can only pick balls randomly in hope of successful result. They can't affect the result of the game.
Please don't forget about quite a low payback index of «Marbles» model. We recommend you not to be too fascinated by this game and use it to make your gameplay more various.
Where to play Marbles for free or real money?
Have fun playing «Marbles» by the virtual bets or check if the stars are kind to you today with its help playing by real money is possible in the cool online casino Unibet Casino Red. This model is also presented in other reputable gambling establishments powered by Net Entertainment software.
If you only want to play «Marbles» in a training mode, you can launch it right at Casinoz without registration.