 About
Tarot cards have appeared in Europe in Medieval times and are regularly used for fortunetelling and divination since that times. The symbols, imaged at these cards can't be described in a couple of words, because it is a complicated system which contains alchemy closely intertwined with astrology, occultism and other pseudosciences.
The design of Tarot cards can be different, while the most famous is Egyptian. There is even a legend, according to which these cards are derived from paintings, hanging in the rooms of some mythic cathedral in Ancient Egypt. Actually, this version is disputed by the followers of Kabbalah practice.
However, there is no sense in long discussion of such a complicated subject here. We have touched it only because a new free online slot machine named Mystery of the Tarot, which review we are happy to present you below, is devoted to Tarot cards.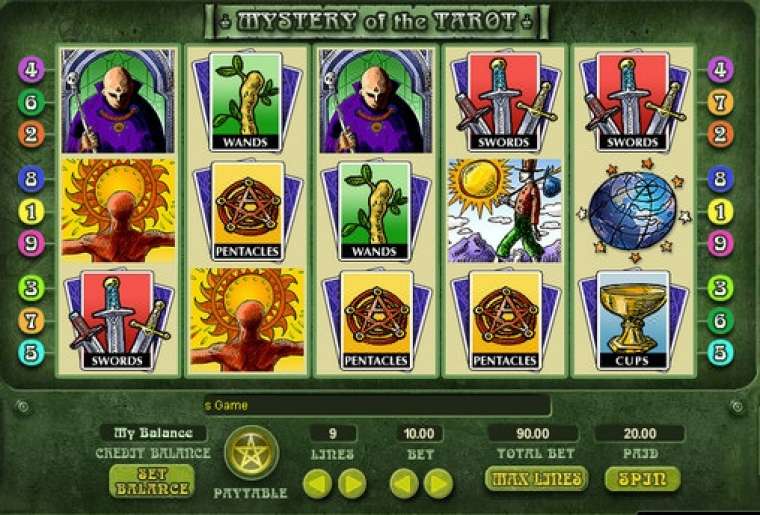 General description
Mystery of the Tarot video slot, released by Random Logic Company (Cassava), has five reels and ten pay lines, a quantity of which is determined by the player.
For example, in 888 Casino it is possible to stake from five cents to ten dollars per each of the lines, while the total bet per spin can reach ninety dollars.
Mystery of the Tarot model is provided with the main special symbols, two bonus rounds and lots of other exciting gaming options.
The winning combinations are formed by the classic rules. The combinations are made of the similar symbols (at least two or three), situated next to each other at the active line and necessarily started from the first left reel.
As usually, only the highest combination by each line is charged with payoff here. An amount of the payoff depends on the bet per line and the combination index (up to x10000), which are multiplied one by another.
The gambling feature, which could double the winning, is not provided by the rules of Mystery of the Tarot slot machine.
Symbols
Of course, the symbols, which you can see at Tarot cards, are imaged at the reels of Mystery of the Tarot video slot. Signs of the values of playing cards, usual for most of slot machines, are not presented in this model. There are also three special symbols in this game, such as Wild, Scatter and Bonus (it is easy to recognize it by corresponding captures).
Wild is the most valuable symbol, which is able no only to form the combinations by the highest indexes (up to x10000), but also to help making it of other symbols, replacing it in case of good opportunity. Wild can't take place only of Bonus and Scatter symbols.
Scatter appears only at the first and fifth reels. When Scatters drop out at these reels in the same time, it triggers a bonus round of Mystery of the Tarot named Cards of Destiny.
Bonus appears only at the three central reels. Three such symbols at the screen trigger the bonus game named Emperor's Choice.
Bonus games
As you have already understood, Mystery of the Tarot video slot is provided with two bonus games.
In Cards of Destiny round you would have to choose three cards of thirteen presented. Each of them guarantees some payout. It is possible to win up to five hundred total bets here.
In Emperor's Choice game you would also have to select cards, but four of ten in this case. The aim of this game is to find the most valuable card. An amount of the payoff can reach seventy five total bets per spin.
Jackpots
A progressive jackpot is not raffled in Mystery of the Tarot slot machine.
Interface
Mystery of the Tarot video slot is designed in a mysterious style according to its theme. The interface of this game is available only in English language. We have prepared some tips by the functions of the main elements of the control panel, which would be useful for the beginners:
Spin - start a new spin.
Max Lines - play by all available active lines.
Bet - select an amount of the bet per line.
Lines - select a quantity of active lines for game.
Paytable - open the payment table.
Set Balance - control the expenses.
Auto Play - an automatic game.
Balance - a state of the account.
Paid - an amount of the payoff.
Total Bet - an amount of the bet per spin.
The tips, which appear in the informational line under the reels, would be useful for those who speak English. The function of controlling the expenses, which is provided in Mystery of the Tarot slot machine, would be useful for many gamblers. It is possible to switch off the background music if you want.
Conclusion
Definitely, Random Logic company has more successful video slots than Mystery of the Tarot in its gaming assortment, although this model is also going to have lots of fans. Anyway, it gladdens with two bonus rounds and high indexes by some combinations. Unfortunately, we don't have any information about the theoretical cash back index of Mystery of the Tarot.
Where to play for free or real money?
Casinoz recommends playing Mystery of the Tarot video slot in 888 Casino, where it is available in a training mode, as well as by the real bets. However, slot machines are not available without registration even in a fun mode in this online casino, but the account can be opened just in a couple of minutes in any time (for example, right now).
Please share your impressions of Mystery of the Tarot slot machine with us and other readers of Casinoz. You can write your responses in comments and rate this game. Your opinion is very important for us.