 About
Everybody wants to try another part and check how you could look in one or another scene. No Mercy slot machine suggests you to feel yourself a gangster.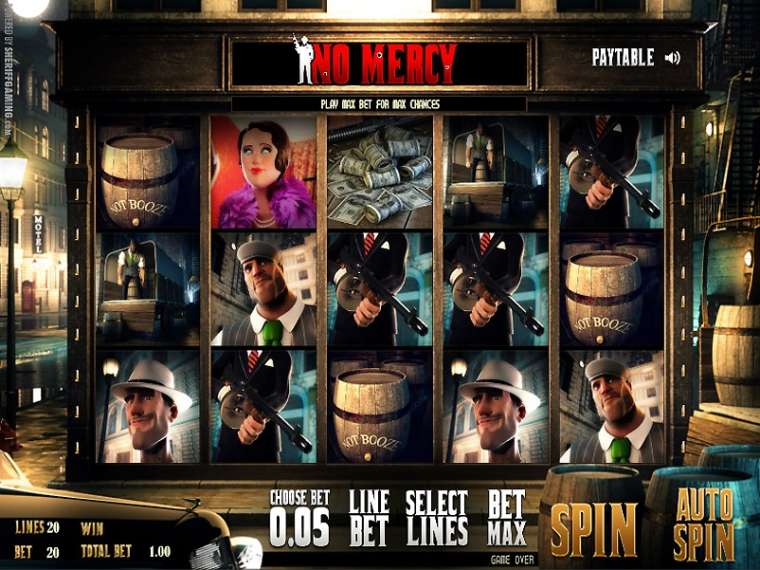 Play No Mercy
Sheriff Gaming company couldn't leave the topic of gangsters without attention, so in this game you would learn a story about an officer, which is pursuing a criminal gangster. No Mercy slot machine has an amazing intro, which is screened like a movie with all necessary effects. Men's voice intriguing tells about the history of this slot machine at the background. The graphics of the game impresses a lot as well. Here you can see such scenes as contraband, illegal trading, armored attack and robbery.
The interface is designed in style of a dark street with the main character - the gangster, which holds his weapon like he is keeping his eye out.
No Mercy is a slot machine with five reels and twenty pay lines. Quiet and delicate music is playing at the background, you can hear how cats are mewing at the streets and people are talking to each other. It is possible to stake up to five coins per line in this game.
This model is also provided with Wild symbol - an image of the policeman. It can replace images of a car, a girl, a weapon and members a gang.
The bonus game of No Mercy slot machine is Click Me round, which is triggered due to the banknotes. This this round you would have to choose symbols by click and you would see which money prize you receive for each of the symbols. The symbols of Click Me round can be seen only at the first, third and fifth reels.
No Mercy Symbols, Wild, Scatter
The gaming symbols, which you would see at the screen of No Mercy slot machine, are images of a police sign, a gangster and his gang, weapon in criminal's hands, banknotes and a car in style of 20-30th years of the previous century.
No Mercy Bonus games
No Mercy slot machine also offers the players to take part in the bonus game. An image of the car triggers this round. The image of the car plays part of Scatter symbol in this game. The bonus game is getting started when at least three images of the car appear at the screen. Scatter symbols don't need to be situated at the neighbor reels or at the same active line, they can drop out anywhere at the screen. In this game you would have to make criminal business. Your aim is to extort cash of the businessmen. There are seven different aims, which you have to achieve and you would have as many chances as many Bonus symbols have dropped out at the screen (from three to five) so spin the reels and hope on your fortune. In every store you are going to visit, you get you money earned by illegal way as well as your bonus. Moreover, you can double up this bonus or increase it in four or even more times if you take a risk to play in the gambling feature.
Jackpots
The most valuable symbol, which would bring you the highest payoff, is an image of a car. Five such symbols would bring you 1000 coins.
No Mercy Interface
The interface of No Mercy slot machine wouldn't leave you cold-blooded. The buttons are well played out in this game and they perfectly suit the general style of the game. You can use the following elements for the efficient controlling the gameplay:
Choose Bet - select the value of coins. The total bet and bet per line as well as an amount of your winning depend on this decision.
Select Lines - select a quantity of the active lines in the game.
Line Bet - select an amount of the bet per line in coins. It is possible to stake up to five coins per line in this game.
Bet Max - start a new spin by the maximal bet and quantity of the active lines.
Spin - start a single spin.
Auto Spin - an automatic game mode.
Double Up - double up your winning.
Conclusion
No Mercy is a very stylish game. It has the beautiful animation and high quality sound. We didn't find any serious disadvantages in this model. The bonus games are quite beautiful as well. The music supports a proper mood. We highly recommend you to test this game.
Where to play No Mercy for free or real money?
You can try to start criminal activity playing No Mercy slot machine in Next Casino, where this game is available with the multi-language interface. Blow down and relax of your role of the modest person. Sometimes it is useful to try another part and just play!
Your responses about No Mercy slot machine would help us making casinoz.me more interesting and useful for the readers. Please share your impressions in comments to the review and rate this game. Your opinion is very important for us.