 About
What do we know about leprechauns? These folklore characters origin from Ireland. They look like rugged people of low height, dressed up in everything green. It is thought that they fix shoes of other fairy-tale creatures. Herewith, leprechauns are very economical and each of them has its own cast-iron pot, full of golden coins, which they guard like an apple of the eye.
Actually, these creatures are regular fellows as long as nobody tries to offend them. They are popular not only in Ireland, but in other countries as well. Leprechauns often become the heroes of fairy-tales, fantasy novels, fiction feature movies and different cartoons. Moreover, the companies, releasing online gambling games, also don't leave them without attention.
A new free online slot machine named Plenty O'Riches, which was released by the famous software producer - Playtech company, would also tell you about one of leprechauns.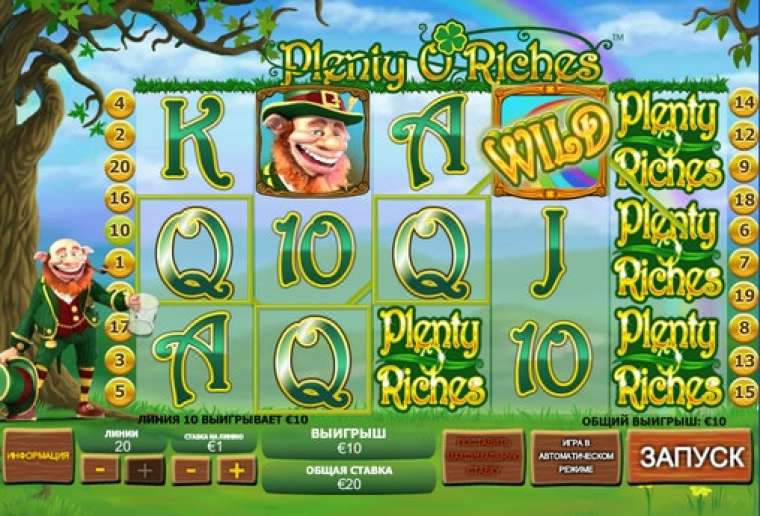 Play Plenty O'Riches
Plenty O'Riches video slot has five reels and twenty paylines. How many of them are going to participate in the game is determined by the player. For example, the acceptable bet per each of the lines in Europa Casino is in range from twenty cents to two hundred euro, so the high-rollers can play this slot machine staking up to four thousand euro per spin.
Plenty O'Riches is interesting with that several bonus rounds are in force here. It is also provided with the special symbols and other interesting gaming options. The gambling feature is not provided by the rules.
The paid combinations are formed of the similar symbols (from two or three), situated next to each other at the active line, starting from the first left reel. An amount of the payoff is calculated automatically, by multiplying the bet, staked per one line by the combination index (up to x500). As usually, only the major combination by each line is considered to be the winning one.
Symbols
There are not so many standard symbols at the reels of Plenty O'Riches slot machine. There is a logo of the game are signs of the values of playing cards from ten to ace. Moreover, you can see four special symbols in this slot machine, such as Wild (a rainbow), Sactter (a leprechaun), Wishing Well Bonus (a well). Well, lets check its functions.
Wild acts by the general rules and it is also able to replace other symbols in case of good opportunity (except of specified below), helping making the paid combinations of them.
Scatter, dropping out anywhere at the second, the third and the fourth reels, triggers twelve free spins by the current bet. Golden, silver and bronze coins drop out at the reels during these rounds. Each of them give a payoff in amount of five, two or one total bets accordingly. Free spins can't be prolonged as well as it is not possibly to gain right for participation in the bonus rounds during these spins.
Wishing Well Bonus - three and more such symbols, dropped out anywhere at the screen, trigger a bonus game of Plenty O'Riches named «Wishing Well».
Rainbow Bonus - three such symbols, appeared anywhere at the reels, get a bonus round named «Rainbow» started.
Plenty O'Riches Bonus games
Plenty O'Riches slot machine is provided with two bonus games, such as Wishing Well and Rainbow.
In the first game the leprechaun would collect coins, dropping from the well. The coins would be counted to determine the prize payout. In case Wishing Well round was triggered by four symbols, an amount of the payoff would be increased four times, while if the combination consisted of five symbols - the bet would be multiplied ten times.
In Rainbow game you would have to help the leprechaun to get an enormous pot with gold, hidden at the edge of the rainbow. It would have to pass a hard way to win prizes for you. Farer the main heroes goes, more cash you win. This round is full of suddennesses, so please be ready for surprises. Don't be afraid, all of them are pleasant.
Jackpots
A progressive jackpot is not raffled in Plenty O'Riches slot machine.
Plenty O'Riches Interface
The developers of Plenty O'Riches slot machine, have cared about the gamblers, who don't speak English well and provided Plenty O'Riches with a multi-language interface. That's why there is not sense is detailed description of the functions of different buttons and windows of the control panel. You can download Plenty O'Riches video slot in your original language in many online casinos.
In general, it is very convenient and pleasant to play this slot machine. Useful information appears in the informational line and the main windows. There are the basic user's settings.
Conclusion
The first point which we want to praise Plenty O'Riches video slot for is wonderful bonus games, provided here. All of them are thematic and extremely interesting. Even free spins are realized in unusual view. Plenty O'Riches slot machine is worth of playing at least to test these bonus rounds. That's why casinoz.me highly recommends all the lovers of online slot machines from among the readers to make it as soon as possible.
Where to play Plenty O'Riches for free or real money?
You can play Plenty O'Riches slot machine for fun as well as for the real monay in many reputable online casinos, powered by the software developed by Playtech. If you still didn't select the one, you can open an account in Europa casino or Tropez Casino. These two are high reputable online casinos, tested by a great quantity of customers. However, these gambling houses don't allow testing slot machines without registration even in a training mode, that's why you would have to open an account.
Please share your immersions with us and other readers of casinoz.me. You can write your responses in comments tot he review and rate this game. Your opinion is very important for us.