 About
In the developed countries the professors of colleges and universities, and sometimes even employees, are provided with a sabbatical leave, which can last for a year. An online scratch card named Sabbatical, which was developed by the young Yggdrasil Gaming Company, specializing on production of online gambling games for online casinos, is devoted exactly to this wonderful tradition.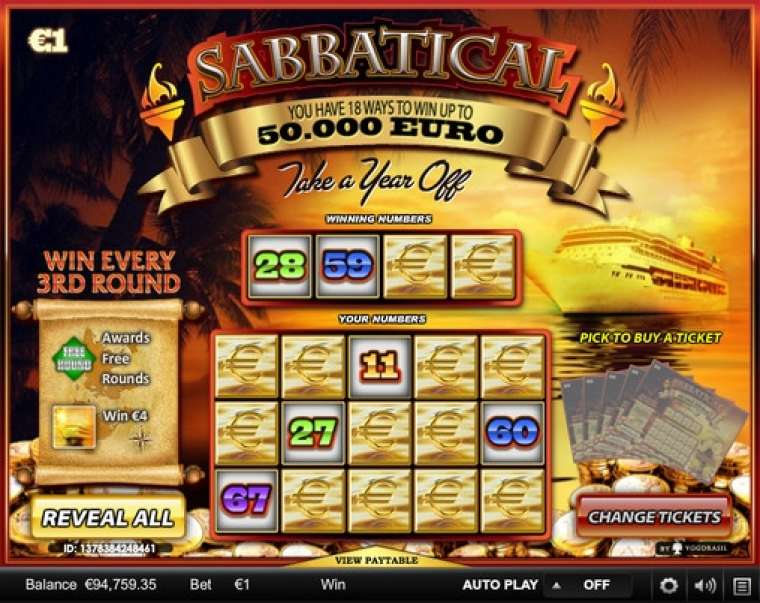 Play Sabbatical
Sabbatical is a free online scratch card, which is provided with eighteen ways of getting a payoff in amount up to fifty thousand euro. The value of coins is fixed here – one euro.
The ticket of Sabbatical lottery consists of two windows. There are fur cells in one of them, while the second one contains fifteen cells. The winning numbers appear at the field with four cells. These numbers never repeat. In the second window you can see player's numbers. In case some of them match the winning, the customer receives the payoff. It is possible to have several similar numbers.
The numbers in both windows of Sabbatical online scratch card are determined in a random way. An amount of the winning doesn't depend on which numbers were matched. It is also determined by the random numbers generator. It is possible to win up to fifty thousand euro.
You can try to increase the total winning by a ticket of Sabbatical online scratch card in the gambling feature. There you would have to heads or tails. It is possible to play up to three times in the same round (under condition of lucky attempts).
The theoretical payback index of Sabbatical online game, officially declared by the producer, is 94%.
Symbols
Except of numbers, two special symbols, such as Free Round and Bonus, also appear in the cells of Sabbatical scratch card.
Free Round gives a right for participation in a free round with the real winnings. It is possible to get up to ten rounds. They are raffled one after another. The total amount of the payoff, received in these rounds, can be also staked in the gambling feature.
Bonus symbol guarantees a prize payout in amount of four euro without any matches of numbers. It is charged as soon as the bonus symbol appears in the bottom window.
Sabbatical Bonus games
Any other bonus rounds (except of described above) are not provided by the rules of Sabbatical online scratch card.
Jackpots
A progressive jackpot is not raffled in Sabbatical online scratch card.
Sabbatical Interface
Sabbatical online scratch card is available only in English language, while its interface is quite user-friendly, so you can easily learn to play it. The following tips would help the beginners to study out the particularities:
Reveal All – open all cells.
Collect – collect the winning.
Double Up – play in the gambling feature.
Balance – a state of the player's account.
Bet – an amount of the bet.
Win – an amount of the payoff.
Auto Play – an automatic game mode.
It is possible to scratch the protective coating manually by clicks or automatically with help of the special button.
There are different user's settings in Sabbatical, such as graphics resolution, sound parameters, particularities of the gameplay and etc.
The game is quite realistic. For example, it is possible to choose tickets from a range of cards. There are totally ten millions tickets in Sabbatical online game.
It is not necessary to download Sabbatical scratch card, because it can be launched right in a browser window.
Conclusion
Sabbatical is not bad online scratch card with interesting particularities of the gameplay, bonus payoffs, free spins and a pleasant design. The theoretical payback index is not very high, but it is still acceptable for gambling games of this kind.
Where to play Sabbatical for free or real money?
At the moment of writing the review of Sabbatical scratch card, it was possible to play games, developed by Yggdrasil Gaming only in EuroSlots Casino. It is allowed to launch models not only for the real money, but also in a fun mode in this online casino.
We are looking forward for your responses about Sabbatical online scratch card, which you can write in comments to the review. Your opinion is very important for us.