 About
«Sand Storm» online slot machine perfectly expresses the topic of the game. Your fate hangs in the balance and it is staked a lot in such early hours. There were so many such situations in the gambling establishments where hot heads are ready to stake everything captive by gambling! Let this sand storm pass you by and you can become a winner with courage and honor in an online casino as well as in the real desert. Online slot machines without registration can teach the gamblers courage and firmness.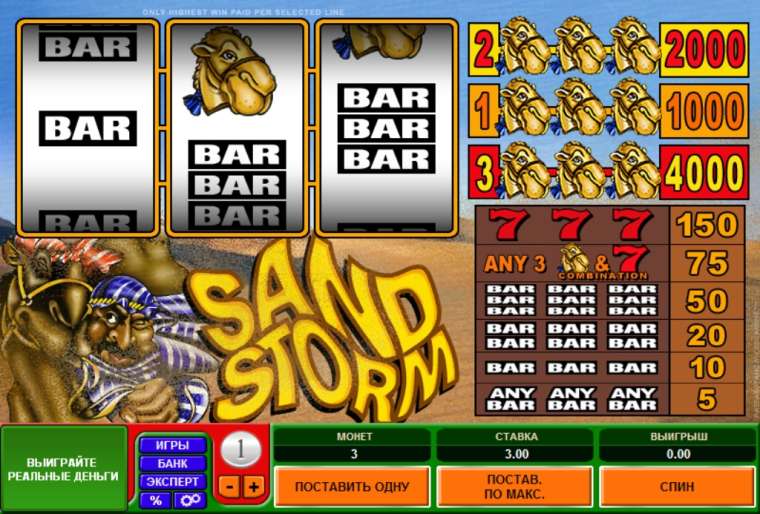 Play Sand Storm
«Sand Storm» is the three reeled non-progressive classic online slot machine developed by Microgaming, which has three pay lines. There are no extra features in this game. An amount of the maximal jackpot is 4000 dollars. The range of bets varies from twenty five cents to five dollars. The maximal acceptable bet is five dollars here.
Symbols
In spite of a kind of extreme name and topic of the game, there is nothing special in the interface of this game. It is really plain and the gaming symbols, which you can see at the reels of «Sand Storm» video slot are images of a camel head - the desert ship and the best friend in sand storm. It looks quite nice for such a plain graphics. Perhaps, its loneliness at the gaming field can underline the power of sand storm. The rest gaming symbols are standard sevens and single, double and triple Bars.
Jackpots
An amount of the maximal possible jackpot of «Sand Storm» video slot is 4000 dollars.
Sand Storm Interface
The standard for classic online slot machine scheme of location of the elements at the screen fits the spinning reels and simple payment table at the same screen. Perhaps, it was an idea of the designers, but all the graphics looks like it was worked by the sand storm indeed. The matter is not a poor graphics content that it usual for the classic slot machine. The fact is that color palette of this slot machine mixes many shades of sand - from bright yellow to dark brown. Even blue sky at the background seems to be covered by sandy fog of coming storm. The name of the game seems to be made of flying sand and ready to fall apart of the strong wind. The camel waiting for storm is staying with bent head and dark-skinned beduin in a squared head scarf is hiding from the coming storm behind his muscular body.
Bet one – activate one pay line.
Bet Max – start a new spin by the maximal bet.
Spin – start a new spin.
It is possible to set up the coin denomination with help of plus and minus buttons.
Expert button switches on the Expert mode. It lets you activate the automatic game mode not to spin the reels manually every time.
Conclusion
Life has many tests for you. The main is to pass it properly. Sometimes free online slot machine without registration can be a test which shows who is who. Are you able to pass the desert courageously when winds are raging there? It is hard to answer this question before you get into such circumstances. However even small things can show when something wrong with you. You can download this slot machine free to think about it or go to online casino and start playing by the real money right now!
Where to play Sand Storm for free or real money?
You can play on the incredible «Sand Storm» slot machine in Betfair Casino.Please share your impressions of «Sand Storm» slot machine with us and other readers of Casinoz. You can write your responses in comments to the review and rate this game. Your opinion is very important for us.