Poker Pursuit is an unusual version of the popular card game that combines the features of stud poker and video poker. It is offered in the brick and mortar casinos in the form of slots on which clients can play without dealers. In online clubs, the game is visually very similar to video poker. Its outcome depends not only on luck but also on the user's skills.
General Description of Poker Pursuit
A standard 52-card deck without jokers is used in this game. Cards are ranked according to standard principles. There are no wild cards. Cards in the deck are shuffled before each hand.
The goal is to collect poker hands that are provided by the rules.
It is impossible to exchange cards. There is no dealer, so you do not need to compare cards.
The player initially receives five cards which are faced up one by one, and the client takes part in the process by making the extra bets.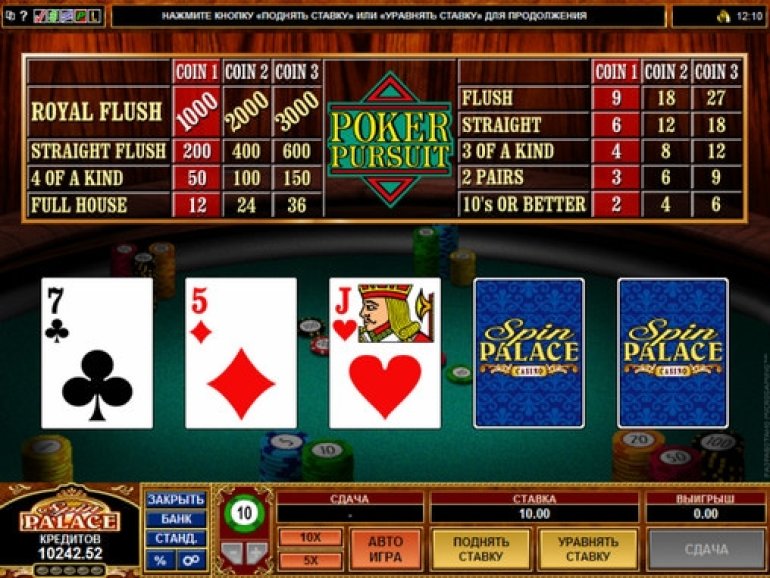 In the game, there is only one hand. Users can usually stake one or several coins. Payouts are credited for the following hands (their sizes are mentioned for a bet in the amount of one coin):
A pair of tens and higher - 2 coins
Two pairs - 3 coins
Three of a kind - 4 coins
Straight - 6 coins
Flush - 9 coins
Full house - 12 coins
Four of a kind - 49 coins
Straight flush - 199 coins
Royal flush - 999 coins
The maximum number of coins usually does not provide additional advantages.
Usually, there are no rounds for doubling.
Poker Pursuit Gameplay
The gameplay starts with the fact that the customer selects a bet and begins a new round by clicking on the appropriate button. Then five cards are dealt, namely three upcards and two hole cards.
The player evaluates the rank of three cards and decides whether to make a bet that is equal to the initial one or not. After this, the fourth card is faced up. The customer should raise a bet by one coin or leave it unchanged.
Then the fifth card is faced up. If the combination is formed, it is paid according to its multiplier.
The round is over.
Versions of Poker Pursuit
The main differences between the models of Poker Pursuit from different manufacturers of online games are payout odds, but even in this respect, they resemble each other. The payouts for three primary hands are often rounded to 50, 200, and 1,000.
Our reviewers have not yet come across Poker Pursuit with bonuses or progressive jackpots.
Conclusion
The game strategy implies making decisions when it is necessary to raise. There is a detailed article on Casinoz in which the main recommendations from the professionals are mentioned. It will teach you to play this version of poker correctly.
Online versions of Poker Pursuit are available at various casinos running on software from famous manufacturers. Websites on the Microgaming platform offer a very convenient model with excellent graphics, quite favorable conditions, and multiple settings.
We will be delighted to know your opinion about this game. Write it in the comments.