In general, video poker is a game with a very slight advantage the casino. In some variations it can even offer superiority for the player. Of course, this is only possible if you follow a basic strategy. But does it mean that you are playing without mistakes and every time stay in the black? Absolutely not.
The fact is that nearly all video poker variations have quite high dispersion, this factor should be taken into account when selecting a particular types.
What is the variance in video poker?
The variance is deviations from the average outcome of the game, and to some extent it can be equaled with success. In other words, even if you play strictly according to the optimal strategy, it does not mean that you won't lose all your money or become the owner of a big win.
So, some types of video poker have higher dispersion than others. It does not mean that they are worse, because the variance is not the same as the percentage of payout. It's just that the probability of winning or losing large amounts is higher than in games with smaller variance.
Why is dispersion important?
In fact, understanding a dispersion helps you win. No one can predict, for example, when the maximum winning combination that will bring you a large payment. Nevertheless, considering this factor is important to get most of the game.
Imagine that you have a small bankroll, but you want to play video poker a little longer. If you choose a game with a high variance, you risk quickly leave without money. On the other hand, if you have long playing on the slot with low dispersion may seem boring, because frequent small payments create a feeling that you struggle on the ground.
Thus, a video poker with a low dispersion is better for inexperienced players with a small bankroll and varieties with high levels of dispersion will be more interesting for players are well versed in the nuances of the game.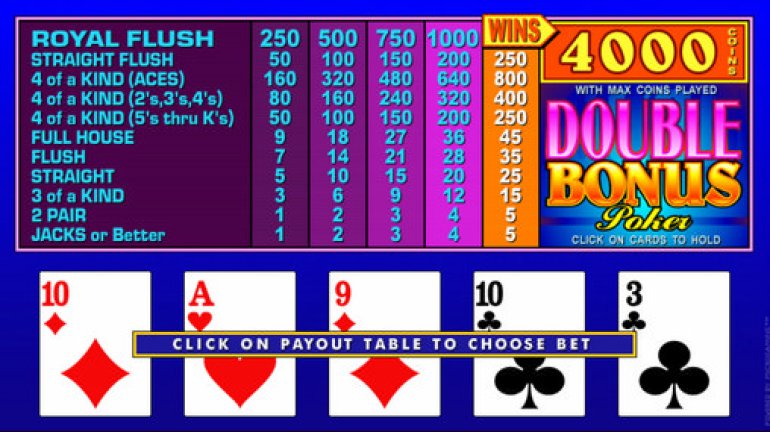 How to choose a video poker based on the level of dispersion?
Of course, if the variance in video poker is displayed on a scale, choosing the most appropriate form is much easier. Unfortunately, this information is not provided to users by game manufacturers, a casino or any other sources. Therefore it is necessary to estimate the variance based on the payout ratio, the percentage of return and some other characteristics.
For example, video poker Jacks-or-Better (house edge of about 99.5%) and Double Bonus (house edge of about 100%) by Microgaming. If you compare their payout tables, you'll notice that in the second case, the coefficients for large combinations are much higher. Conclusions are obvious.
Even playing in these games for short ti,e, it is easy to notice that in Jacks-or-Better combinations are much more frequent. This means that the level of dispersion is lower than in Double Bonus. Major factors should be compensated by rare loss combinations clearly demonstrated in Double Bonus.
Of course, all these calculations are approximate, but they will help you select a type of video poker, more suitable for your style of play and funds.