 About
25 Line Aces and Faces released by Playtech allows betting on up to twenty five hands simultaneously. It differs from the classic version of Aces and Faces in this fact. The detailed review published on the portal Casinoz will help you to master its rules.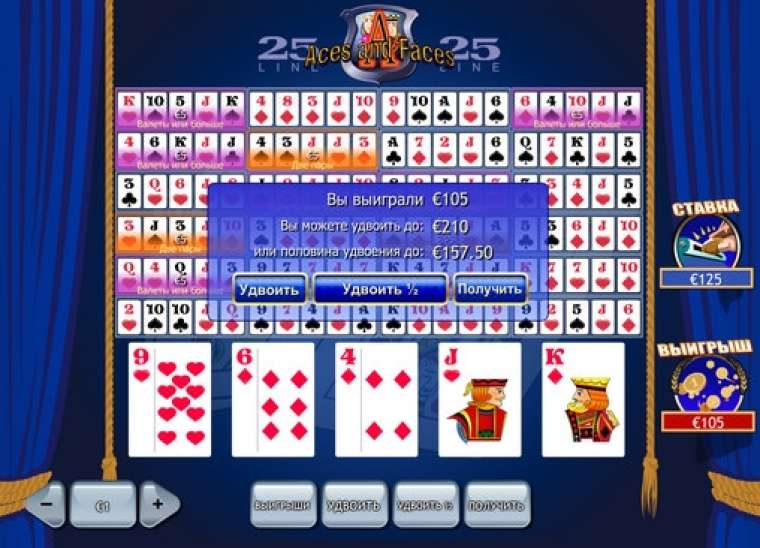 Play 25 Line Aces and Faces
25 Line Aces and Faces is a
free online 25-hand video poker
. A standard deck without jokers is used in it. The shuffle takes place before each deal. Thus, the cards for each hand are dealt from the independent decks after the exchange.
The bets on all hands are equal. They can vary from one to five coins. Their values at Europa Casino range from twenty-five cents to one dollar, and it is possible to wager up to one hundred twenty-five dollars per deal.
The aim of 25 Line Aces and Faces is similar to the goals of all other versions of video poker. It is necessary to collect a paid hand. The player can exchange up to five cards once for free.
Despite the fact that the game is played on twenty-five boxes, the user receives a card on one box first. Then it's necessary to select the cards to hold. These cards are repeated in all hands, and the discarded cards are replaced by new ones from separate decks. After that, the payouts are made for a winning combination.
25 Line Aces and Faces Poker has classic poker hands from a pair of jacks to a royal flush. The feature of Aces and Faces video poker is three types of four of a kind (deuces-tens, jacks-kings and aces), which are paid according to specific multipliers.
The highest payout is four thousand coins. It is provided for a royal flush while betting five coins. Pay attention to the disproportionally high payout for this hand while wagering the highest possible amount, as well as to equal value of a pair and two pairs.
The received payout can be significantly increased in a risk game. You will notice five cards, one of which will be face down. If you can find a card that will beat it at the first attempt, you will double your winnings. The wrong answer leads to the loss of bet.
The limit for this round at Europa Casino is two and a half thousand euros. It is allowed to stake the total winning amount or its half.
25 Line Aces and Faces Bonus games
25 Line Aces and Faces does not have bonus payouts.
Jackpots
Progressive jackpots are not provided.

25 Line Aces and Faces Interface
There is nothing unusual in the interface of 25 Line Aces and Faces video poker. This is a very beautiful and convenient model released by Playtech, which can be understood at the intuitive level. Moreover, it is possible to download this video poker translated into different languages.
Some aspects of the gameplay and interface can be changed in the parameters. Users can adjust the sound, turn off advices and so on.
The coin value is selected by Plus and Minus in the lower left corner of the screen. The number of coins wagered on each hand can be selected by clicking on the corresponding column in the paytable.

Conclusion
All types of video poker released by Playtech without exceptions are able to compete with the models developed by any other manufacturer. 25 Line Aces and Faces is a spectacular game in which you can hardly find something to complain of. It is understandable, convenient and beautiful. Moreover, it has a very low house edge.
The publications in the sections Articles and Strategies will help you to master this and other versions of video poker.
Where to play 25 Line Aces and Faces for free or real money?
You can test 25 Line Aces and Faces at Europa Casino or some other major online casinos running on software released by Playtech. It is possible to play this video poker for real and conditional bets. This video poker is available in training mode without registration directly on the website Casinoz.