 About
Yggdrasil Gaming Comapany, which appeared at the market of software for the online casinos quite recently, has already conquered the hearts of the lovers of uncommon gambling entertainments by its stunning games. In particularity, its kinds of keno, devoted to different themes and provided with amazing graphics, an exciting gameplay and a plenty of other advantages, are especially interesting. One of such games, developed by Yggdrasil, is an online keno named Beaming Canines, which plays out Egyptian myths about Sphinx and Anubis. Please read more about this game in the following review, prepared by the team of Casinoz.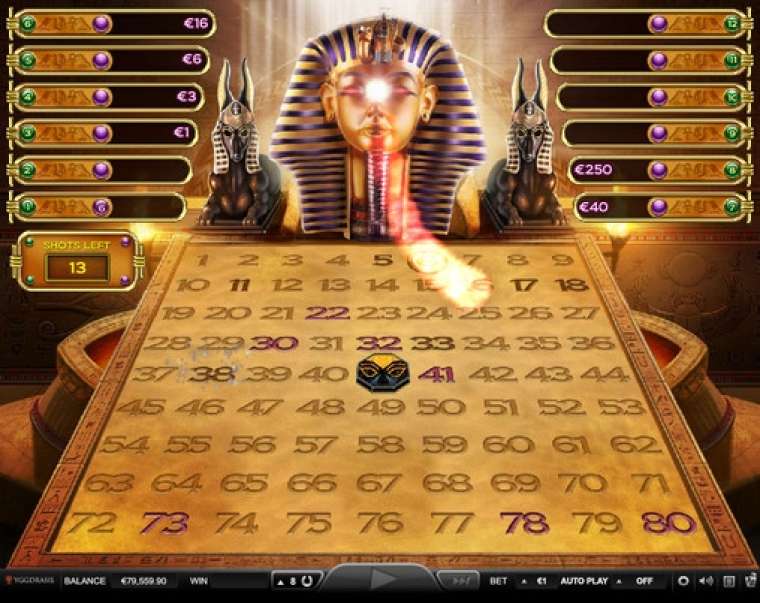 Play Beaming Canines
Beaming Canines is a free online keno. The gaming field consists of eighty one cells, which are located by 9x9 scheme. Eighty of them are numbered in order, while the central cell provides the player with advanced options.
Playing Beaming Canines online keno is possible by the bet in range from twenty cents to fifty euro per round.
The aim of the game in Beaming Canines is to mark four, eight or twelve numbers randomly. It is possible to make it manually or trust the choice to computer.
Then the Sphinx would start blowing fire balls, which would drop down to the random cells, selecting the winning numbers. It marks twenty numbers at all. An amount of the payoff would be determined by quantity of registered numbers.
The central cell is bonus one. In case Sphinx finds it, the player receives the bonus shots, which we would tell about below.
How let's check the payment indexes, depending on quantity of numbers:
- Four numbers - х2, х6 or х22 (for two, three or four guessed numbers);
- Eight numbers - х1, х3, х6, х16, х40 or х250 (for three – eight guessed numbers);
- Twelve numbers - х2, х4, х8, х20, х50, х100, х300 or х1000 (for five – twelve guessed numbers).
The theoretical payback index of Beaming Canines online game is 96,6% (by four numbers), 96,8% (by eight numbers) and 97% (by twelve numbers).
Beaming Canines Bonus games
The bonus round of Beaming Canines keno game means that not only Sphinx is going to throw the balls, but Anubis dogs, sitting by both sides of him as well. Consequently, chances for the winning are increased. You can find out detailed personally while playing this round.
Jackpots
A progressive jackpot is not raffled in Beaming Canines online keno.
Beaming Canines Interface
The interface of Beaming Canines online game is high functional and user-friendly even without translation in the same time. However, if you still need help, you can always use out tips by the functions of the main elements:
- Play Button (a triangle in the center of the control panel) – start a round.
- Pics (left to the triangle) – select a quantity of gaming numbers.
- Rapid Play Button (a double triangle) – an accelerated game.
- Balance – a state of the account.
- Win – an amount of the payoff.
- Bet – select an amount of thr bet.
- Auto Play – switch on an automatic game mode.
Amounts of the potential winnings by the selected quantity of numbers are displayed left and right from the main field in the top part of the screen. A bit down at the left side there is Shots Left window, where the left shots are displayed. There are also the basic user's settings in Beaming Canines online keno, which let the players select the graphics and effects resolution, set up the background music, control an automatic game mode and make some other changes to the gameplay. The rules are carefully explained in the informational section.
It is not necessary to download Beaming Canines online keno, because you can play it right at the website of the online casino.
Conclusion
If you like playing keno and you are always ready to try something new, you should definitely test Beaming Canines game. Cool graphics, a powerful animation, an excellent interface, a plenty of settings, large payouts, a high payback index – what else do you need to get the maximal pleasure from the gameplay. Please don't forget that casino advantage is the lowest while playing by twelve numbers.
Where to play Beaming Canines for free or real money?
You can look for Beaming Canines game in the online casinos, presenting production of Yggdrasil Gaming. We can recommend you EuroSlots Casino, where it is allowed not only playing for the real money, but also test online gambling games even without registration in a training mode.
We would be grateful to you for the responses about Beaming Canines online keno and grades to this game.