 About
Welcome to Chief's Magic - a classic slot machine developed by Microgaming. You ca easily understand what has inspired the developers for creating of such video slot from the first sight. As soon as you launch this game, you can see the chief of red-skinned in its interface, proudly rising his head and holding a spear. If you decide to play by the real money, we recommend you to test this slot machine in a fun mode first. It is possible to download this online game free right at our website.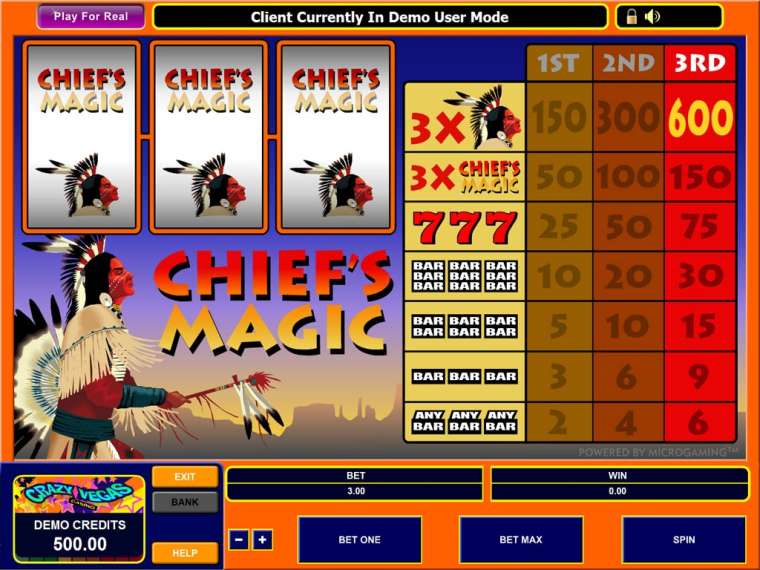 Play Chief's Magic
Chief's Magic is a three reeled online slot machine with only one pay line. The base of this slot is a classic slot machine. Exactly such characteristics are typical for classic slots and Chief's Magic definitely corresponds to these measures. If you were interested in gaming arcades in the dawn of online games, where you has to go from one level to another, you would probably like this slot machine as well. It can bring you some nostalgia feeling, which is usually pleasant for the lovers of classic games. Sometimes everything was different, they were younger and everything seemed so colorful and bright. People try to restore that feelings by parts, that's why they catch a stick, a surrounding, reminding those moments. The games are also part of that time. They create a proper atmosphere. Would you like to feel nostalgia? Chief's Magic slot machine perfectly suits this aim.
The scene, imaged at this slot machine, takes place somewhere in Northern America, where these original inhabitants were always living. We go directly to the areas of original americans. We hope that red-skinned chief would be in good mood, other way we can lose our heads. Just kidding. In case he is satisfied, he can probably even share his wealth with us. Of course, an image of the chief is one of the most important symbols in this game. Exactly this symbols with image of the chief is the most valuable symbols of Chief's Magic slot machine. Moreover, if you are lucky, your bankroll can be charged with a winning in amount of 600 bets due to this symbol. How much is your bet? Let's calculate. An amount of the minimal bet in this game is seventy five cents per spin in case you stake three coins per line. Simple math shows us not bad winning in amount of 450 dollars. For those, who want to risk on a grand scale, we can make other calculations. The maximal value of coin is fifteen dollars in this game. So we can multiply this bet by 600 and get a winning in amount of 9000 dollars. Well, it is the maximal prize of this game! Of course, it is quite risky. However, the prizes increase equally! Big risk can bring big reward! Everything is logically here.
If you are expecting some complicated options and modern graphics solutions from Chief's Magic game, you bark up the wrong tree. You wouldn't find it here. This slot machine without registration is available for everybody, even if you don't have a penny. Such democratism is quite logical taking in account its simplicity. Exactly its simplicity has attracted players from all over the world to this game. It is the sense of Chief's Magic. Times have changed, the gambling market is facing a great breakout and complicated games with incredible animation are released one after another in incredible quantity, but Chief's Magic slot machine is still popular, like if time had no power on it. Isn't it magic?
If you want to play similar slot machine with classic basic and some modern characteristics, we can suggest you another video slot, which was created as a sequel of this online game. Its name is Chief's Fortune and it is also provided with a bonus game, which brings you to another interface. Let's suppose that you don't care if the slot machine has any complicated features or not. You just like receiving extra prizes due to such features. Unfortunately, you wouldn't find it here. Playing Chief's Magic slot machine is very easy and it attracts by its simplicity, but not exciting gaming options. You can test it right at our website in case you have any doubts.
Chief's Magic Symbols, Wild, Scatter
The gaming symbols, which you can see at the screen of Chief's Magic slot machine, are classic images, that's why you are going to see golden bars, classic sevens, as well as a logo of the slot machine, like in many other games of this kind, here. The logo is paid out by the highest index in this game. Just look at the payment table. Everything is presented clearly here and don't even need to calculate anything. You can see how much you get for a winning combination if you stake one, two or three coins per pay line.
Jackpots
According tot he calculation, provided in the review before, the maximal jackpot you can win in Chief's Magic slot machine is nine thousand dollars.
Chief's Magic Interface
In the interface of Chief's Magic slot machine, you can see its name, which corresponds to the main color scheme of the video slot. The main colors are red and yellow, while the profile of the chief rules the design of the interface. The chief is dressed up in his fighting equipment with feathers on his head and with a spear. In general, it is a very funny character.
You can select the value of coins with help of button with images of plus and minus sings, which varies in range from seventy five cents to fifteen dollars per spin, in case you are not going to play by the maximal bet. It is also possible choose coins of the following values: 1.5, 3, 6 and 15 dollars.
The important thing to note is that choice of the value depends on a quantity of coins you are going to stake per line. For example, if you are going to stake only one coin, the maximal available value is just five dollars.
The reels are situated in the top part of the interface. Under the reels you can see the logo and the main character of the game. The main part of the screen is taken by the payment table, where everything is described carefully. The buttons are situated in the bottom part of the interface:
Bet One - you can select a quantity of coins staked per line, which determine an amount of the total bet, with help of this button.
Max Bet - play by the maximal bet. If you click at this button, it starts a new spin by the maximal bet.
Spin - start a new spin.
Conclusion
Chief's Magic slot machine would suit the tastes of the player, who are not looking for options, but prefer simple games. Chief's Magic can bring them good payouts and a great mood.
Where to play Chief's Magic for free or real money?
To meet the chief of red-skinned, you would just have to pass the registration in Crazy Vegas online casino, which promises you an interesting acquaintance.
Please share your impressions of Chief's Magic slot machine with us and other readers of Casinoz. You can write your responses in comments to the review and rate this game. Your opinion is very important for us.