 About
Look at the round-faced character of the game and answer honestly, hand on heart, doesn't he look familiar to you? If this is indeed the case, then you need something urgently to do with it!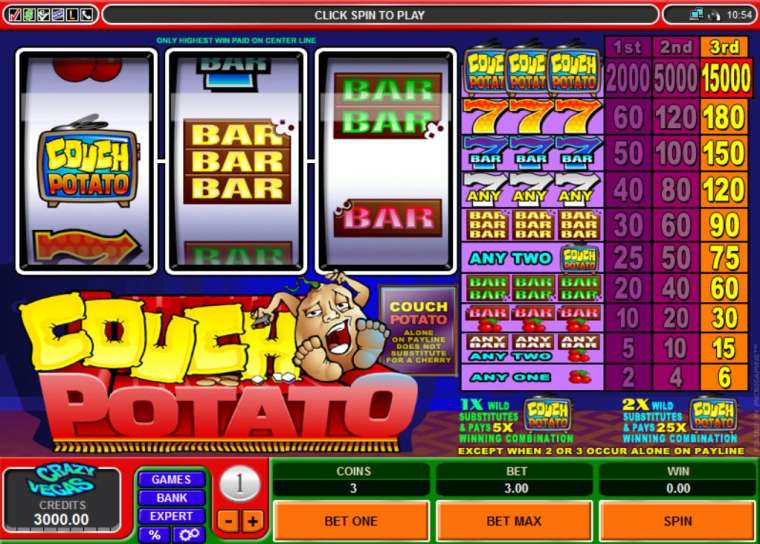 Play Couch Potato
Couch Potato - This three-reels slot machine, the main theme of it will be the laziest couch potato of all that ever existed! Bummer does nothing but just sitting on the couch, sleeping and eating! Maybe someone you know about this character itself. Are we not ready to sit all day long in front of TV and absorb fast food? That is why this free slot machine so relevant.
Lazy on the couch even became the logo of the game, which is located below the reels.
In the game you can put coins from 25 cents to $5, which can be multiplied by 1, 2, 3 coins bet per line.
In the game you will hear the sound effects that make the game machine even more original. Frankly, these sound effects can also be found in other gaming machines, but they are valuable because they create an atmosphere of the casino.
If you prefer to play in automatic mode, this game is not a problem. To do this you have to connect the expert mode, and do it very easily - by pressing the Expert. In automatic mode, you can reset the number of automatic spins, and calmly watch the game.
Logo games can increase your winnings by 5 times, if he is in a winning combination. When a winning combination of the symbol will be 2, then the gain is multiplied by a factor of 25! And whether it is necessary in this case to choose a slot machine without registration? It will be a shame if you fall a chance, and you play the wrappers! The game is quite generous, so do not miss the opportunity to play on the slot machine for real, and this is possible only in the game for money.
Couch Potato Symbols, Wild, Scatter
Icons on reels are painted in bright colors. You will see the berries, red bars, double bars green, yellow triple bars, seven silver, gold Seven, Purple Seven, as well as icons of the logo of the game with our main character.
Jackpots
Jackpot of the slot machine Coach Potato is 75 thousand dollars.
Couch Potato Interface
The payout table has four columns. It is located on the left side of the interface. You will immediately see what prize you have owed because the table has a separate column for those who bet one coin per line, two coins per line or three coins.
Function keys:
• Bet one - activate one (second, third) coins per line;
• Bet max - select the maximum rate;
• Spin - a rotating reel.
• + or - to be used to set the desired denomination of coins.
Conclusion
Theme is fun, and perhaps will be sobering for fans of the TV. If you sit near the TV like a zombie all day, the real life will bypass your side, and remember you will have nothing to remember in your old age! Live a life of your own, and not the plot of Hollywood. And in order to have enough money for an interesting life, play online casino!
Where to play Couch Potato for free or real money?
Coach Potato - is a real goof, and will not look worthwhile casino. But this is not about you, is it? Follow our advice and did not regret it. Play this game in the casino Betfair.