 About
What do the beavers are famous for most of all? Surely, for its skill in cutting trees, gnawing through the bodies of trees with their teeth, and in building dikes of logs and branches. They make dams with its help, where they take it like a duck to water. Moreover, the beavers are also famous as skillful builders of lodges, which are a sort of complicated labyrinths, where no enemy can get in. They can also burrow channels and float wooden feed by them. That's why they are meant to be excellent engineers, which are perfectly succeed in their skill.
Meanwhile, a new free online slot machine, produced by Cryptologic company, which was named Dam Rich, is going to introduce you life of the funny beavers.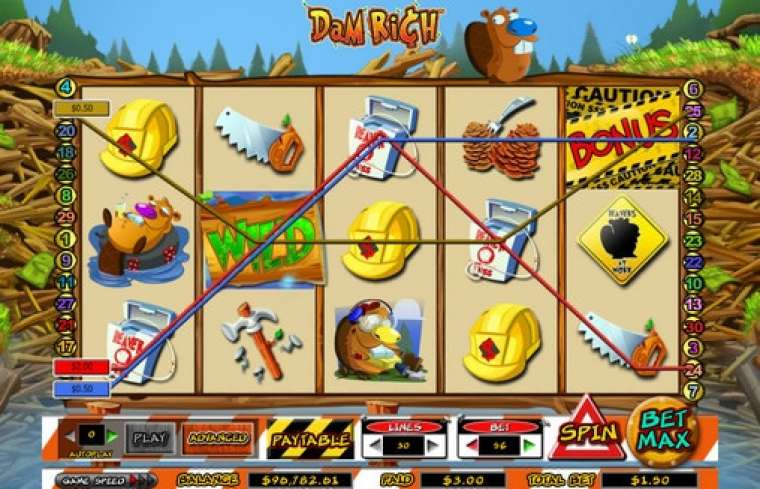 Play Dam Rich
Dam Rich video slot has five reels and thirty instantly active lines. For example, in Inter Casino it is possible to play this slot machine by the bet in range from one cent to ten dollars per line, while the maximal acceptable bet per spin is three hundred dollars. This game is also provided with the special symbols, free spins and some original gaming functions.
The winning combinations of Dam Rich slot machine are formed by the most wide-spread principal: at least three similar symbols have to be situated next to each other at the active line, starting from the first left reel. Amounts of the payoffs by the combinations are calculated automatically by multiplying the bet, staked per line, by the combination index (from x5 to x1000).
As usually, only the highest combination by each line is charged with payoff. It is possible to get several winnings in the same spin. They are summarized and immediately transferred to the player's account. The gambling feature, which could double up the payoff, is not provided by the rules of Dam Rich slot machine.
Symbols
The symbols, which you can see at the reels of Dam Rich slot machine, image the main heroes of the game, that is the beaver-builders and different equipment they use for work and rest, such as a map of a dike, a saw, a hummer, a warning sign, cones for a snack, helmets and other.
There are also several special symbols in this game, such as Scatter (a diving beaver in a mask), Hidden Wilds (a log, dropping to the reel), Free Spins Scatter (one of the beavers in a hard hat) and Free Bonus Scatter (Bonus capture at a yellow band).
Scatter drops out only at the third reel an gives a payoff in amount of two total bets.
Hidden Wilds symbols can be standard and expanding. The standard appear at all the reels except of the first one (you can get several such symbols), while the expanding can appear only at the three central reels and only during free spins (please read about it below).
Free Bonus Scatter symbols give a right for free spins (up to twenty), when they drop out at the first. third and fifth reels in the same time. The beavers of helmets (Free Spins Scatter) would appear at the screen during these spins and start building a dike. Stronger the construction is, higher the payoff you get.
Expanded Hidden Wild symbols can drop out during free spins at the three central reels and only one by one.
Dam Rich Bonus games
Any thematic bonus games at the additional screen are not provided by the rules of Dam Rich slot machine.
Jackpots
A progressive jackpot is not raffled in Dam Rich video slot.
Dam Rich Interface
Well, here we would shortly describe the functions of different elements of the interface of Dam Rich slot machine, which is available only in English language. The following tips would be useful for the beginners:
Spin - start a new spin.
Bet Max - start a new spin by all lines (the same as Spin in this slot machine).
Bet - select an amount of the bet per line.
Lines - a quantity of active lines (this value can't be changed).
Paytable - open the payment table.
Autoplay (Play/Stop/Advanced) - an automatic game mode (start/stop/settings).
Game Speed - select the speed of the game.
Balance - a state of the player's account.
Total Bet - an amount of the bet per spin.
Paid - an amount of the payoff for a spin.
The basic user's settings are available in Dam Rich slot machine.
Conclusion
Cryptologic company, which has released Dam Rich slot machine, is constant to its main principals. It continues developing and producing really interesting slot machines with unusual gaming functions. Moreover, Dam Rich is a really funny model, which is able to rise your mood up. The only thing to wish is to provide the games developed by Cryptologic with a multi-language interface, although, the interface is very convenient and user-friendly.
Where to play Dam Rich for free or real money?
Dam Rich video slot is already available to the customers of InterCasino, where all the games can be tested in a training mode. You can also look for it in other online casinos, powered by the software developed by Cryptologic. Quite possibly that some of them provide an opportunity to test slot machines without registration by the virtual bets.