 About
Fire N Dice is a very interesting online slot machine, with a carefully worked out conception. Even the name of the game would played out twice by the developers, because it can sound like «fire and ice». This trick was also reflected in creation of the logo of the game, where Dice word is written in use letters. The game makes difference to other by quite a creative solution of all parts of the gaming development, that's why we can enjoy a really creative work of high-skilled specialists, which have lived up all the ideas in the best way!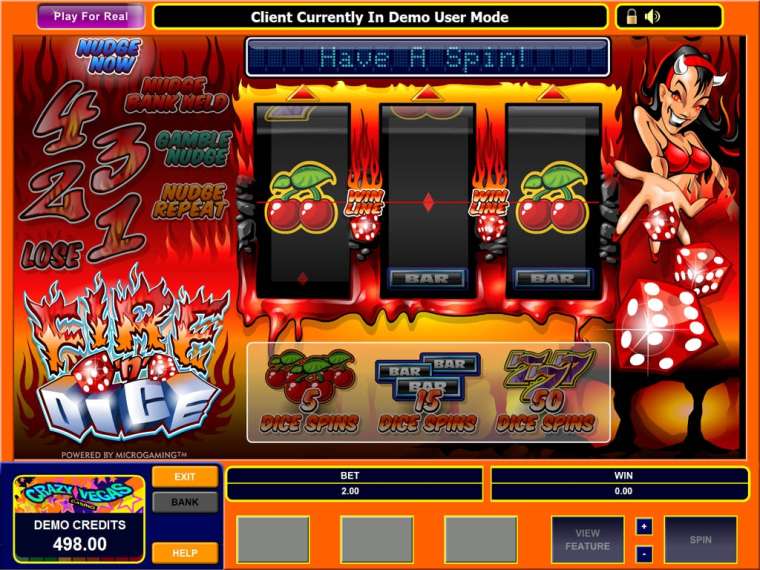 Play Fire N Dice
Fire N Dice is a damned entertaining online slot machine developed by Microgaming company. It has three reels and one pay line. This slot machine is very attractive for the players due to its excellent execution. First of all, it has a very stylish graphics. When the reels are spinning, you can see burning fire. Moreover, when the reels are stopped, you can hear how dices drop down one after another.
Fire N Dice is a pub-slot, so please don't mistake it with time-honored classic slot machine. The main topic of this slot machine is clear from the first sight, as soon as you load this video slot in a browser. A devilness, which is drawn in the interface of the slot machine throws dice and all the options are designed in the same style. Colorful flames are everywhere here and it becomes hot!
Animation and sound effects essentially improve the gameplay. Every time the reels are spinning, you can see flames and hear cackle of fire. The same soundtrack is provided in the bonus round.
You can select the value of coins in range from ten cents to ten dollars. It is possible to change the value of coins in every spin.
You can see a digital display above the reels, which contains important information by the gameplay.
Fire N Dice Symbols, Wild, Scatter
There are only three symbols, which can bring you payoffs when they drop out at the main pay line, at the main screen. These icons include images of cherries, bar stripes and sevens.
Fire N Dice Bonus games
The bonus option of Fire N Dice slot machine is triggered when symbols with images of three cherries, bars or sevens make a combination at the screen. Here you can receive five, fifteen or fifty spins in the bonus game. The bride of devil throws dice and you move to another screen, where you can see a field consisting of nine vertical and nine horizontal cells with five pay lines (three vertical and two diagonal). These spins are played automatically and your winning are calculated before you go back to the reels in the main interface.
This slot machine was developed carefully and I got lots of pleasure playing in its bonus game. I think it is an interesting way to give prizes. Talking about the main game of this slot, I would prefer more frequent payoffs, however, it is a matter of luck.
Jackpots
An amount of the jackpot of Fire N Dice slot machine is 500 bets, that means that the maximal winning can reach five thousand dollars.
Fire N Dice Interface
The interface of Fire N Dice video slot doesn't make difference with any originality to other games.
In the bottom part of the screen you can see the following buttons:
Spin - start a new gaming round.
+/- - change the value of coin.
View Feature - information about the game.
Conclusion
It is quite surprising that such a colorful and uncommon game can be range to the category of free online slot machines, however, it is a part of marketing of an online casino. What is the other way to persuade the customer that this product is worth of his attention? The developer doesn't care, would the player come to an online casino after he downloads this online slot machine free at the website or not. Of course he would come! The reason is that good quality is always wanted and always would be paid back in case of correct usage.
Where to play Fire N Dice for free or real money?
You can play Fire N Dice online slot machine in Crazy Casino.
Please share your impressions of Fire N Dice slot machine with us and other readers of casinoz.me. You can write your responses in comments to the review and rate this game. Your opinion is very important for us.