 About
Well, we are leaving for searches of gold again and nothing can stop us. Jingle of golden coins attracts mean adventurers to the mines where dangers can wait for them, but it doesn't scare them when such a charming sound promises wealth and power! «Gold Rally» is the slot machine developed by Playtech company, which always surprises its customers with a great variety of plot lines and incredible imagination of its authors.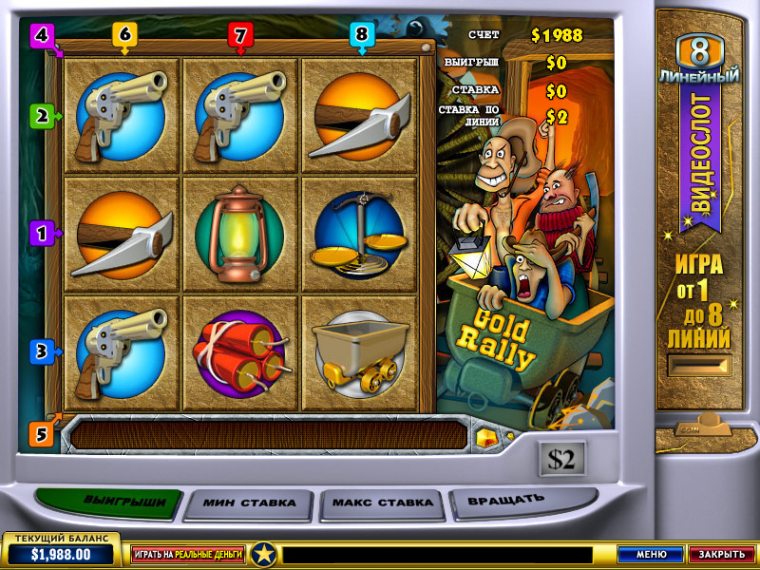 Play Gold Rally
«Gold Rally» slot machine has nine reels and eight pay lines, although «Gold Rally» looks like a video slot with three reels. The matter is that the reels are spinning not in a lane as it is usually done, but each one makes its spin. The same system is presented in
"Chinese Kitchen»
video slot and 3x3 scheme works in this slot. Here you can see three horizontal and three vertical lines. All reels are independent of each other.
It is possible to win when you make a winning combination at horizontal, vertical or diagonal lines. You can select special active lines or stake per all of them.
The background music of this game reminds about the danger ahead. There is a howling gale and knowing sticks promise hard work. But what can stop those who want to rise up to the top of the world? They are ready to suffer, feel hunger and stand pain to come in a luxurious suit to the gala dinner and talk to the elegant ladies from the high society in the future. How many people have managed to succeed with help of passing fortune? Well, and you also hope to get your win playing on the exciting «Gold Rally» slot machine and waiting for your winning combination. To make it, you don't even need to work with a shovel! You can just sit against your screen, enjoy your cozy home and spin the reels of «Gold Rally» slot machine.
This model is provided with Scatter symbol which doesn't need to make combinations at the same line.
An image of weighted play part of Scatter symbol of «Gold Rally» slot machine. No matter where this symbol drops, but when five or more of them appear at the screen, you get your prize according to the payment table.
An amount of your wins by Scatter symbol depends on your total bet per spin.
«Gold Rally» video slot can offer you a bonus round. Bonus symbol is an image of dynamite. The bonus round is triggered by four images of dynamite at four corners of the gaming field in the same time.
When you win the bonus round, manuals are displayed at the screen. An amount of your win depends on your choice.
Price of winning combinations depend on the symbols they are formed of.
Three logos of «Gold Rally» give you five hundred bets.
Three images of a horse shoe - two hundred bets.
Three images of the pick - one hundred bets.
Three lanterns bring you seventy five bets.
Three revolvers - fifty bets.
Three mine trays give you forty bets.
Three bags of gold - thirty bets.
Three images of the scales - twenty bets.
Three images of dynamite - ten bets.
Nine images of the scales hit the jackpot!
Eight images of the scales - two hundred bets.
Seven symbols of the scales - fifty bets.
Six symbols of the scales - ten bets.
Five symbols of the scales - five bets.
Two horse shoes will give you ten bets.
One horse shoe brings you two bets.
Symbols
Among the gaming symbols of «Gold Rally» slot machine you can see images of a lantern, the logo of the game, a pick, a bag of gold, a revolver and a miner tray.
Gold Rally Bonus games
Bonus symbol of «Gold Rally» video slot is Scatter symbol. The bonus round is triggered by this symbol and can improve your bankroll a lot.
Jackpots
Unfortunately, «Gold Rally» slot machine is unavailable in a fun mode, because it draws the progressive jackpot. It means that its amount is not fixed and depends on quantity of players in this slot. When somebody wins the jackpot, its amount is reseted and starts rising up again. You can see a current amount of the jackpot in the top part of the interface of «Gold Rally».
Gold Rally Interface
You can see the following controlling buttons in the bottom part of the screen:
Paytable – open the payment table.
Bet One – stake per one line.
Bet Max – start a new spin by the maximal bet and all lines.
Spin – start a new spin.
Conclusion
Prizes and winning combinations make «Gold Rally» a very exciting game. You are not going to feel bored while playing and unexpected surprises are waiting for you in every spin. Sounds and graphics make this model even more attractive.
Where to play Gold Rally for free or real money?
You also can go to the golden mines to find out how lucky you are. To make it, you need to
download the client software of an online casino
. You can find out more about it in the «Articles» page of our website.
Meanwhile, you can play in the famous international
Europa Casino
, or in the popular mostly in USA
Las Vegas Casino
.Your responses about «Gold Rally» slot machine would help us making Casinoz more interesting and useful for the readers. Please share your impressions in comments to the review and rate this game. Your opinion is very important for us.