 About
The luxurious lifestyle implies the existence of certain benefits that are needed to create an image, but not for the functionality. Living in luxury, you acquire things, guided by other motives. Convertibles, luxurious jewelry, yachts and leisure in the most fashionable resorts can be attributed to the main distinguishing characteristics of those who live luxurious life.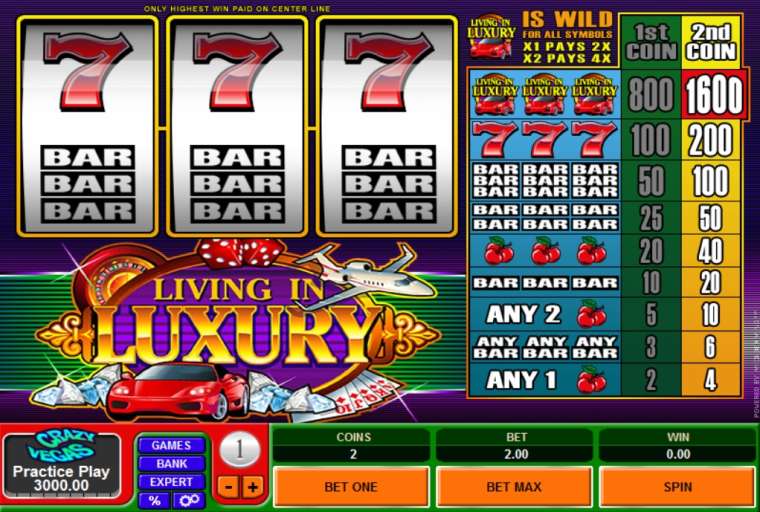 General description
The free slot machine Living in Luxury fully explains the topic of luxurious lifestyle. Living in Luxury is a slot machine without registration in which you will find wild symbols, multipliers, scatters and a payout that can reach 8000 dollars!
Gamblers can make different bets ranging from 25 cents to 10 dollars. You can wager one or 2 coins per line. The number of coins affects the payout amount.
Living in Luxury uses the traditional layout with three reels on the left side and the pay table on the right side. There is only one payline. At the bottom of the slot machine there is a logo of Living in Luxury.
The game provides a wild symbol, which is represented in the form of car icon. When the wild symbol helps to form a winning combination, the payout is doubled. If two wild symbols appear, the prize amount is multiplied by four. This is another reason that explains why the red convertible is so popular!
Symbols
The symbols of the games about luxurious lifestyle are usually the items that represent it. The developers of this game have been limited to the logo, which contains everything that ordinary people dream about. You'll see traditional Sevens, Cherries, Bars and a luxurious game logo among the symbols.
Jackpots
The jackpot of the slot machine is 8 thousand dollars.
Interface
Gamers will see red sports cars, private jets, a roulette wheel, cards and the name of the game, engraved in a golden font in the game logo. Designers have chosen such colors of the gambling machine for a certain purpose. The red color is in the green background. The association with a green cloth of the casino appears at once. And the red convertible is a recognized symbol of luxury.
As mentioned above, the layout is traditional. Information about the game can be found next to the reels. And this is very convenient. There is no need to look for it in other tabs.
The control panel is also understandable. There are only three buttons:
Bet One is used to select the number of coins per line;
Bet Max allows choosing the highest bet;
Spin allows spinning the reels;
+ and - can either increase or decrease the coin value.
Conclusion
If you like to play the old-fashioned slot machine, we recommend that you should try the classic slot Living in Luxury.
Where to play for free or real money?
Where you may go in search of the luxurious life? It is great to follow your intuition, but sometimes it is worth listening to advices from other gamers. Betfair Casino has been popular among users. It pleases everybody with its stability.

User comments

Comments

User comments