 About
If in your childhood you were not a happy owner of eight bit game console, you can't understand that genuine delight, which was taking off their frets children after each passed complicated level or finally killed boss. These games, which seem absolutely primitive now, have sunk so deep into the minds of people of that generation, that they still sometimes return to them with pleasure and remind their youth ages, chasing Mario by numerous levels or defeating attacks of monsters.
The developers of Microgaming company have decided to gladden the customers of online casinos, which have passion to such entertainments. They have released a new free online slot machine named Max Damage and the Alien Attack, which looks more like a computer game, than a video slot.
First of all, there are neither reels no active lines. Secondly, the result depends on manual dexterity of the player and his skill to react on changing of situation. Thirdly… Well, let's check everything in order.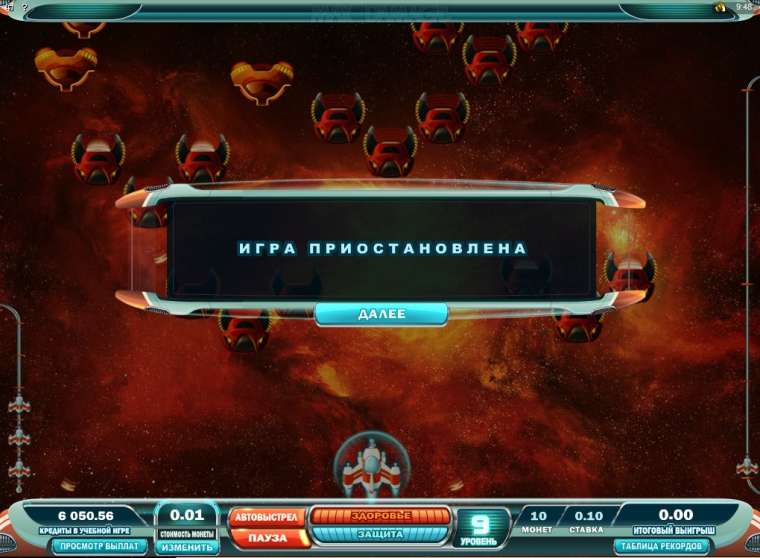 Play Max Damage and the Alien Attack
Max Damage and the Alien Attack game doesn't remind slot machines in its common view at all. However, online casinos still divide this game to the category of slot machines.
At the main screen you are going to see our planet, attacked by aliens. Your ship is situated in the bottom part of the screen right above the Earth. Your aim is to shoot by enemies, bursting their flying machines. If even one of them brushes past you, the level would be finished. Moreover, you also lose if the enemies manage to kill you.
For each exploded ship of the enemy you get some quantity of points. Moreover, the special objects drop out from some of the objects, collecting which you also receive bonuses. Let's check its functions:
Life - gives one life.
Health - improve your health.
Shield - restores protection.
Damage Booster - increases power of attack.
Except of them you can catch things which improve power of your weapon (Weapon Upgrade, Blockade, Nuke, Wormhole, Free Missiles, Lazer Booster).
There are nine levels in Max Damage and the Alien Attack slot machine. Farer you manage to get, higher your winning is. At the third, sixth and ninth levels when you win all the enemies, you would have to meet the boss.
Max Damage and the Alien Attack Bonus games
The only bonuses, provided by the rules of Max Damage and the Alien Attack slot machine are objects, which drop from some of the ships.
Jackpots
A progressive jackpot is not raffled in Max Damage and the Alien Attack video slot.
Max Damage and the Alien Attack Interface
You can navigate your ship with help of buttons with arrows at the keyboard. You can shoot by space button. As quantity of shells is unlimited, we recommend you to keep it pressed always or activate automatic shots.
There are two scales in the center of the control panel, which display levels of health and protection. There is not sense in describing all the elements of the interface in details, because you can download this slot machine with a high quality multi-language interface.
In case you want to make some corrections to the gameplay of Max Damage and the Alien Attack, just open the window of the user's settings.
Conclusion
Definitely, Max Damage and the Alien Attack slot machine would make ambivalent impression on the customers of online casinos. Some of them would start shooting the aliens with pleasure, while the rest would consider it an entertainment for kids, which shouldn't be turned into the gambling game.
However, we wouldn't like to force you our opinion - decide for yourself, if Max Damage and the Alien Attack worth of your attention or not. Herewith, we would be pleased if you share your impression of this video slot with us.
Where to play Max Damage and the Alien Attack for free or real money?
Max Damage and the Alien Attack game is already available for the customers of Spin Palace Casino and some other online casinos, powered by the software developed by Microgaming. Playing there is possible for fun as well as by the real cash. Moreover, some of online casinos, such as Roxy Palace Casino, allow testing slot machines even without registration by the virtual bet.
Please share your opinion about Max Damage and the Alien Attack slot machine with us and other readers of casinoz.me. You can write your responses in comments to the review and rate this game.