 About
Have you ever played blackjack like in the luxurious casinos of Monte Carlo? Such an opportunity is provided by NextGen Gaming company, which has released the Monte Carlo Blackjack Pro Multihand model. Features and capabilities of this interesting novelty are described in the following review by Casinoz.club.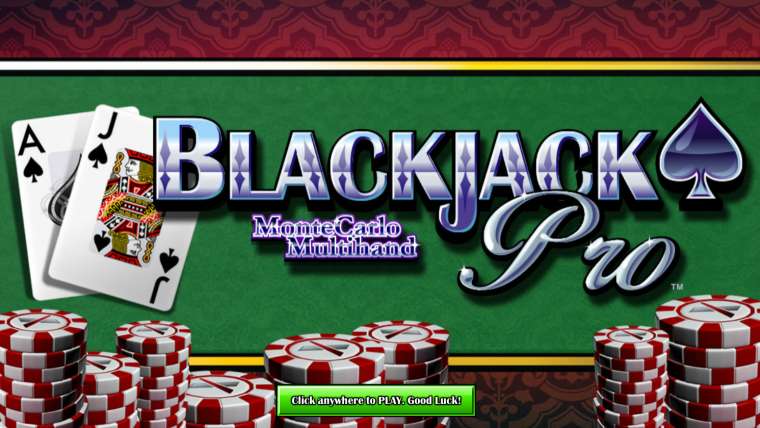 General description
The Monte Carlo Blackjack Pro Multihand is European blackjack with six classic decks of fifty two cards each without jokers.
It is possible to play this game on one-three boxes and stake from one to one hundred euro. Bets on different hands don't necessarily need to be same.
General rules of the game are standard. You would have to win the dealer getting higher score than he has, but never exceeding twenty one.
Now a brief description of major features of the Monte Carlo Blackjack Pro Multihand itself:
The dealer deals one card to himself and lays it face up.
The dealer stands on any seventeen.
Split is possible, but only once per box.
One card is dealt to each of split aces.
An ace and a ten after a split is not a blackjack.
Double is permitted on nine, ten or eleven.
Double is possible only on two starting cards.
Double after split is possible.
Blackjack insurance is offers in case of an ace on the dealer's hand.
No surrender.
Payoff indexes are ordinary:
1:1 on standard winning box;
3:2 for blackjack;
2:1 by insurance.
The dealer doesn't hit in the case of overtake.
The deal is over as soon as the dealer hits, names winners and losers and makes all payoffs.
Bonus games
The Monte Carlo Blackjack Pro Multihand doesn't offer any bonus options.

Jackpots
No progressive jackpots by NextGen Gaming are offered in this game.
Interface
You will see numerous labels at the screen. Some of them are active all the time, other appear in proper gaming situations. Let's discuss their functions:
Bet Here – betting fields;
Min/Max – limits;
Game Rules – rules of the game;
Rebet – repeat the bet;
Insurance – use insurance;
Hit – take a card;
Stand – stop taking;
Deal – receive cards;
Clear – remove chips from the field;
Split – make a split;
Double – make a double;
Balance – state of the balance;
Total Stake – an amount of the bet;
Win – an amount of the win per round.
It is possible to stake chips from one to one hundred euro value.
An image of a spanner at opens the user's settings section with following tabs:
Game Speed – set speed of the deal;
Audio – sound parameters;
Colour – select color of the table;
Always Ask for Insurance – offer insurance all the time;
Always Ask for 11-/17+ Hand – offer tips below eleven and over seventeen.
You will not download the Monte Carlo Blackjack Pro Multihand as it is available in browser.
Mobile version
It is possible to play the Monte Carlo Blackjack Pro Multihand on smartphones and tablets at the casino's website. No special app is needed.
Conclusion
This is a great model of European blackjack in any term, which offers quite beneficial rules.
Pros:
Convenient interface;
Standard rules;
Numerous settings.
Cons:
Old-school graphics;
The theoretical payback is rather high, but you can find models with higher RTP.
We should add, the game is also available in a variety with one box. Please read about it in the article by link.
Where to play for free or real money?
You can test the Monte Carlo Blackjack Pro Multihand free at Casinoz.club. If you prefer playing for money, find this game in the online casinos, powered by NextGen Gaming. Best portals are presented below.
You are welcome to write responses about the Monte Carlo Blackjack Pro Multihand. Please share your experience, rate the game and give advise to the beginners.