 About
Out of this World slot machine tells us not much about an alien attack, but about a small contradiction between them. The main characters of this game seems to be so peaceful from the first sight, that it is even starting that they have been involved in some kind of contradiction. How can these nice creatures fighting is still a mystery for us. Perhaps, they should have some serious reasons for it. It is possible to get across anybody. Pink aliens in this game confirm our theory. The guy are obviously having some conflicts between each other. Dissatisfied one eyed pink aliens with tushes which can be seen in their mouthes are spoiling the mood not only of green peaceful aliens but also fail the bonus game when they appear at the reels. However, we would talk about it below.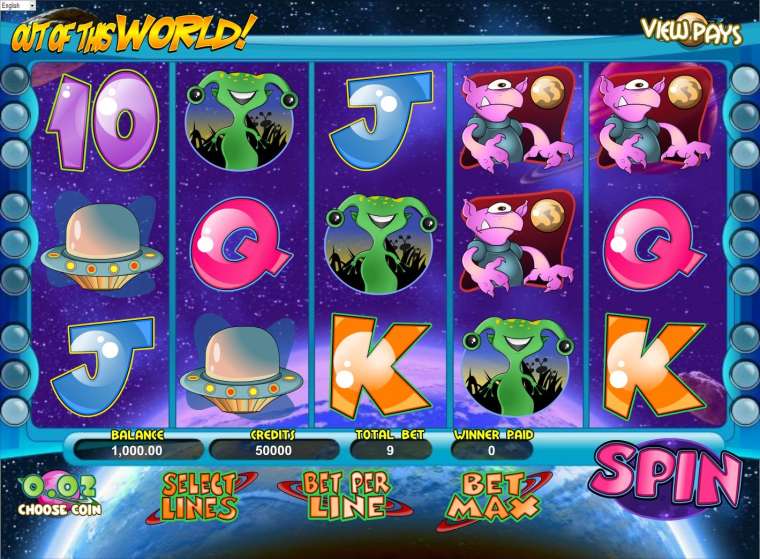 Play Out of this World
Out of this World is a five reeled video slot with with nine pay lines, which is incredibly plain. There are even no descriptions in View Pays tab, which is situated in the top part of the screen, because in case there is nothing to explain here. Everything is extremely clear and simple. A progressive jackpot is not raffled and the gambling feature is not provided by the rules - the common options, which online slot machines can usually boast with. So what is attractive in this video slot? Let's take more careful look at it.
Symbols
The gaming symbols, which you would see at the screen of Out of this World slot machine, are images of the representatives of two alien races. We don't know their names, while they differ by their appearance. One eyed pink ugly creatures are fighting with two eyed green nice aliens. The reason of their contradiction is covered by mystery, while the fact that pink creatures spoil the game to the green is obvious. Except of these guys which are talking on their alien language, you would see images of planets and sings of the values of playing cards, which are typical for slot machines. There are not so many symbols here, as well as the winning combinations.
Out of this World Bonus games
As you have already understood, Out of this World is a simple game, and nobody would please you with super options here. However, the charm, which green aliens have, the optimism of the main character, which is smiling on you from the screen, plays its part.
There are no Wild or Scatter symbols here, while the bonus game is triggered quite frequently due to the symbols which can activate it. They are alien plates, which you should pick at the screen to get the bonus game started. Three flying saucers, which are gathered in one line above the reels, would let you win a bonus. You would receive the bonus in the bonus round, where you would have to choose flying saucers, where aliens are hiding. Green aliens are hidden in all saucers except of one of them, where a pink alien is sitting. If you choose this plate, you would have to quit the bonus round (there is a small secret: we are not sure about you, but while we were testing this game, pink alien was used to hide in the middle, that's why we received the maximal winning when we clicked at the edge saucers first).
Jackpots
An amount of the jackpot of Out of this World slot machine is 4000 credits. The most valuable symbol, which is paid out by the highest indexes, is an image of a pick alien, while makes this hero more attractive. Perhaps, it is undesired in the flying saucer during the bonus game, while you should be happy to see it at the reels. What if it helps you to earn the desired jackpot? In this case you would receive a good winning and start loving this nice game.
Out of this World Interface
Out of this World is a very colorful and attractive video slot, which interface is situated at the background of beautiful starry sky of attractive and unbelievable beauty, which we can only suppose about. Every time you click at Spin button to start a new spin, you can see the main hero disappearing from the screen and appearing again when the reels are stopped like if he is glancing from the bottom. It makes the game more dynamic and lives up the interface. You would see the following buttons at the control panel:
Choose Coin (a button in shape of a pink planet) - this button would let you change the coin value, which you are going to stake. You can select from the following range in Out of this World slot machine: 2,5, 10, 25, 50 cents or one dollar.
Select Lines - would let you choose a quantity of the active lines and more pay lines you use in the game, higher your winning is. You can activate maximally nine lines in this game and just one minimally.
Bet per Line - an amount of the bet per line. It depends on the quantity of coins you would like to stake per line. It can be from one to five coins per each of the lines. This way, the maximal acceptable her per spin which you can stake in this game is forty five.
Bet Max - play by the maximal bet. This button activates the maximal number of lines by the coins value, which you have selected before, and starts a new spin.
Spin - start a new spin the setting, which you have selected.
Conclusion
Out of this World slot machine is designed in a cartoon style and really rises your mood up. The bonus game is triggered quite frequently, that's why you can get winnings very often that is the pleasant advantage of this game. Actually, we didn't feel lack of variety in the gameplay, in spite of the fact that there is nothing in this game except of the bonus game and beautiful visualization. Everything seems to be very harmonica and completed.
Where to play Out of this World for free or real money?
Alien topic is one of the favorite for the creators of movies, writers, as well as developers of computer games and gaming software. You can find lots of such games, as well as Out of this World slot machine in Red 7 online casino.
Your responses about Out of this World slot machine would help us making Casinoz more interesting and useful for the readers. Please share your impressions in comments to the review and rate this game. Your opinion is very important for us.