 About
Pai Gow Poker combines the principles of the ancient Chinese game called pai gow and common rules for poker. It is unusual in the fact that it is necessary to beat the two dealer's hands that the player forms from the dealt cards. It is allowed to split cards at your sole discretion or using the advices of the house.
An excellent version of pai gow poker designed for online casinos was released by Playtech. You may use it to play for real and training bets.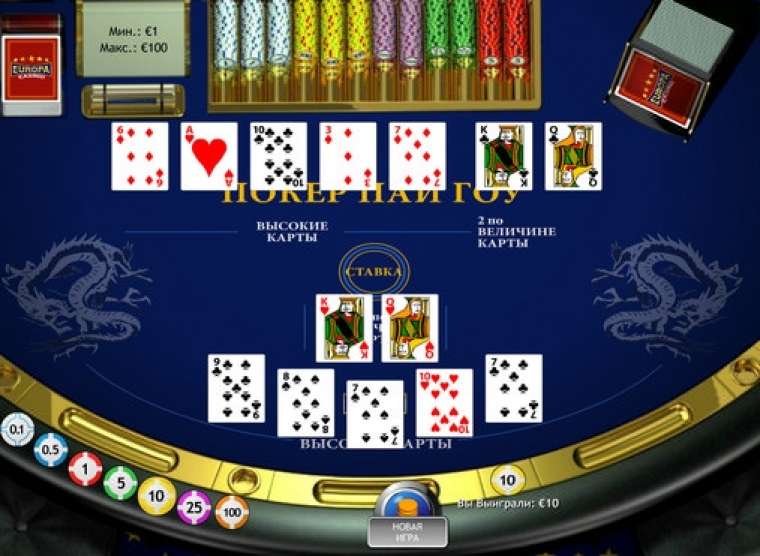 General description
The aim of Pai Gow Poker is to beat the dealer's high and low hands. They are formed from seven cards received from the dealer. The high hand is composed of five cards. The low hand is made up of two cards. The high hand should have a higher rank compared to the low one.
Pai Gow Poker is played using a standard 52-card deck with one joker. The cards are shuffled before each deal. Joker may participate in the formation of the following poker hands: straight, flush or straight flush. In other cases, it is considered to be an ace.
Users can play only on one box. The betting range varies from one to one hundred euros at Europa Casino.
The standard poker hands ranging from a high card to a royal flush are valid in this game.
Having selected the bet size, the player receives seven cards. The croupier also deals seven cards to himself, but does not reveal them.
The user divides them into two-card and five-card hands. The five-card hand must have a higher rank compared to the two-card one.
The dealer does the same following the established rules. Then the high and low hands of the player and the dealer are compared.
If the player's both hands win, he or she receives the payout according to the 1:1 ratio without five percent commission fee. If both hands are lower in rank than the dealer's ones, the user loses the bet. It is supposed to be a draw, when only one player's hand wins.
Bonus games
Pai Gow Poker does not offer bonus payouts.
Jackpots
Progressive jackpots are not provided in Pai Gow Poker.

Interface
We are not going to discuss the interface of Pai Gow Poker released by Playtech in detail, because you can download this game with full and competent translations into different languages. The interface can be partially changed via the settings.
Conclusion
Pai Gow Poker is a very exciting variant of poker, and the model manufactured by Playtech has everything that you need for a convenient gameplay.
The special article published on the portal Casinoz dealt with the description of the
optimal strategy for pai gow poker
. You should read it before making real bets.
Where to play for free or real money?
It is possible to play Pai Gow Poker for conditional bets and for real money at Europa Casino and other online casinos using the platform released by Playtech. Readers of the portal Casinoz can run Pai Gow Poker for fun without registration directly on our website.

User comments

Comments

User comments