 About
It is difficult to believe, but «robot» expression is younger than one hundred years now. This word was created by the Czech author Karel Capek in 1920, while it has come into general use only in the second part of twentieth century. Although robots have become reality already long time, usually they are industrial machines, automatic machines to enormous assembly lines. However, the robots, which fiction authors were dreaming about fifty years ago - human kind androids - still remain a dream or a kind of Japanese toy for technical exhibitions. However, there is a field, where it is impossible to avoid robots, such as cinema and computer games. It is where imagination, fancy and technical capabilities are not restricted with anything any more. These virtual robots have get even into video slots. For example, in Roboslots slot machine.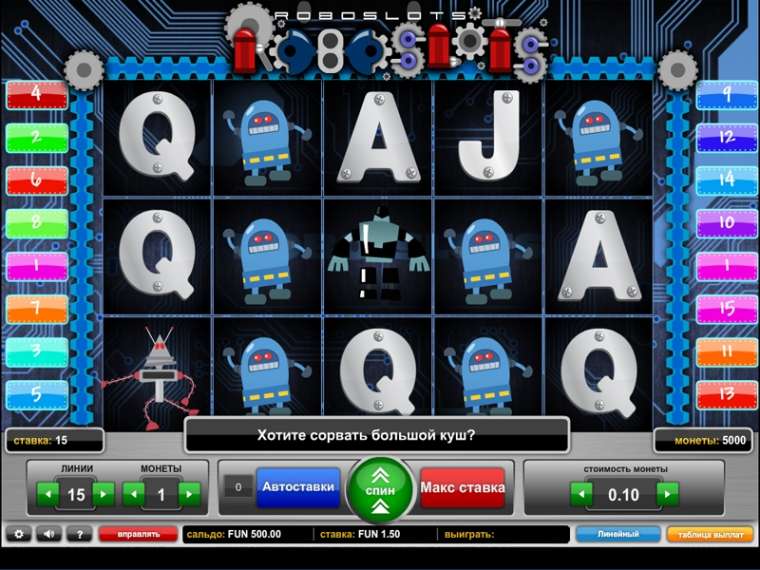 Play Roboslots
Roboslots is a five reeled video slot with fifteen pay lines, which was produced by 1x2 Gaming company. This game is provided with Wild and Scatter symbols and free spins.
This free online slot machine has a multiplier, which doubles up the prize in case Wild symbol replaces any other standard symbol in a combination. It happens when one of the symbols is missed in a winning combination.
Scatter symbols (an image of a yellow robot) is also available during free spins, which offers the players bonus prizes. For example, three such symbols would bring you thirty coins, four Scatters are granted with one hundred coins and five symbol bring a payoff in amount of two hundred coins. It is possible to make bets by coins of value in range from one to fifty cents in this game. The maximal acceptable bet per line is six coins.
Roboslots Symbols, Wild, Scatter
The design of Roboslots slot machine is made in unserious style, in best sense of this word. A company of robots, which is imaged at the gaming symbols, which you can see at the reels of Roboslots video slot, origins not from futuristic movies, but from pages of children magazines. There are eight colorful mechanic creatures and it is quite difficult to describe each of them. You can see different models with foots and wheels, with hands, aerials, screens and sensors. They are stepping, dancing, flourish arms and are having fun, behaving loudly but friendly. A combination made of rd robots with hearts brings the player free spins. A yellow robot is available only during free spins and plays part of Scatter symbol. Wild is a symbol, which can replace other standard symbols, when it is necessary to help making a combination with image of a robot as well. At four additional symbols you can see signs of the values of playing cards, such as "J", "Q", "K" and «A», all of them are designed as metal letters, fixed with rivets.
Roboslots Bonus games
Roboslots slot machine is provided with the bonus game named Pyramids. You have to pick three or more symbols with robots to activate free spins. For example, three such symbols bring you five free spins, four symbols - fifteen free spins, while five symbols give a right for twenty five free spins. Free spins are generated automatically. The payoffs are doubled during the round of free spins.
Jackpots
An amount of the maximal payout of Roboslots video slot is 2000 coins.
Roboslots Interface
The design of the interface of Roboslots slot machine looks funny and childly naive. Signal lights are moving by electronic deck at the background. The stylish logo of the game is consisted of gear-wheels and suckers and is perfectly matches the general composition. The frame of the gaming reels is designed in style of gear-wheels and racks and colorful plates with markers of pay lines are hanging by both sides. The winning or the loss on such slot machine can hardly be ranged as categories of chance or luck. Such a quantity of robots should have already allowed for all possibilities, and as they are really nice robots, probably, their intentions are in favor of player.
The background music is quite nice and is provided with different special effects. It makes the game live, dynamic and interesting.
In the bottom part of the screen you can see the following functional buttons:
Spin - start a new spin.
Autogame - start an automatic game with required parameters.
Max bet - activate the maximal quantity of pay lines.
Arrows in «Lines», «Coins», «Coin Value» windows can correct an amount of the bet to higher or lower level.
Click at the red button in the bottom resets all user's settings.
Conclusion
Robots of all possible kinds would be presented to you at the reels of Roboslots slot machine are would help you to win a prize in this game. This video slot, which is available even without registration in a training mode, is provided with a great range of options, which also conduce achieving this aim. In general, Roboslots video slot makes a good impression. The lovers of machines and robots would definitely like this game.
Where to play Roboslots for free or real money?
In case the gaming portal, you are using, provides such an opportunity, it can be useful to download Roboslots slot machine free for testing its functional. However, the same can be made right at the website of an online casino. For example, it is possible to test it in a training mode in Sincity online casino. You can test it in a fun mode first and start playing by the real money after it.
Please share your opinion about Roboslots video slot in comments to the review. You can write your responses and rate this game.