 About
When the fanciers of online slot machines can't get of online casinos for a long time, it seems that they are under some spell. In this case the enchantress is a red-haired magician, which attracts the players to Spell Bound slot machine. Magic is quite a dangerous profession. Is it worth of such risk? However, the one who never risks, never takes starts from the skies! Meanwhile, we need it a lot!
Rating
Excellent
8.11 /10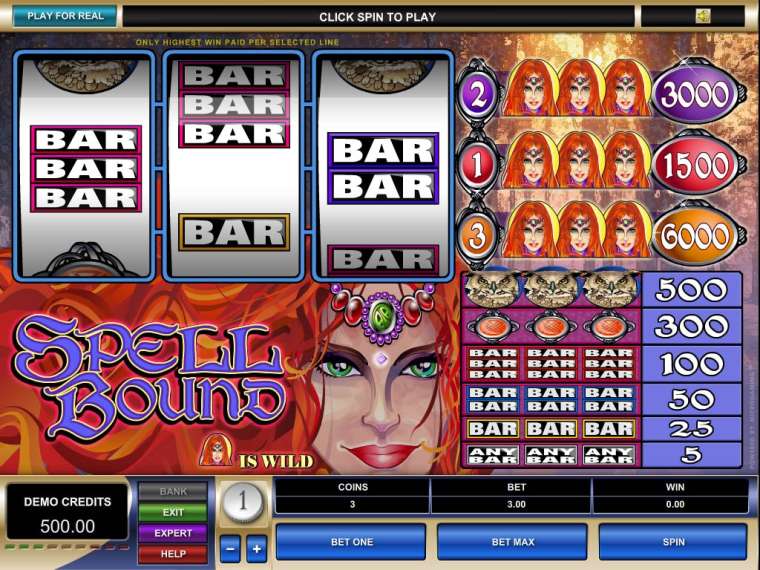 Play Spell Bound
Spell Bound is a three reeled classic slot machine devoted to the topic of magic, which was developed by Microgaming company. This slot machine is provided with Wild symbols.
The main heroine of this slot machine is a charming witch, which image is the most valuable symbols of this video slot. Among the other gaming symbols you can see her per - an owl, as well as a magic medallion. All these unusual charming symbols create a special atmosphere, that's why you want to play this game and never stop.
Well, there are three pay lines in this game: one of them pass the center, the second is on top and the third is at the bottom edge.
It is possible to stake bets of the following value in this game: $0.25, $0.50, $1, $2 and $5. Every coin is a pay line. WE advise you to play by the maximal bet to have a chance to win a jackpot. If you don't stake the maximal bet, you deprive yourself of such a pleasure. However, you can correct the total bet by selecting of different values of coins. In result, the lowest bet of this game is twenty five cents, while the highest is fifteen dollars per each spin. The range is not the widest and can satisfy the gamblers with different financial capabilities.
There are not so many extra options in this game, while it is provided with Wild symbol, which is an image of a red-haired magician. In case this symbol completes a winning combinations with a smaller quantity of coins, you are paid out with 1500 or 3000 coins.
There are totally seven different winning combinations in Spell Bound slot machine. All of them are displayed in the table of the main interface. You don't need to make any extra bets to find out about amounts of payoffs.
The settings of an automatic game are also available in this slot. You can choose five or ten rounds with one click or use advanced settings by click at «Autoplay» button. It is possible to play up to 500 spins in an automatic mode.
Spell Bound Symbols, Wild, Scatter
There are only four symbols in Spell Bound slot machine, such as the main heroine - a magician, which is also imaged at the logo of the game, an owl, bar stripes, double and triple bar stripes, and an image of a medallion.
Spell Bound Bonus games
Any thematic bonus rounds are not provided by the rules of Spell Bound slot machine.
Jackpots
It is possible to receive the jackpot of Spell Bound slot machine for the winning combination made of enchantresses. An image of a red-haired witch is the most valuable symbol, which is paid out by the highest index, in this game. The games, included into this category, don't bring such high payoff usually. The jackpot of Spell Bound slot machine is a combination made of three symbols of this wonderful fairy, which can attract attention of the players for a long time. It can also provide you with other payouts, which we would talk about below.
Spell Bound Interface
Quite pretty symbols, which you can see at the reels of Spell Bound slot machine, perfectly match the magic plot of the game.
There is a plenty of red color at the reels, which should gladden you, because more symbols of the main heroine appears at the reels of this game, more chances to receive the maximal payout you have.
You can see the reels in the top part of the slot machine, while a nice logo with an image of a red-haired enchantress is situated under it. Perhaps, she is going to conjure you a big prize!
You can stake one or two coins per line in this game by click at «Bet One» button one or two times accordingly and start a new spins by click at «Spin» button or at «Bet Max» to play by the maximal bet in amount of three coins.
Conclusion
Spell Bound game would be likely to you due to its design and simplicity. It is possible to download this slot machine free right at our website. Just try to play it in a training mode and decide, would you like to play Spell Bound slot machine by the real money or not.
Where to play Spell Bound for free or real money?
Surely, you can find Spell Bound slot machine without registration in a training mode almost everywhere, but if it brings you virtual prizes, you can't convert it into the real cash. Online casino is a different case. There you can charge some amount and play not only for pleasure, but to win the real prizes and get some cash!
Please share your opinion about Spell Bound slot machine with us and other readers of casinoz.me. You can write your responses in comments to the review and rate this game.