A favorite of every gambler online and offline, poker is all about skills and strategies. Many people have turned to play poker into a profession and have turned into overnight millionaires. The game is over 200 years old and has a lot of fans across the globe from celebrities and politicians to everyday working man. Here are the 12 most surprising poker facts you should know about.
Poker history facts
1. Where did poker originate?
The Texas Hold em' gives it away that poker originated in the United States. To narrow down the location, it originated in New Orleans, which is also the birthplace of cocktails and Jazz music. Even though it is not possible to find out who wrote down the rules and invented the game, historians are sure it was someone from the Louisiana area.
2. Longest poker game ever
The longest poker game was played at the Bird Cage Theatre in Arizona and lasted for eight years, five months, and three days. It started in 1881 and ended in 1889. That's a very long time for even a game of poker. All players that dropped in during the years belonged to high profile families, and the minimum bet was $1,000. It is now turned into a museum.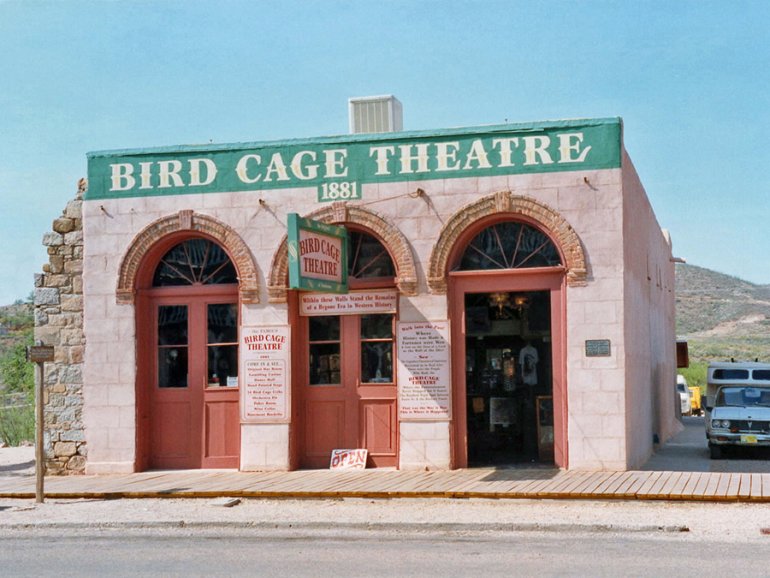 3. First ever poker tournament that was broadcasted
Nowadays, many poker tournaments are broadcasted on the internet and on the television but it wasn't very common back in the day. The first game was broadcasted in 1973. It was a part of the World Poker Series hosted in Las Vegas. Ever since, every game is broadcasted on television.
Top three poker facts
4. Largest poker game was hosted in the United Kingdom
The first poker game to have ever made into the Guinness Book of World Records for its size was played in the United Kingdom. Yes, you read it correctly. The game was played by more than 225,000 grinders and had a cash prize of $25,000. The entry fee was only $1 and hosted by PokerStars.
5. Betting with his wife
What do you think about betting on something or someone very close to you? That would seriously go to mess things up, wouldn't it? A man named Andrei Karpov wanted to keep playing poker so bad that he put up his wife as a bet and lost the round. The wife was so angry that she left him for the winner. Interesting turn of events, isn't it?
6. Smart hackers won big because of a bug
There have been many gambling stories about how hackers and math nerds uncovered a glitch and made huge money from it. The story that we are going to tell you is no different from that. Two hacker friends found a glitch in video poker machines at a casino in Las Vegas. They made more than $500,000 in just a night, which made the casino file federal hacking charges against them.
However, the case was dismissed after hackers' lawyer said that they only pushed the buttons they were legally supposed to while playing the game.
Crazy poker facts
7. Tom Dwan's birthday money turned into millions
If you are given $50, what will you do with it? You surely won't bet it into poker and instead, go for a nice dinner. Well, Tom Dwan decided to put in poker and made $5,000,000 over the next four years. Guess who never had to work ever again? However, he still went to Boston University and got himself a degree from Boston University.
He is 32 years old now and has turned into a professional poker place. Dwan even participated in the online poker games -- No-Limit Texas hold 'em and Pot-Limit Omaha. His screen name is durrrr.
8. Richard Nixon funded the House of Representative's campus with poker money
The 37th president of the United States funded his entire campus for the House of Representatives with the money he won while playing poker during his time in the navy. He was the president from 1969 to 1974 and also served as the 36th vice-president from 1953 to 1961.
Other US presidents who have played poker in the past include Warren G Harding, Harry Truman, Franklin D Roosevelt, and Dwight Eisenhower. All of them loved gambling and made fortune playing games.
9. The depressing story behind the dead man's hand
A dead man's hand is when you have two pairs of black aces and black eights. The story behind how that name originated is utterly disturbing. Wild Bill Hickok was holding the combination while he got shot in the back of his head by Jack McCall. It was mentioned for the first time in 1926 in a book called Wild Bill Hickok: The Prince of Pistoleers by Frank Wilstach.
Throughout the years, the term had different definitions. For example, back in 1886, it was considered to be three jacks and a pair of tens.
More about poker facts
10. Ben Affleck's a poker champion
Ben Affleck is such an amazing poker player that once he won $356,000 in California State Poker Championship and even qualified for World Poker Tour Championship. This only proves that the two-time academy award winner has more skills that his amazing acting and super good looks.
11. The poker tiebreaker in Estancia
People in New Mexico are very fond of poker and don't leave a chance to prove their love. If there is a tie in mayoral elections, the two candidates have to play poker. The person who wins becomes the mayor of the term. Poker has been used as a tie-breaker in the elections for three times until now.
12. The work jackpot originates from poker
Jackpot earlier didn't mean winning big. Instead, it meant that when your pot of coins was full, a pair of jacks by the player as opening cards would empty it out. During every round, the opener has to put a set amount of money in the pot, and the following players have to comply with it.
13. Playing Texas Hold'em is illegal in Texas
Even though the poker game's name includes the state name, you can play Texas Hold'em because gambling is illegal there. However, there's one casino in an Indian territory that has this game because of a loophole in government law. It makes the casino completely legal.
It is called Kickapoo Lucky Eagle Casino and located in Eagle Pass, South Austin. Sam Von Kennel, the mind behind the loophole finding, worked as the chairman of the Licensing and Administrative committee. He called it a social club where people can come to watch live sports, have a glass of beer or a cup of coffee, socialize with others, and play poker.
Now that you know all about poker, which is the fact that surprised you the most? Did we miss out on some interesting facts? Make sure to mention in the comments below.