 About
All kinds of video poker have the same principle, but the developers have managed to create new versions with different sets of options, the opportunity to play betting on a number of hands, and so on. The paytable frequently undergoes some modifications, as it has happened in the case of All Aces Video Poker from Microgaming. In it there are three kinds of combinations of four of a kind, but it's not the only original feature of this game.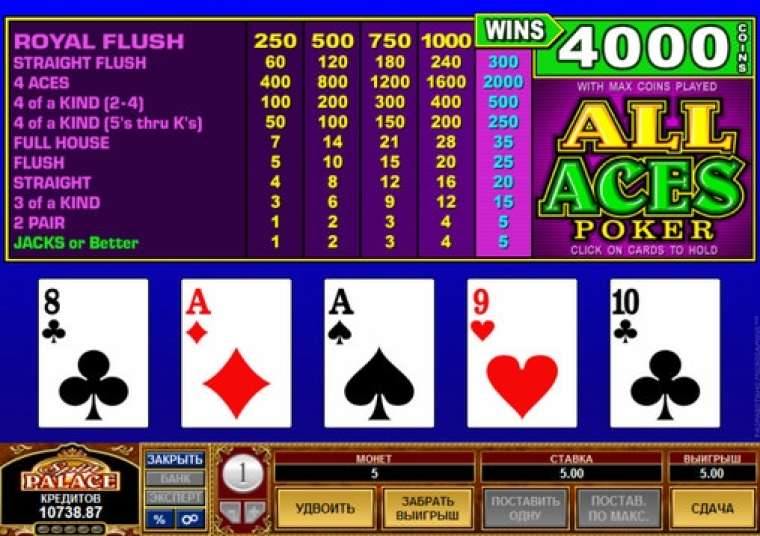 Play All Aces
All Aces manufactured by Microgaming is a
variation of video poker
, which differs from the traditional versions in the availability of three types of four of a kind with high multipliers. The game is played using one standard 52-card deck. The cards are shuffled after each deal. There are no jokers in All Aces. The player may exchange any number of cards once for free.
It is allowed to play All Aces betting only on one hand. The bet size varies from one to five coins. The coin value is determined by the rules of each online casino. The coin in Spin Palace Casino can cost from twenty-five cents to ten dollars. So, the total bet per spin may reach fifty dollars.
In this variation of video poker there are unusual kinds of a four of a kind: from deuces to fours, from fives to kings and aces (enumerated in increasing order). Four aces can be considered as a hand with the highest payout in this game while betting from one to four coins. If you wager five coins, the payout for a royal flush is disproportionately high and it becomes the most valuable hand (4,000 coins compared to 2,000 coins for a four of a kind of aces).
It is allowed to gamble in order to double the payout received in a successful hand in All Aces. In this round, you need to select one card among the four hole cards. It must have a higher rank than the upcard. The correct choice doubles your prize, and an error will result in the loss of your bet.
Jackpots
All Aces does not offer jackpots.
All Aces Interface
Gamers can download All Aces Video Poker for free at Spin Palace Casino and other online casinos. This will help you to master the control elements, paytable and gameplay. All Aces provides statistics. The basic settings allow users to select the game speed, adjust the sound, and enable or disable the game to double the payout.
Conclusion
All Aces is a video poker with the original paytable. It is certainly interesting, but do not forget that such changes in the rules require
the adaptation of basic strategy
.
Where to play All Aces for free or real money?
You will find All Aces at many online casinos running on software manufactured by Microgaming. They usually allow users to play not only for money but also in free mode. You can test this video poker for fun without registration directly at Casinoz.