 About
Every customer of online casinos should master the single-deck blackjack if he or she has intentions to become a professional gambler. Even if you do not like this kind of blackjack, it is necessary to study it at least in order to better understand blackjack in general. Such opportunities are provided by Net Entertainment, which has released a game called Blackjack Single Deck.
Rating
Excellent
8.60 /10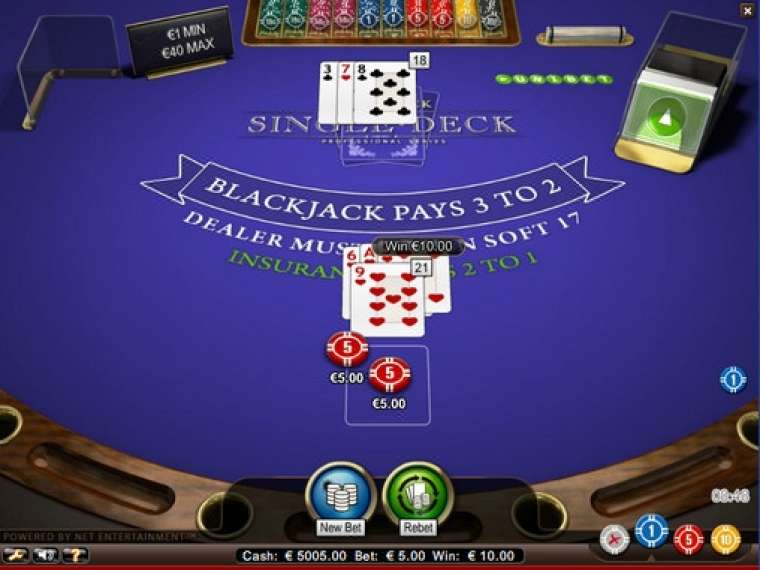 Play Blackjack Single Deck
Blackjack Single Deck is an online blackjack, which is played using one standard 52-card deck. The cards are shuffled before each deal. The range of bets is regulated according to the rules of each casino. For example, Unibet Casino offers three tables with the following betting limits: 0.10-5, 1-40 and 25-500 euros. Gamers can play betting only on one hand.
This is a version of blackjack in which the croupier deals himself two cards, one of which is face-up. If the dealer's upcard is a ten or an ace, he takes a look at the hole card checking for blackjack. If he has it, the player loses. If the customer also has blackjack, the draw is announced.
The card values in Blackjack Single Deck are standard. The score is calculated traditionally. The conventional hands are paid 1:1. Blackjack is paid 3: 2.
Blackjack Single Deck has the following rules:
The dealer stands on a hard 17 and hits on a soft 17.
It is allowed to double only on the first two cards whose score is 10 or 100 points.
It is prohibited to make a double after a split.
It is allowed to split on the first two cards of the same value (even if the ranks are different).
It is allowed to split hands several times.
A split of aces is available only once per hand. One card is added to each split ace.
An ace and a ten formed after a split provides a 21 (it is not considered to be blackjack).
Insurance against blackjack is available when the dealer has a face-up ace. It is equal to half of the bet and is paid 2:1.
The user wagers on a single hand, and then the cards are dealt. The player decides concerning his hand. Then the dealer compares hands and makes payouts if the client wins. If the player busts, the dealer still faces up his cards.
The house edge in Blackjack Single Deck is just 0.45% if you play using the basic strategy.
Blackjack Single Deck Bonus games
Blackjack Single Deck is a
classic single-deck blackjack
with no bonuses.
Jackpots
Blackjack Single Deck is a
classic single-deck blackjack
with no jackpots.
Blackjack Single Deck Interface
Blackjack Single Deck has a very pleasant and user-friendly interface, which allows playing conveniently. It is possible to control the gameplay with the help of the following buttons:
New Bet is used to make a bet
Rebet allows repeating the bet
Deal is used to deal cards
Hit is used to draw a card
Stand is used to stop drawing cards
Split is used to make a split
Double allows making a double
Insurance is used to insure against blackjack
During the game, the active hand is highlighted. The range of bets and multipliers are shown on the display near the discard tray.
The important information appears in the line located under the main window. The data on the number of points, winnings or outcomes of a deal are displayed directly near the box.
Users can disable audio effects and choose the game speed in the options.
Conclusion
Blackjack Single Deck gives you an excellent opportunity to improve your skills or play the traditional single-deck blackjack for money. It has a gorgeous design and is very realistic. Advices are not available, so be careful when you click on buttons. If you accidentally hit on a 20, the card will be dealt.
Where to play Blackjack Single Deck for free or real money?
You will find Blackjack Single Deck at Unibet Online Casino and in some other establishments running on the platform from Net Entertainment.