Cosmic Quest: Mystery Planets Cosmic Quest: Mystery Planets Slot Review
It seems that Rival company is trying to develop a serial production of online games, because it creates not just remakes, but sequels. Indeed, what the reason to replace one version with another? It would mean that only the latest is worth of playing, while they offer us to play the first part and enjoy the sequel after! Actually, it is a great proposal! You wouldn't be disappointed. Cosmic Quest: Mystery Planets has caught this relay baton and the result is successful game. Mystery Planets is the name of the episode 2. It is interesting, should we wait for the third one? Anyway, let's get profit of what we already have. Cosmic Quest: Mystery Planets is an energy video slot with a plenty of extra features, which give a thrill. Well, now let's talk about everything in order.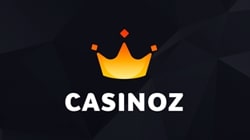 Play Cosmic Quest: Mystery Planets in Casino for Real Money
Would you like to show your skills of a talented astronaut? Would you like to fly to the fat planet and enjoy space adventures? in this case you should go to Jackpot Red online casino to play Cosmic Quest 2: Mystery Planets slot machine and it would take care about the rest.
Please share your impressions of Cosmic Quest 2: Mystery Planets slot machine with us and other readers of casinoz.me. You can write your responses in comments to the review and rate this game. Your opinion is very important for us.
How to Play Cosmic Quest: Mystery Planets slot online
The principal of the game in the second part of Cosmic Quest is almost the same. First you have to select the value of coins, a quantity of coins to stake per line and a quantity of active lines in the end.
Cosmic Quest 2: Mystery Planets is getting started almost the same as the first model. The scene which you can see as soon as you launch this game brings you through time and space to the far planet. There you can see a mysterious galaxy and all actions take place at its background. Each of the icons lives up when any of winning combinations is formed.
Cosmic Quest: Mystery Planets Symbols, Wild, Scatter
The gaming symbols, which you can see at the screen of Cosmic Quest 2: Mystery Planets slot machine, are images of different planets, robots, astronauts, bombs and everything in that mould - connected with the topic of fiction. It makes an excellent atmosphere of the game. Full dipping is guaranteed by such decorations.
Wild symbols of Cosmic Quest 2: Mystery Planets can expand filling the whole reel. When it happens, your chances for winning are increased three times. Moreover, your winning can be also multiplied by x2, x3, x4 and x5 depending on the payoff index.
Playing this game you can win ten, twenty five or fifty free spins and an impressive multiplier (x2) which is in force for all received prizes. It gets the real fairy-tale started. Prizes start dropping one you like from cornucopia!
Talking about music and sound effects, it is the same as in the first part of the game. Not because the developer was lazy to create something new. Most likely, it was made to support connection with the first part of this video slot.
Cosmic Quest: Mystery Planets Bonus games
Meanwhile, the bonus round of Cosmic Quest 2: Mystery Planets slot machine is worth of the special note. The interactive bonus round is getting started when three and more symbols with image of the astronaut appear at the reels. Every player is provided with unique opportunity of choice here. It is possible to select the most suitable option for you. You can select between a random winning or earn your prize honestly driving the space ship. Now nobody can say that slot machine is a game where you just have to spin the reels and nothing depends on you. In this bonus game you can get such payoff which you are able to earn driving the space ship as long as you can. In fact, it is not so easy to fly on it. There are lots of rocks on the way, which you can bang against and crash at any moment. However, the prizes are much higher in this mode. It is possible to drive this ship with help of arrows at the keypad and when you reach the final destination, you receive a great prize. Unfortunately, we didn't menage to do it from the first sight. Well, maybe we need to have more practice and then we would finish this round with a big prize.
If you choose the random payoff, you would be also satisfied, but wouldn't take part in a spectacular game. However, you wouldn't have to fly anywhere, so just take it in account.
Cosmic Quest: Mystery Planets Interface
The interface of Cosmic Quest 2: Mystery Planets video slot is standard. The buttons in the bottom of the interface make it easy to control the gameplay. It is easy to get an access to all options. It is possible to set up all options in a couple of clicks and you are ready to go to the far galaxy. In case you have any difficulties, please check the following FAQ by the main buttons:
-/+ - select the value of coins (it is half of cent on default, while you can make your correction with help of plus and minus buttons).
Select Coins - select an amount of the bet per each of the active lines in coins.
Select Lines - select a quantity of active lines.
Spin - start a new spin.
Bet Max - play by the maximal bet.
Auto - an automatic game mode.
Conclusion
Play Cosmic Quest 2: Mystery Planets slot machine which promises unbelievable payoffs in case of lucky deal. Isn't it what we are coming for in online casinos? This game has its action and suspense. If you are interested check what it is in practice playing Cosmic Quest 2: Mystery Planets video slot in an online casino!