 About
The developers of Gold Diggers slot machine have perfectly presented the main characters of the game due to detailed work out of their portraits and interesting plot line. The main heroes left to the risky by beneficial journey. Now you have a chance to join them.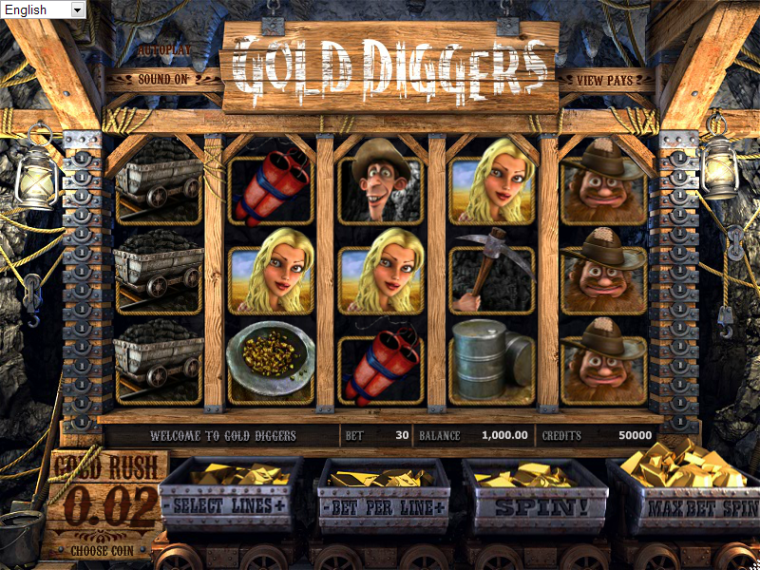 Play Gold Diggers
Gold Diggers slot machine has five reels and thirty pay lines. This slot machine has been worked out in details and sensibly developed. Betsoft Gaming company has made its best here. This game was one of the last in the category of five reeled slots with thirty pay lines. The software developer decided to attract us with another interesting historical period which was in times of the golden fever in the beginning of nineteenth century by releasing this wonderful 3D slot machine with interesting characters, which was included into his incredible gaming collection. So, here you are going to go to the exciting journey to the heart of California to the golden mines. The most exciting events would happen there in the deposits, which would help you to forget about problems of the real life and play without stop.
Country music is playing at the background, but is is hardly notable and doesn't attract attention. It is a harmonic element of this game and creates a proper mood to the players. They really start thinking that they are at the golden mines in those far times.
The main characters of this game are two gold diggers and a girl, as well as a ground squirrel.
Gold Diggers slot machine is provided with interesting gaming options, which are worth of more detailed description. There is the bonus game, which symbol is an image of a leaf with Gold Rush title. In the bonus game you can not only receive a prize, but also ti watch an interesting animation. Here you would see both gold diggers running to the reels and bursting it. Then you would have to choose places, which are meant to contain golden deposits.
There is another interesting options in this game, such as Click Me. You can use it when three and more images of ground squirrels drop out at the screen. You would see symbols with Click Me title. When you click at one of them, the ground squirrel makes a hole where you have made it.
Symbols
The gaming symbols, which you would see at the screen of Gold Diggers slot machine, are images of a bearded gold digger, a thin gold digger, a girl, a barrel with tar, an oil lamp, a tuck with chalk, a pick, a dish with golden crumbs, dynamite, a ground squirrel and a paper with Gold Rush title.
All the symbols are provided with animation: some of the characters takes a hat off, while some of them finds gold. The animation makes the game more dynamical and interesting. Gamble rises and intrigue makes us spinning the reels again and again. You are just curious: what else would the players do? The developers have staked on the curiosity of the gamblers and made the game maximally interesting even in such small details.
Jackpots
The most valuable symbol of Gold Diggers slot machine, which is paid out by the highest indexes is an image of a breaded golden digger. An amount of the jackpot of this game is 500 coins - not so small for such slot, while other video slots available in online casinos can offer even more, but this game rich with other things - incredible options which increase not only the interest of the players, but their winning in this game as well.
Gold Diggers Interface
In this slot machine everything looks like if you are in the mine with gold. Wooden columns, which hold the ceiling, are around you. The background music is changed for a faster melody when the reels are spinning. This game has an interesting soundtrack. It even shows real hard conditions of those times. For example, you can hear water dropping from the walls at the background.
You would see the following buttons at the control panel of this model:
Spin - start a new spin.
Max Bet Spin - start a new spin by the maximal bet.
Select Lines - select a quantity of the active line.
Bet per Line - you can select an amount of the bet per line in coins with help of this button.
The buttons look like trucks with gold and start hanging a bit when you click at them - quite an original solution, which makes the design of this video slot even more original. The titles at the trucks with gold give commands to the players.
Conclusion
Gold Diggers is a very atmospheric slot machine. Just look at the interface of this model and you start thinking that you are in a mine, while the name of the game is painted with white color and the paint is dropping from the wooden board in the top part of the interface. The characters of this game are quite typical and it brings a special atmosphere to this game.
Where to play Gold Diggers for free or real money?
Online casinos, which have staked per cooperation with Betsoft company, were right, because this company regularly releases new interesting models with unusual solutions, as well as its original visualization. One of such gambling houses is Red 7 online casino. You should definitely visit it to play this online slot machine. You can also find other video slots available without registration there.
Please share your impressions of Gold Diggers slot machine with us and other readers of Casinoz. You can write your responses in comments to the review and rate this game. Your opinion is very important for us.