 About
In fifteenth century South-American indians of Incas tribe, which were ruled by Pachakutiq in that time, have built Machu Picchu town, which is used to be named «town in clouds», «the lost town of Incas» or «the heaven town».
It is situated in mountains on high of almost two thousand and a half meters and is used to be a sacred shelter of Pachakitiq. There were about two hundred buildings and constructions in Machu Picchu, including temples, warehouses, residences and public buildings. The researchers suppose that its population was up to one thousand two hundred citizens.
In Sixteenth century when the empire of Incas was occupied by Spanish, the citizens of Machu Picchu have disappeared in a mysterious way, although the conquistadors hadn't reach them yet. The town was forsaken almost for four centuries, although now it has become the touristic center and thousands people visit it every day. Meanwhile, Microgaming company has devoted a colorful video slot named Gold of Machu Picchu to it and the following review, prepared by the team of casinoz.me is going to introduce it to you.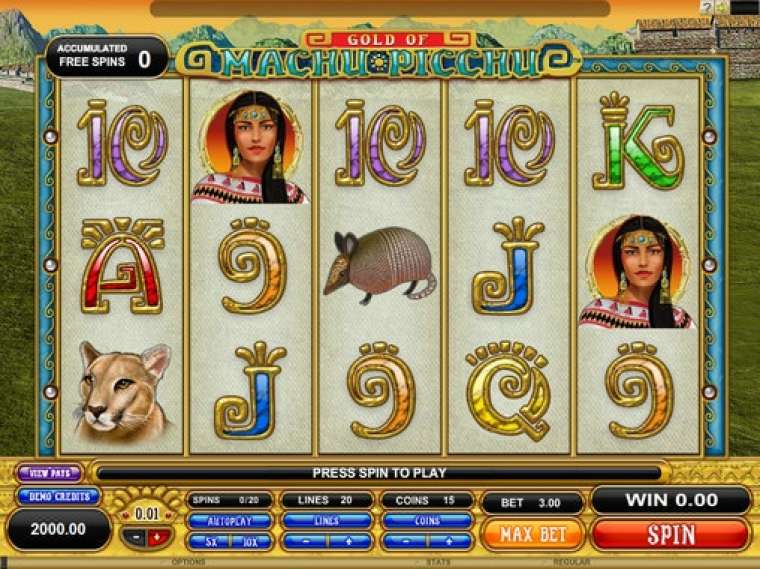 Play Gold of Machu Picchu
Gold of Machu Picchu is a free online slot machine with five reels and twenty pay lines. It is provided with the special symbols, a bonus round, free spins and lots of other exciting gaming options. The gambling feature, which could double up a payoff, is not provided by the rules.
For example, in Video Slots Casino it is possible to stake from one cent to seven dollars and a half per line. This way, playing this slot machine is possible by the maximal acceptable bet in amount of one hundred fifty dollars per spin. However, the range of bets can be different in other online casinos.
The winning combinations are formed of three and more similar symbols (it is enough to have two special symbols) situated at the neighbor reels of the active line, starting from the first left one. An amount of the payoff is calculated by multiplying the bet per line by the combination index (up to x5000). As usually, only the highest combination at each of the lines is charged with payoff.
Please read about exceptions from these rules in the following paragraph.
Gold of Machu Picchu Symbols, Wild, Scatter
The gaming symbols, which you can see at the reels of Gold of Machu Picchu slot machine, are images of a priest, an indian woman, a battleship, a puma, some house hold items of Incas, as well as signs of the values of playing cards from nine to ace, designed in the general style of the slot machine.
There are also several special symbols in this game, such as Wild (mountains), Bonus (a golden mask) and Scatter (a lama).
Wild can make combinations on its own and also help making it of other symbols (except of Scatter and Bonus) replacing the missed symbols when it is necessary.
Scatter is paid out independently of its location at the screen. An amount of the payoff is calculated by multiplying the total bet per spin by such indexes as x2, x5, x25 or x100 (for two, three, four or five Scatters accordingly).
Three Bonus symbols dropped out at the first, the third and the fifth reels in the same time, trigger the bonus game of Gold of Machu Picchu slot machine named Gather Inca's Riches.
Gold of Machu Picchu Bonus games
The bonus game of Gold of Machu Picchu slot machine named Gather Inca's Riches is a round of seven free spins. Before this round is getting started, the player has to select one of closed squares. This way it determines which of the extra symbols would play part of the extra multiplier. The combinations formed of such symbols bring payoffs increased several times (up to x15). Please check details in the payment table.
In case symbols with images of an indian woman and a priest drop out at the fourth and fifth reels of the active line during free spins, it triggers Llama Deification function. The player receives a prize payoff and another free spin.
Jackpots
A progressive jackpot is not raffled in Gold of Machu Picchu slot machine.
Gold of Machu Picchu Interface
Well, we would like to explain the functions of the main elements of the interface of Gold of Machu Picchu slot machine, which is available only in English language. The following tips would be useful for the beginners who are playing online slot machine the first time:
Spin - start a new spin.
Max Bet - play by the maximal bet.
Coins - an amount of the bet in coins.
Lines - select a quantity of active lines.
Autoplay - an automatic game mode.
View Pays - look through the payment table and short rules.
There is the informational line with tips under the reels. The user's settings of this game allow to activate a quick spin, select units of displaying the balance (coins or credits) and switch off the sounds.
Conclusion
Gold of Machu Picchu is a spectacular online slot machine with a wide range of interesting gaming options. It is provided with high payoff indexes and lets the players win a lot during the bonus round. This video slot also delights the eyes with a beautiful graphics gladdens with a pleasant music.
Where to play Gold of Machu Picchu for free or real money?
Gold of Machu Picchu slot machine is available in Video Slots Casino even without registration by the virtual bets, while you can also find it in many other flash casinos powered by the software developed by Microgaming company.
Your responses about Gold of Machu Picchu slot machine would help us making our website more interesting and useful for the readers. Please share your impressions in comments to the review and rate this game. Your opinion is very important for us.