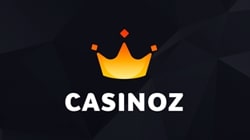 Heavy Metal

How to Play Heavy Metal slot
«Heavy Metal» is the three reeled progressive online slot machine developed by Slotland, which has just four pay lines. This model is also provided with Wild symbols and bonus rounds. An amount of the maximal jackpot is 640 dollars here.
«Heavy Metal» is the video slot where you can use you strategies. You don't have to rely on the fortune here, but you can also take part in the gameplay using hold feature. By click at «Hold» button you can freeze spinning at one of the reels.
The question mark plays part of Wild symbol in this game and can replace any other icon when it drops out at the winning line. As well as hold feature, Wild symbol rises up your chances for success. Moreover, your win is doubled up.
A triple symbol is also very important in this game. If you stake coins which denomination is 2 dollars, you can expect the progressive jackpot in this game as well. In this case you can win the amount of the progressive jackpot, which you see at the screen. For example, it is about sixty thousand dollars now.
Heavy Metal Symbols, Wild, Scatter
We should say that the design of this slot machine makes a great difference to most of slots of this kind. By the way, the design of this game doesn't imitate any machine or slot here. The gaming symbols, which you can see at the reels are literally the symbols - the minimalistic signs, which have borrowed only single and triple sevens from the classic slot machines. All the rest icons are the dollar symbol, a star and four symbols of card suits: hearts, clubs, diamonds and spades.
Jackpots
The range of bets of «Heavy Metal» slot machine varies from fifty cents to eight dollars. An amount of the jackpot is 640 dollars here. This game also draws the progressive jackpot, which amount depends on the players' activity. The amount rises up with every new customer playing by the maximal coin value and it is drawn only between those who are ready to play by such bets.
Heavy Metal Interface
Well, in spite of unclear topic - the design of the interface of this game is the most interesting feature of this slot. With its general minimalism it looks like a very realistic machine with the main part, spinning reels, gear wheels, chains, a heavy handle, which starts spins, yellow and black striped warning elements, a mechanic counter of the funds and a monochromic screen of the payment table. Even the logo of this game seems to be picked by metallic letters to the body of the machine. Well, such design can go unnoticed, but the interface perfectly makes its functions.
We should note that this video slot is worth playing just because it has its own special design. Perhaps, somebody likes it and remember this video slot for a long time. So, the developers have made their job.
Conclusion
«Heavy Metal» free online slot machine is unique because its atmosphere is supported not only by the design of the interface, but also by many special found effects, which heat players' emotions. You can start thinking that you are in the middle of production where everything is makes noise, rushes and moves. Those who are not get used to the atmosphere of the real production enterprise can like such an exotics. The curious can satisfy their interest if the test this slot machine without registration. It is possible to download this model free right at our website.
Play Heavy Metal in Casino for Real Money
The alternative grange style of this game, which is so far from all glamorous things, still requires care while choosing where to play on online slot machines. We recommend you to get pleasure of playing in Betfair Casino, which provides the excellent service to every customer.Your responses about «Heavy Metal» slot machine would help us making Casinoz more interesting and useful for the readers. Please share your impressions in comments to the review and rate this game. Your opinion is very important for us.