 About
Nobody knows when, nobody knows where, but it can happen to everybody. You can get lost in the forest absolutely unexpectedly, while nobody plans it. It can just happen and nothing else! In case sense of sympathy is familiar to you, hurry up to play House of Fun online slot machine to help Paul and Jane get out of there before they get in a trouble. Online slot machines are so interactive now that they would help us save the guys even sitting against the screens of our computers. We would like to remind you that help if this kind is not an altruism and you can even earn something for yourself and have a great fun in this amazing game named House of Fun.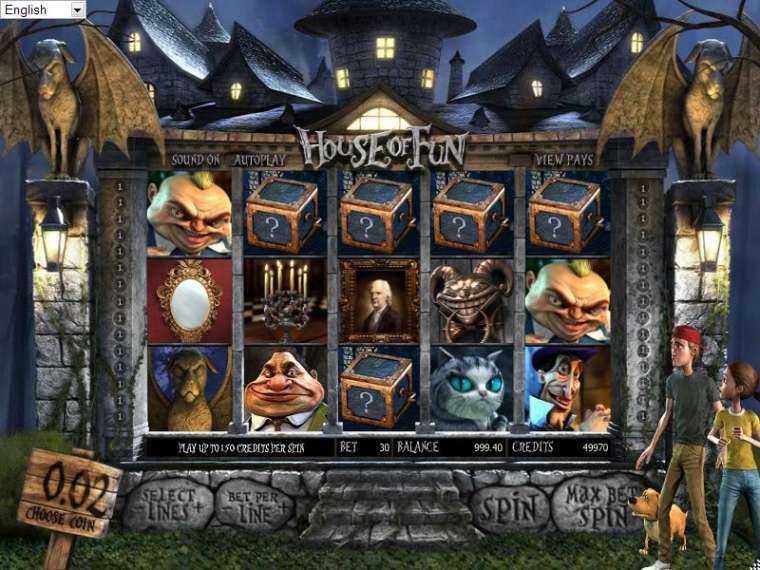 Play House of Fun
House of Fun slot machine has five reels and thirty pay lines. The main characters of this game are Jane, Paul and their dog. Paul and jane were driving though the forest when something has happened to their car. This moment was the point when their adventures have started. They have found somebody's house in the forest and this awful house scares them a lot. So help them to get out from there!
You can select the coin value in range from two to fifty cents in this game.
Symbols
The gaming symbols, which you would see at the screen of House of Fun slot machine, are images of an antique portrait, an antique mirror, several images of quite dark characters, such as a fat man in a green smoking, a dwarf in a blue suit, a thin man in a violet round hat, an old grave digger, as well as Cheshire cat, awful statue of dog with wings, candles, a music box with surprise and an antique door handle.
House of Fun Bonus games
House of Fun slot machine can offer the player curious bonuses. For example, Mad Click Me option would help you hit a jackpot. An image of the thin man with violet cap triggers this option. In case three and more such symbols drop out at the screen, Click Me option would be activated and you would play in this mode until you select an image of Collect button at the back.
In case you pick three images of the door handle, you would be granted with the bonus game named Escape Bonus Round, where you would have to help Paul and Jane to get out of this awful house. To make it, you would have to choose doors, which hide prizes and the way out for Paul and Jane.
Moreover, three and more images of Jack from the box trigger the bonus round of free spins. Bonus spins can be activated several times running in case the same combination of symbols would be formed again.
Jackpots
Two most valuable symbols of House of Fun slot machine are the fat man in the green smoking and the angry dwarf in blue. An amount of the jackpot of this game is 750 coins.
House of Fun Interface
House of Fun animated slot machine, created by Betsoft company, has quite an interesting design. There is everything to create the atmosphere of this House of Fun. And do you know what? We had no fun in this house at all.
The game is terrifying, just imagine yourself at their place and you can lose your mind indeed.
You would see the following buttons at the control panel of this model:
Spin - start a new gaming round.
Max bet - select the maximal bet and start a new spin.
Bet per Lines - select an amount of the bet per line.
Select Lines - you can select quantity of the active lines with help of this button.
You can see a scary mansion at the top of the screen, while statues of winged dogs are situated at the right and the left sides.
Terrifying music plays at the background which becomes a bit different during the spins and you start feeling danger. The developers were trying to achieve exactly this kind of effect. They want to scare the customers the bejesus out of! It sounds paradoxical, but it attracts more and more players - especially those who like Halloween. That's why online slot machines devoted to Halloween are so popular.
Conclusion
We should say that House of Fun is quite a playable video slot, while scaring characters terrify with their appearance a lot. Sound effects are quite successful as well. An element of unexpected which makes this slot very atmospheric is also exists here. In particularity, please be careful when you are playing in the bonus game, because the character, which would make your hair stand on end, can appear from the door. We should note amazing work of the illustrators and detailed drawing, which have made it possible.
Where to play House of Fun for free or real money?
As well at the rest online slot machines, House of Fun model is the excellent product of Betsoft company. If you have an opportunity to play this game, we recommend you to make it in Red 7 online casino.
Your responses about House of Fun slot machine would help us making Casinoz more interesting and useful for the readers. Please share your impressions in comments to the review and rate this game. Your opinion is very important for us.