 About
In 1982 Football World Cup was hosted by Spain. It is meant that calling the World Cup as «Mundial» in Spanish language has fallen into a habit exactly due to this event. The right for hosting the world championship by the most popular sport int he world goes from country to country every four years and maybe this event would get some other informal names, but the point remains the same: the World Cup is the most important event for the national teams. It makes Mundial not just the focus of attention of millions of football fans all over the planet, but also the place where the football stars of highest value. However, the winner is always only one. In different time Brazil, Argentina, Italy, France and Germany have being wining the World Cup. meanwhile, the main heroes of its teams were Pele, Maradonna, Roberto Bagio, Zinedine Zidan and Rudy Feller. Bring them together in the same championship is a great idea, but a hard task, which is actually within power of the online slot machine named Mundial Fever.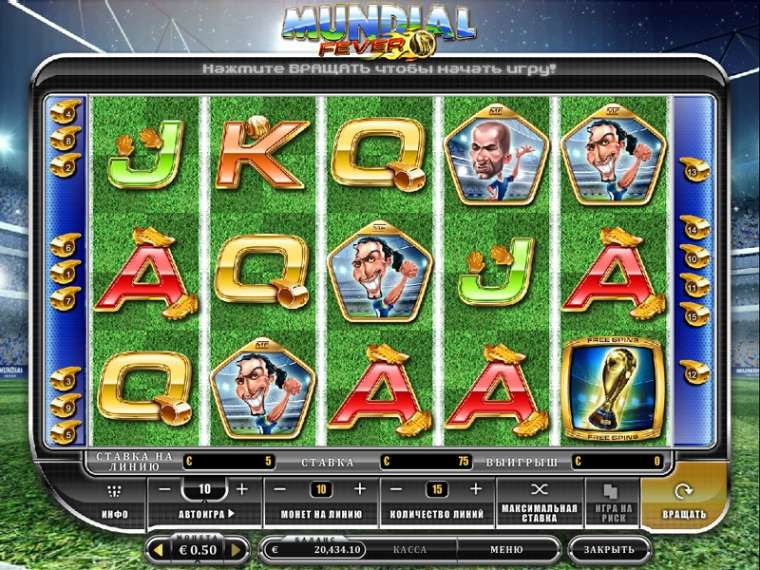 Play Mundial Fever
Mundial Fever is a five reeled video slot with fifteen pay lines, which was released by Oryx Gaming company. This game is provided with Wild and Scatter symbols, extra multipliers of payoffs, free spins and a bonus game.
The most valuable symbols, which are paid out by the highest indexes, are of course the famous football players. Among them you can see the French master, Argentina diablo, Brazilian joker, Italian maestro and German sniper. At the less valuable symbols you would see signs of the values of playing cards and an image of a golden ball.
In this game you can make bets by coins of value in range from one to fifty cents. You cam stake up to ten coins per each of the line, while there are totally fifteen pay lines in this slot machine. This way, it is possible to stake up to one hundred fifty coins per spin in this game. To calculate an amount of the bet, the value of coins is also important, because this parameter makes the slot machine available for different categories of players. An amount of the maximal total bet per spin is seventy five dollars.
The gambling feature, which is designed in the main topic of the game, is also provided by the rules. Here you should stake on red or black at the background of football field. We should emphasis that this game has a limit and you can win only up to five hundred euro. Moreover, in case of lose, you lose not only the prize, but your bet as well. However, in case of winning every previous prize is doubled up.
The function of free spins is also available in this game and it is triggered when three, four or five symbols with image of a champion trophy appear at the reels. A goal goes to the team, which symbols are included into the winning combination. It means, we play football by some other principal, but the game remains attractive. In case the winning combinations were formed by symbols of both teams, goal goes to the one, which has more points, while if a quantity of points is the same, the goal is just not taken in account.
Symbols
We should say that so many famous persons have never ever been gathered together in any video slot before. The game is started from selection of the team, which represented with its leading players and them this caricature, but quite resembling portraits are used as the main symbols of the spinning reels. Pele in a white and green uniform, Maradonna with his latin curls in a traditional Argentina striped white and blue suit, a constant zero of Zidane, mustache of Feller and a stylish beard of Bagio. We should add, that Bagio is not the only Italian here, because the part of Wild symbols is played by image of the famous arbiter Pierluiggi Collina, which is also quite recognizable in its cartoon image. An image of a golden ball is Scatter symbols in this game. An image of the Stadium of Fame is a Bonus symbols, while the main trophy - the champion cup - brings the players free spins. At the additional symbols you can see signs of the values of playing cards, such as "J", "Q", "K" and «A" without ten. All the additional symbols are designed in sporty style and each of them is decorated with some of golden football attributes: a judge's whistle, boots, goalkeeper's gloves and a ball. We should add that selection of one of five teams before start of the game is not a convention. The chosen football player is on the player's side during free spins and the bonus round, while the rest four remain the standard symbols.
Mundial Fever Bonus games
Mundial Fever slot machine is provided with a wonderful bonus game, which is named «Penalty Series». A football stadium is imaged at the Bonus symbol. As usually, the bonus game is triggered when three and more bonus symbols drop out at the screen. To conquer the hearts of the fans, you would have to make something really impression, for example, kick an incredible goal into the opponent's gate or protect your own date like a lion!
The bonus game named Final Ball is interesting with that it lets the player choosing strategy and tactics of game. The available options are aggressive, moderate and defensive strategies, choosing each of which you get different quantity of spins and multipliers in the game. The final report can be received unlimited quantity of times.
Jackpots
The maximal jackpot of Mundial Fever slot machine is 1000 coins.
Mundial Fever Interface
Oryx Gaming company has convincingly stated its own style in the online slot machines. Video slots developed by this producer are accurate, elegant, properly designed and, in spite of original innovations in the rules of the game, are quite simple in use and user-friendly. The background of Mundial Fever is a view on a football field from the player's place, but not from fans. Full tribunes, projectors and star sky above your head make an atmosphere of sport festival. The field with spinning reels is designed in style of stadium grass, while white stripes separate the reels from each other. The markers of pay lines are imaged as golden whistles. The same style is strictly observed in the interface of the bonus rounds, where one more character except of the rest appears at the screen - a strict tutor, which offers to choose one of there tactics of game, depending on which team you are playing for. There is the bonus game of Penalty Series and the gambling feature with a simple betting system per red or black. It makes an impression that Mundial Fever slot machine has managed to fill all the options of online gambling games of the world of video slot, like the World Football Cup, which has everything the most important and gambling of the football world.
You are going to see the following buttons in the interface of this game:
Spin - start a new spin.
Gamble - play in the gambling feature.
Max Bet - start a new spin by the maximal bet.
Lines -/+ - select a quantity of active lines.
Coins per Line -/+ - a quantity of coins per line.
Conclusion
Mundial Fever free online slot machine would gift you with a feeling of sport festival. It is colorful slot machine, which has a wonderful design with some humor. We can't leave original design of the values of playing cards, which play ball, whistle and make other actions, which you can see during animation of the slot in case of winning, without attention. In fact, even they play football on slot machines, so you can't avoid it as well. Playing Mundial Fever slot machine can be quite useful - first you train in the virtual game and then grab a ball an go out to play with fellows. For sake of sport we can discuss a plenty of sport slots. Playing slot machine without registration would make the gamblers more sporty, while their bankroll can be increased in they pass the registration and charge the balance. The real game is definitely much more gamble.
Where to play Mundial Fever for free or real money?
Actually, we don't offer you to go to stadium for football fever. You can support the favorite layers and get some profit at the website of Sincity online casino.
Please share your impressions of Mundial Fever slot machine with us and other readers of casinoz.me. You can write your responses in comments to the review and rate this game. Your opinion is very important for us.