 About
Specialists of Microgaming developed a simple but quite exciting and very beautiful arcade game called Pick'n'Switch. Perhaps some of our readers played the games in their childhood in which it was necessary to guess the color of the balls. Pick'n'Switch resembles such an entertainment for children.
In addition, the possibility to exchange unnecessary balls makes it slightly similar to video poker. This confirms the opinion that Pick'n'Switch is a unique model, which is certainly worth taking a closer look at.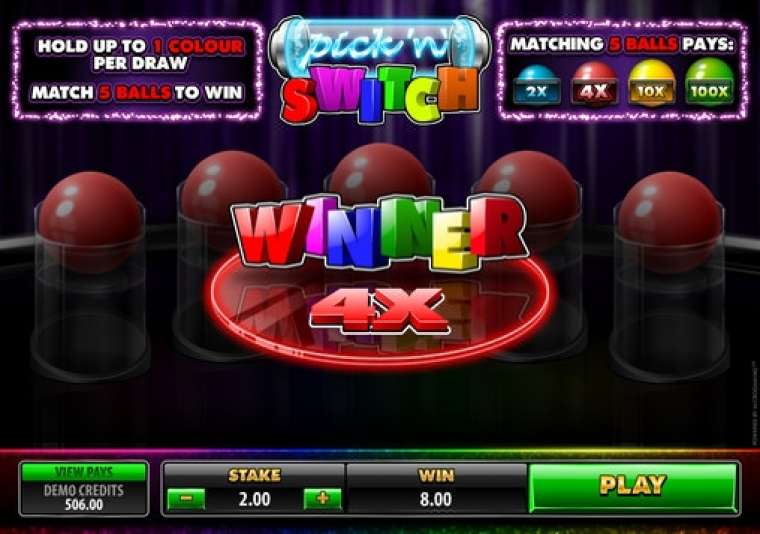 Play Pick'n'Switch
Pick'n'Switch is a free arcade game developed by Microgaming.
Customers can stake from ten cents to one hundred dollars per round at Crazy Vegas Casino.
The aim of the game is to collect a combination of five balls of the same color. To do this, users can exchange the unsuitable balls up to three times for free.
The multipliers by which the bet is multiplied depend on the color of a combination:
Five blue balls - x2
Five red balls - x4
Five yellow balls - x10
Five green balls - x100
The user selects the bet size first. Then, the five colorful balls appear from five transparent tubes. The player can hold only balls of the same color. New balls will appear from the other tubes. The player can keep collecting a combination of the same color or prefer the other one.
The round ends after using three opportunities to exchange balls or after the formation of a winning combination at any stage.
Pick'n'Switch Bonus games
Bonus payouts are not provided in Pick'n'Switch.
Jackpots
There are no progressive jackpots in Pick'n'Switch.
Pick'n'Switch Interface
Pick'n'Switch has a user-friendly interface and very colorful design. The bet size is selected using Plus and Minus near Stake. The game starts by clicking on Play. To hold the balls of any color, you need to click on one of them. The button Draw is used to exchange other balls.
If you click on View Pays, the paytable (despite the fact that it is also available in the upper right corner of the main window) and rules for the game (a brief version can be found in the upper left corner) will be opened.
Conclusion
Despite the fact that the game is quite primitive, it's really exciting. Some users can not stop playing Pick'n'Switch even while playing for fun, not to mention those who are not afraid to challenge fortune betting with real money! Therefore, we recommend that you should try to play it.
Where to play Pick'n'Switch for free or real money?
This can be done at Crazy Vegas Casino or another online casino running on software released by Microgaming (Pick'n'Switch is available in several establishments). You can also play Pick'n'Switch for fun without registration directly on the portal Casinoz.