 About
Pontoon is an unofficial kind of Spanish 21, which is played using from four to eight 48-card decks (without tens) and has some specific rules. It resembles the so-called British blackjack, which is also called British Pontoon. Its main difference from the traditional version is the use of standard decks and replacement of the classic terms by the original ones (pontoon, twist, stick and buy instead of blackjack, hit, stand and double).
The range of Net Entertainment includes Pontoon Professional Series, which is British Pontoon. We recommend that you should become familiar with this fascinating card game with very low house edge.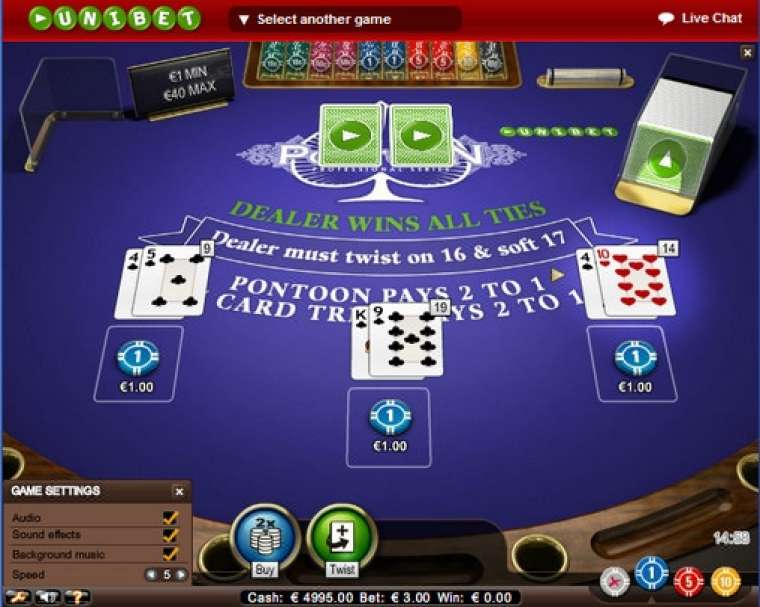 Play Pontoon Professional Series
Pontoon Professional Series is an online version of British Pontoon. Six 52-card decks with no jokers are used in this game. The cards are shuffled before each deal.
The aim of the game is the same as in blackjack. It is necessary to beat the dealer gaining more points without exceeding twenty-one. Aces provide either one or eleven points. The rank of jacks, queens and kings is ten. Other cards are considered according to their values.
The game has the following terms:
Pontoon is a synonym of blackjack
Twist is used instead of hit
Stick is used instead of stand
Buy is used to make a double
The croupier deals two cards face down, checks for pontoon (if it is present, the boxes of players without pontoon lose), but faces them up only when all customers hit.
Pontoon Professional Series has the following rules:
The dealer hits on a soft 17 and stands on a hard 17.
The box is automatically played if it has pontoon, five cards without bust and hard 21.
The player stands on a 15 and more.
If the scores are equal, the dealer wins.
It is allowed to make a split of cards of the same value. It can be made two times till the formation of three hands.
An ace and a ten appeared after the split are considered to be a pontoon.
Double (buy) can be made on any four cards. It is possible to draw cards after a double.
Five cards without bust bring the immediate victory according to the 5-card Charlie rule.
There is no insurance.
There is no surrender.
Pontoon Professional Series has unusual payout multipliers:
Basic box - 1:1
Pontoon - 2:1
Five cards without bust - 2:1
The theoretical payout percentage of Pontoon Professional Series released by Net Entertainment is 99.59%, which makes it very profitable for customers (if you follow the properly selected strategy).
Pontoon Professional Series Bonus games
Additional payouts, except for those that are described above, are not provided in Pontoon Professional Series.
Jackpots
There are no progressive jackpots in Pontoon Professional Series.
Pontoon Professional Series Interface
The interface of Pontoon Professional Series is logical and understandable, so we will not describe it in detail. You just need to memorize new terms in order to play without any problem. There are a few settings (sound effects and game speed).
Conclusion
Users can reduce
the house edge
to less than 0.5% in Pontoon Professional Series. However this can only be made by the player who has mastered the corresponding basic strategy. In the next articles we will try to help you to select it. Anyway, this is a very interesting version of blackjack that should be familiar to every true fan of intellectual card games.
Where to play Pontoon Professional Series for free or real money?
Pontoon without registration in free mode is available at Unibet Casino Red. You'll also find it in some other establishments running on the platform from Net Entertainment.