 Rocky Scratch Review
They say when almost unknown Sylvester Stallone brought the script to the producers of the first part of the film "Rocky" he was offered a decent fee. However the ambitious actor refused and requested a major role. As it turned out, for good reason.
Despite the questionable acting talent of Stallone, who still regularly subjected to harsh criticism, the picture "Rocky" has collected more than two hundred and fifty million dollars with a budget of one million and won three Oscars (best film, best direction, best editing).
Playtech company offers to meet again with their favorite movies heroes in the scratch card Rocky Scratch. We can reCall you that Playtech manufacturer also has an excellent gaming machine Rocky.
Rating
Excellent
8.38 /10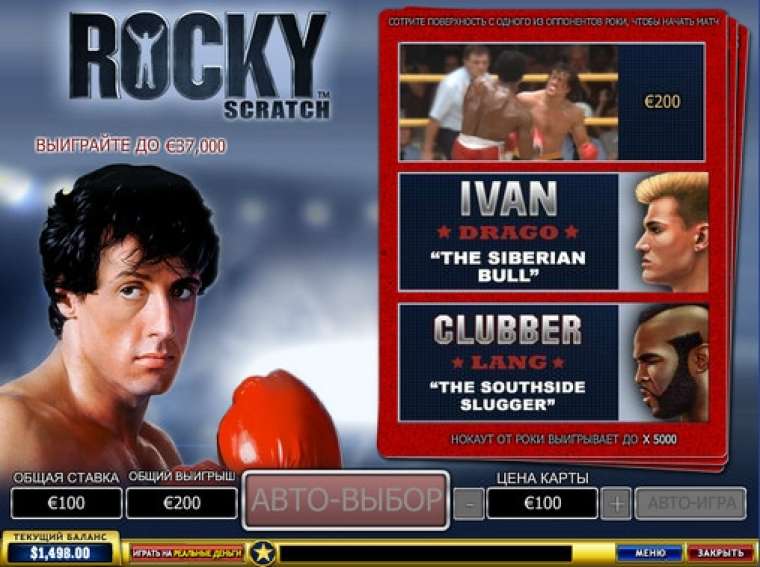 Play Rocky Scratch
Rocky Scratch -
free online scratch cards
by Playtech, which consists of only three cells. You have to choose one of them, hoping that it will be a winning one.
On the cover of each field one of the Rocky contenders is depicted: Apollo, Ivan and Clubber. Opening the box, you'll see a scene from the film. If is Rokki wins the card is wins and losing otherwise.
The amount of payout is determined randomly.
Denomination card at Europa Casino can be from twenty cents to a hundred euros. You can win up to 37 000 euros.
You can clear card coverage yourself by clicking on the mouse on the cell or entrust the choice to computer.
Rocky Scratch Interface
The game interface is very simple. On the screen you will see a card with three cells and the control panel with several buttons. There is no need to describe them here as they explain themselves pretty well.
The model has an autoplay mode, and basic user settings.
Conclusion
Rocky Scratch is a good scratch card with the elementary rules. It will certainly please both fans of the "Rocky" film and those users who love the fast and uncomplicated gambling.

Where to play Rocky Scratch for free or real money?
You can play Rocky Scratch free or for the real money in Europa Casino. Also it is available in other online casinos powered by Playtech platform. Readers have the opportunity to run Casinoz scratch cards without registration directly on our website but only in the training mode.