 About
The life of bank robbers in the Wild West is a series of dangerous situations and each of them can lead to the death. Fierce competitors, bloodthirsty Indians and even fast trains can kill the protagonist of the online game called Six Shooter Looter at any time.
Your task is to help the main character to reach the destination point or at least to accompany him as far as possible on his way full of traps. The closer you are to the bank vault, the larger will be your payout, which can reach twenty-five thousand bets.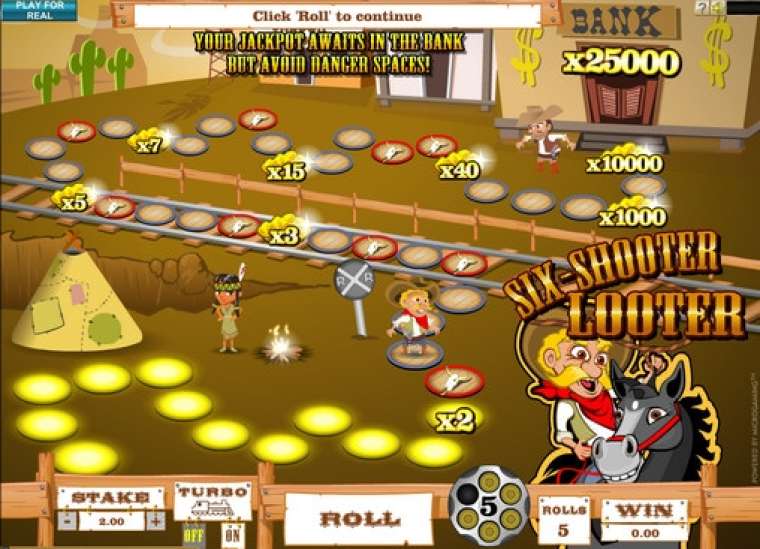 Play Six Shooter Looter
Six Shooter Looter is a
free online arcade game
released by Microgaming.
The aim of the game is to make the highest number of moves on the special way made up of forty-eight sectors. The user has eight attempts in each of which the main character can make from one to six moves. Their number is determined by spinning the revolver cylinder.
There are three kinds of fields on which the robber can move:
Continue (a blank field) allows keeping moving if there are available moves.
Prize (a multiplier and gold coins) allows you to ensure a payout if you pass this sector by (there is no need to land on it). It is calculated by multiplying the multiplier indicated on the field by the bet. The total payout is calculated only for the last multiplier.
Death (a horned skull). If the protagonist lands on one of these fields, it leads to his death. The payout for the last passed checkpoint is saved.
It is possible to play Six Shooter Looter betting from fifty cents to ten dollars at Crazy Vegas Casino.
The highest payout in Six Shooter Looter is twenty-five thousand bets (x25,000).
Six Shooter Looter Bonus games
Six Shooter Looter does not offer bonus payouts.
Jackpots
Progressive jackpots are not provided in Six Shooter Looter.
Six Shooter Looter Interface
The control panel of Six Shooter Looter includes the following buttons:
Stake (-/+) are used to select the bet size
Turbo (on/off) is used to activate or deactivate turbo mode
New Game/Roll are used to start a new game and make a roll
Rolls shows the number of available moves
Win shows the total payout
The main character runs faster if you activate the gameplay.
Conclusion
Six Shooter Looter was created by people with a well-developed sense of humor, so that it is able to amuse any player.
It is quite difficult to reach the main prize in Six Shooter Looter. To do this, your protagonist should overcome the greatest possible number of fields in each approach. In other words, you need to roll the die getting six points eight times in a row.
However it is enough to make twelve moves avoiding traps to double the bet. The higher multipliers are also near. So, go ahead!
Where to play Six Shooter Looter for free or real money?
You will find Six Shooter Looter at numerous online casinos running on software released by Microgaming. One if such casinos is Crazy Vegas Casinos, where you can play both for free and for money. This game is available directly on the portal Casinoz without registration but only in free mode.