 About
The Aztecs have always been interesting to contemporary scholars, because we are still making discoveries of things that these ancient people knew. But we're not going to break our head over this. Today we are going just to play.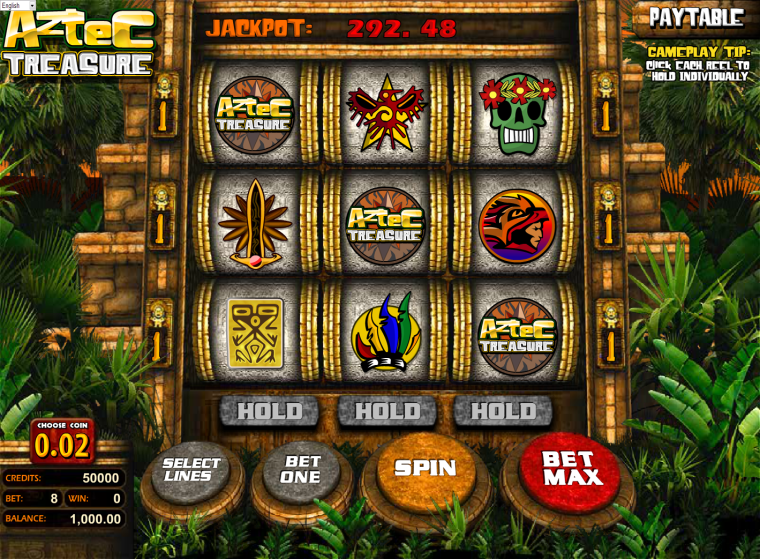 Play Aztec Treasure
Aztec Treasure is a five-reel online slot developed by Betsoft. It can be found at online casinos, which cooperate with this company. The nice audio effects combined with the graphics of the game look very impressive. The animation in the game is amusing and is made in the sort of funky style. You will also see a detailed background, which is available not in all slot machines of online casinos.
Aztec Treasure has wild and scatter symbols. A gold statue serves as the scatter. Scatters can appear anywhere on the reels.
The wild symbol is an Aztec king symbol. It can replace all other symbols in the game and form paylines, but it can not replace the scatter symbols. It appears only on the second, third and fourth reels from the left side.
Starting to play Aztec Treasure, you should choose the coin value, which can be from 0.02 dollars. Each time when you click on the button, the coin value increases. Thus, you increase the total bet as well.
Aztec Treasure Symbols, Wild, Scatter
The game has 5 reels on which you'll see many interesting symbols. What do they mean? Alas, I am not an expert on ancient culture. I do not think that scholars can explain everything that was drawn by these ancient people. In addition to these symbols, there are some other symbols that are more familiar to us: J, Q, K, A, i.e. jack, queen, king, ace, as well as 9 and 10. I bet that these squiggles would be like abracadabra to the Aztecs, so we're quits. But the fact that we are like the Aztecs in gambling is undeniable. They also enjoyed playing and even the poorest fans could wager. Rich people gambled losing the entire villages and the poor ones could lose the last loaf of bread. Of course, they did not have such an advantage as an online casino, but when people want to play, nothing can stop them. That is why the Aztecs had a popular game that resembled field hockey. The participants used sticks to play it.
The symbols of this game include, the Aztec helmets and women, leopards and jewelry.
Aztec Treasure Bonus games
The game also has a bonus round. You can enter the bonus round mode when you gain 3 gems. The animation in the game is awesome. Under the reels a pretty stout Aztec is running. He is collecting stones getting them with a spear when they appear on the reels. When you get three stones, the bonus round is triggered automatically. In the bonus game three stones are offered to you clicking on which you will get the appropriate payouts.
This slot offers free spins. To get them, 3, 4 or 5 scatter symbols should appear on the reels. If the scatter symbols show up on any line, you may win 5, 10 or 25 free spins, respectively.
You can get bonus prize when a scatter symbol appears during the free spins. You can win, in particular, up to 25 free spins significantly increasing your payout.
Despite the fact that this slot machine is devoted to the historical topic, you will find nothing real in this game. It rather creates a mood than reflects the Aztecs and their culture. If you want to plunge into
the real history of slots
, you can follow the link and get valuable information. Well, it is quite informative!
Jackpots
The jackpot of this game can be won when the winning combination of symbols with the Aztec woman appears on the reels. You will need five such symbols to get the jackpot. The jackpot of Aztec Treasure is 5,000 coins. If you're not lucky to get this symbol, the leopard symbol might be more favorable to you. If five leopard symbols show up, you can get 2,500 coins. Well, if you want to play slot machines for free, there is such an opportunity. But it's a shame to get the jackpot playing for fun. Keep it in mind or you will cry over spilt milk!
Aztec Treasure Interface
The slot is very colorful and dynamic. The interface is made in a style that reminds us of this amazing ancient nation. You have an impression that the reels are depicted on a wooden board. The buttons also are depicted as if made of wood.
You will notice the following buttons:
• Select Lines allows choosing the number of paylines
• Bet One is used to activate a payline
• Spin is used to spin the reels
• Max Bet Spin is used to make the highest possible bet
Conclusion
This is undoubtedly one of the most interesting games offered by Betsoft. It will certainly become one of the most popular slots.
Where to play Aztec Treasure for free or real money?
Pay your attention to this promising game. You will enjoy it even if I have failed to convince you of that. Visit
Red7 Casino
to play it.