 About
Beetle Bingo released by Playtech combines the elements of traditional bingo and scratch cards. However it has a funny design. For example, multicolored ladybugs with numbers are used instead of balls in it. They are released from a jar at the beginning of a round. In short, it is a very interesting and unique model, which is certainly worth testing.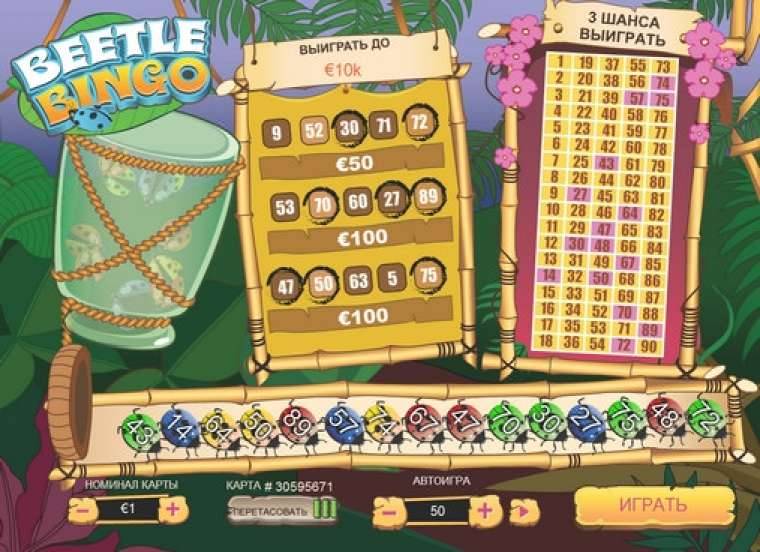 Play Beetle Bingo
Beetle Bingo is a
free arcade game
released by Playtech. It is possible to wager from fifty cents to ten euros in it (for example, at Europa Casino).
The aim of Beetle Bingo is to receive a card, in which the numbers on one of three areas will match the winning numbers. The payout amount is calculated by multiplying the card value by the random multiplier of the winning group of numbers.
The numbers in Beetle Bingo vary from one to ninety. There are fifteen of them. The card consists of three areas with the five numbers in each.
It is possible to win up to half a million euros in Beetle Bingo.
The user can notice a jar of bugs and a card with a protective covering in the form of leaves at the beginning of a round. If he or she prefers scratching it manually, it is necessary to shake the jar.
You will open it and numbered beetles will crawl out on the board. Winning numbers will be marked in red.
Then it is necessary to scratch off a protective covering. The numbers that have come up will be encircled.
Then the payouts for cards are made.
Beetle Bingo Bonus games
Bonuses are not provided by the rules of Beetle Bingo.
Jackpots
Progressive jackpots are not available in Beetle Bingo.
Beetle Bingo Interface
In Beetle Bingo you can see a jar of beetles, a card with a protective covering, a board with all numbers and a board on which the numbered beetles crawl.
There are a few buttons on the control panel located at the bottom. You will be able to master them, because they are intuitively understandable.
Conclusion
Beetle Bingo is a
funny instant win game
, which combines elements of bingo and scratch cards. This game is quite boring if you play for fun, but it can be very exciting while wagering real money.
Where to play Beetle Bingo for free or real money?
Beetle Bingo can be tested at Europa Casino or any other major online casino operating on the products manufactured by Playtech. The portal Casinoz offers this instant win game without registration for conditional bets.