 About
The undisputed leader in the number of offered versions of blackjack among all manufacturers of software for online casinos is Microgaming. Its range includes several dozens of versions of this game with different rules. We offer you to familiarize yourself with Big Five Blackjack of the so-called Gold Series. It is called Big Five Blackjack Gold.
Rating
Excellent
8.50 /10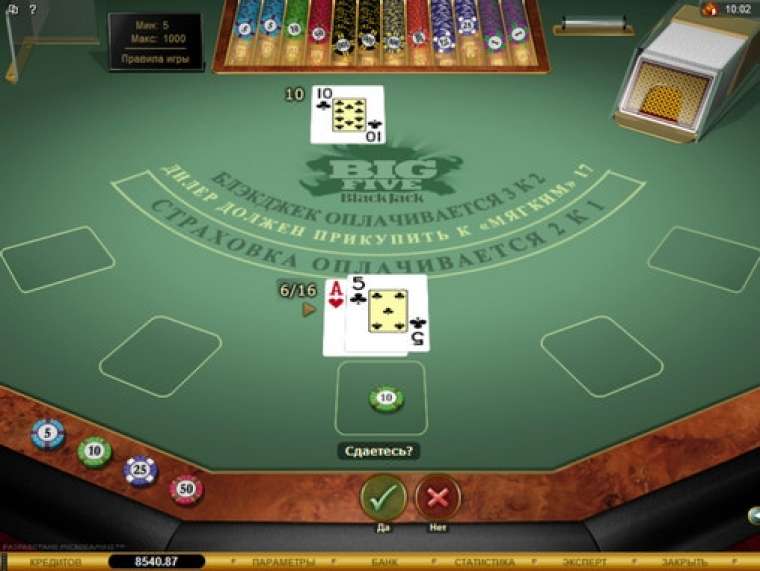 Play Big Five Blackjack Gold
Big Five Blackjack Gold is a free online blackjack released by Microgaming. It is played with five standard 52-card decks without jokers, which are shuffled before each deal. This is a European blackjack, where the croupier deals one card to himself and takes the other cards after players.
The aim of the game is to gain higher score compared to the dealer without exceeding twenty-one or win if the dealer goes bust.
At Spin Palace Casino users can download this blackjack in two versions: single-hand and five-hand. It is allowed to wager from five to one thousand dollars on a hand.
Let's discuss the basic rules for this game:
The dealer hits on a soft seventeen and stands on a hard seventeen.
It is allowed to surrender on any cards (except for the situations when the dealer has a face up ace). In multi-hand game you should decide whether to surrender or not for all hands before taking cards (early surrender)
It is allowed to split three times on one box till the formation of four hands.
It is allowed to split any cards of the same value (for example, a ten and a king).
Users can split aces ones and one card is dealt to each of them.
An ace and a ten on a box formed after a split can not be considered to be blackjack.
It is allowed to double on any two cards (even after a split).
There is insurance against blackjack if the dealer has a face up ace.
Payouts in Big Five Blackjack Gold are traditional:
Ordinary hand - 1:1
Blackjack - 3:2
Insurance - 2:1
The gameplay does not differ from the usual one for most variations of blackjack. The only difference is the opportunity to surrender before taking cards.
Big Five Blackjack Gold Bonus games
Big Five Blackjack Gold does not offer bonus payouts.
Jackpots
Progressive jackpots are not provided.
Big Five Blackjack Gold Interface
Big Five Blackjack Gold is intuitively understandable, so there is no need to explain the functions of control elements.
The game provides an opportunity to activate automatic bets and an editable basic strategy table. Buttons for these purposes appear in the lower left corner of the window after activation of expert mode.
In the settings users can turn off the sound, select the game speed and make other changes.
Conclusion
Big Five Blackjack Gold is an excellent variant for those who play blackjack correctly according to the selected
basic strategy
. It has rules very beneficial for customers, embedded table that can be edited at the sole discretion and realistic graphics. So it can be recommended to all fans of blackjack.
Where to play Big Five Blackjack Gold for free or real money?
You'll find Big Five Blackjack Gold at Spin Palace Casino and other online casinos running on software released by Microgaming. The logos of many of these establishments are located below.