 About
The extremely popular fantasy genre in its current from has appeared in the middle of the previous century. Its main outstanding feature is using fairy-tale and mythologic characters, scenes and motives. Of course, the scenes of fantasy novels take place in the fictitious world. Herewith, the authors frequently mix myths and legends of different cultures separated by times and continents in the same work.
We know many amazing screen versions of such novels and «The Lord of the Rings» takes the special place among them. By the way, free online slot machines in fantasy genre are also wide-spread and extremely popular in online casinos. Some of them, like Fantasy Realm video slot, are devoted not to some special novels or movies, but just take the gamblers to the wonderful world.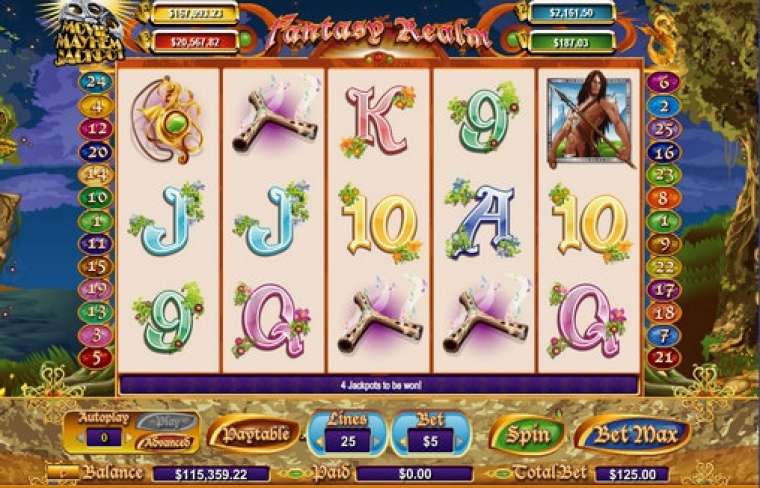 Play Fantasy Realm
Fantasy Realm slot machine has five reels and twenty five pay lines and the player can select any quantity of them to play on this video slot. An amount of the bet per each of the lines can vary in range from one cent to five dollars. This way, the maximal acceptable bet per spin is one hundred twenty five dollars.
This model is also provided with the special symbols, frees pins, progressive jackpots and lots of other exciting gaming options. The gambling feature is not provided by the rules of Fantasy Realm slot machine.
To receive a winning by the combination, it is necessary to pick several similar symbols at the active line (from two or three). The symbols have to be situated next to each other necessarily starting from the first left reel. An amount of the payoff is calculated by the bet per line multiplied by the special index, provided by the table for each of the possible combinations (the maximal is x3000).
Please read about exceptions from the described above rules in the following paragraph.
Fantasy Realm Symbols, Wild, Scatter
A beautiful queen of elves, a courageous centaur, a green dragon, a magic amulet, a wizard's hand, a fairy flute and signs of the values of playing cards from nine to ace are the symbols, which are imaged at the reels of Fantasy Realm slot machine.
There are also several special symbols in Fantasy Realm slot machine, such as Substitute (the queen of elves) and Scatter (a centaur).
Substitute (the same as Wild) drops out only at the first and the fifth reels, that's why it is not able to form the combinations on its own. However, it help forming it of other symbols, taking place of the missed (except of Scatter). Herewith, it doubles the payoff indexes up.
Moreover, when Wild appears at the both reels, the player gains a right for twenty five free spins by the current bet and quantity of active lines. Double payoff indexes are in force during these spins, which can also be prolonged.
Scatter forms combinations independently of active lines. Two, three, four or five such symbols at any position of the screen give a winning in amount of one, five, twenty or two hundred total bets.
Fantasy Realm Bonus games
Any thematic bonus games are not provided by the rules of Fantasy Realm slot machine.
Jackpots
Movie Mayhem progressive jackpots are raffled in Fantasy Realm slot machine. There are four of them and they make difference to each other with its size (from several hundred dollars to hundreds thousand dollars). Every player is able to receive any of them, while those who are playing by high bets have higher chances.
It is not necessary to make any combination or fill other conditions to win a jackpot. You can get into the special bonus game, where you would have to open six bags in the cinema bar, during any of the gaming rounds. More golden tickets you manage to find, higher jackpot you get.
Fantasy Realm Interface
All the buttons and informational windows of the control panel of Fantasy Realm slot machine are signed with a beautiful font. It is easy to study out its functions even if you are playing in unknown languages. Actually, we have already explained the functions of different elements of the interface of slot machines developed by Cryptologic numerous times, that's why there is no sense in making it another time.
It is possible to play this slot machine in an automatic mode. The line with tips is situated under the reels. Amounts of the jackpots are displayed in the top part of the screen.
Conclusion
Fantasy Realm is a beautiful and pleasant in all respects video slot. You can bravely download this model if you like fantasy genre. The special symbols appear very frequently. You wouldn't have to wait for free spins for a long time. The right to fight for progressive jackpots is also regularly provided to the players.
Where to play Fantasy Realm for free or real money?
Fantasy Realm slot machine is presented in Inter Casino, which doesn't allow testing video slots without registration even in a training mode. However, it is possible to open an account just in a couple of minutes and you are not going to face any difficulties. You can also look for this game in other online casinos powered by the software developed by Cryptologic company.
Your responses about Fantasy Realm slot machine would help us making casinoz.me more interesting and useful for the readers. Please share your impressions in comments to the review and rate this game. Your opinion is very important for us.