 About
According to Greek mythology, Medusa was a snake-haired girl who was able to turn to stone anyone who gazed at her. Her hair was turned into snakes by Athena with whom Medusa had decided to compete in beauty. She was killed by Perseus, son of Zeus and Dana?, according to the order of the king Polydectes. He was not turned to stone because he did not gaze directly into Medusa's eyes, but saw her reflection from the mirrored shield he had received from Athena.
However her head did not lose its magical properties after her death and Perseus used it to defeat Polydectes who had wanted to marry his mother. The manufacturers of Playtech used this legend in developing an arcade game Medusa's Gaze.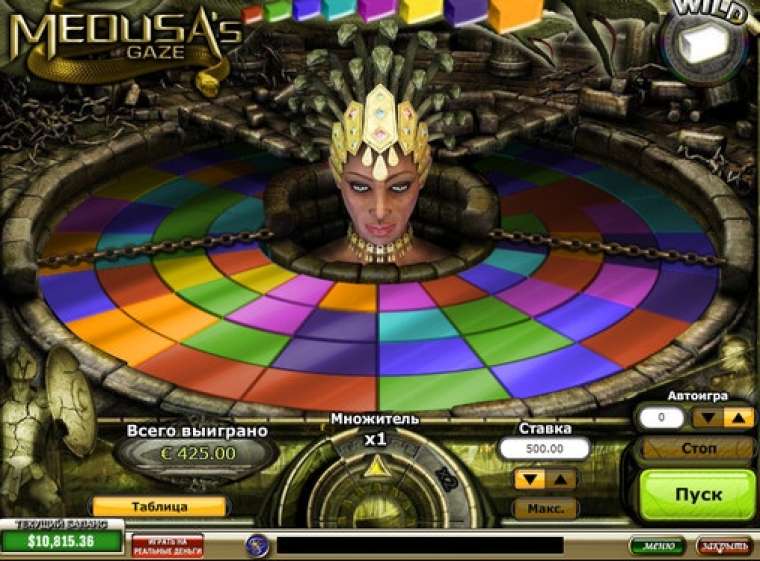 Play Medusa's Gaze
Medusa's Gaze is a 4-reel
free arcade game
with twelve paylines on which blocks of nine colors are located. The aim of the game is to collect a winning combination of three or more blocks arranged in a row on a single line or a reel.
The gameplay is extremely easy. It includes the following stages:
• The selection of the bet size ranging from twenty cents to five hundred dollars.
• Spinning the reels.
After that, the reels start spinning around the Medusa's head. The payouts for winning combinations are made according to the paytable. Then the blocks from these combinations fall and their places are filled with others. If a new winning combination is formed after this, the payout is doubled. Next time it is multiplied by three and so on. The maximum payout for a combination is x10,000.
The white blocks serve as wild symbols of the slot machines. They can replace any other blocks if this helps to form combinations.
Medusa's Gaze Bonus games
There are no bonuses in this game.
Jackpots
Progressive jackpots are not available.
Medusa's Gaze Interface
There is a Medusa's head in the middle of the window with the game Medusa's Gaze. Users can notice around it four reels composed of multi-colored blocks. Below there is a control panel with buttons used to select the bet size, activate the reels and open the paytable with multipliers. It is possible to activate autoplay mode in this game. Users can find this game at Tropez Casino and some other online casinos.
Conclusion
Like most other arcade games, Medusa's Gaze is very simple. You do not have to learn the rules or think over the next move. All that you have to do is to make your bet, activate the reels and hope for a successful outcome Nevertheless, the gameplay is very amusing. It is really exciting, because each next combination in one spin brings a higher payout. In short, Medusa's Gaze is a very good game that can diversify your visit to a casino.
Where to play Medusa's Gaze for free or real money?
The arcade game Medusa's Gaze is offered both for free and for real money at
various online casinos
running on software developed by Playtech. You can also test it without registration in free mode by clicking on the screenshot located above this review.