 About
It's surely great to enter the slot machine and play not only against it. You can immediately find your friends with the same hobby and play with them. Users can search for friends using the guest book, which is available for every player. After receiving the permission to play together, you enjoy amazing spins, have fun and get real payouts.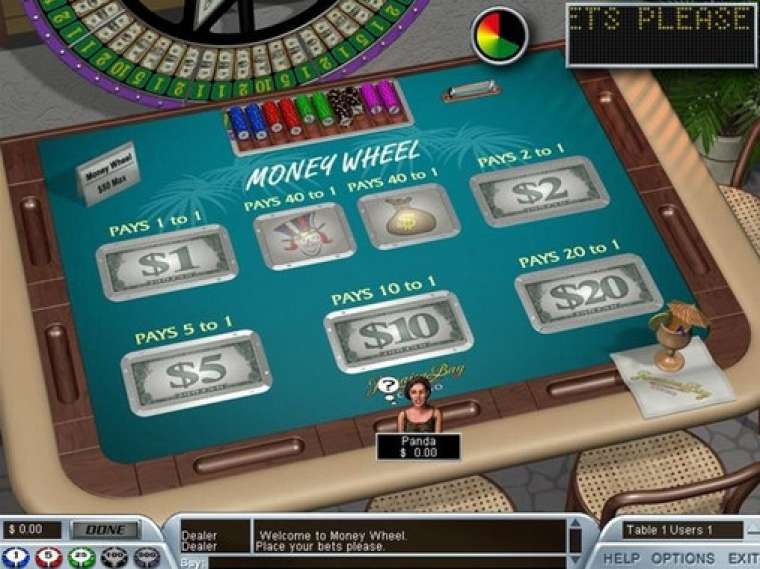 General description
In the slot machine Money Wheel, each player receives an opportunity to make bets whose limit ranges from one to fifty euros. To do this, users have the time limit between fifteen and thirty-five seconds, so do not miss your chances reflecting too much.
The slot offers a fairly simple system of bets. Just select certain fields on which bets of selected sizes are placed. If you win, payouts are credited according to the special pay table:
If you stake on: €1 bill payouts are made 1:1, €2 bill - 2: 1, €5 bill - 5:1, €10 bill - 10:1, €20 bill - 20:1, joker and money bag- 40:1.
The player, who started the game on the slot machine Money Wheel earlier, may provide or not provide access to play on his field for new players. He determines the time limits for bets. Thus, he manages the game.
It is possible to join the round by clicking the Take a Seat. Then using the left mouse button it is necessary to select the chip value. Clicking the same button over the selected chip users determine the required number of bets. The total bet amount is displayed in the lower left corner.
Before the beginning of the round, the bet can be changed clicking on the chip with the right mouse button and removing it. Clicking Finish means that the bets are made. The wheel starts to spin when the bets of all players are made.
Users can repeat the previous bet by clicking the button Rebet and the regulation of the size. Gamblers finish their actions clicking the button Finish.
Symbols
The playing field of the slot Money Wheel has betting sectors and the wheel, which determines the results of rounds. These items resemble those that are available in the real slot machines at brick and mortar casinos.
Bonus games
The slot machine Money Wheel has no bonus rounds.
Jackpots
The slot machine Money Wheel does not provide progressive jackpots.
Interface
As mentioned above, the interface of the slot machine Money Wheel is very similar to the roulette of real casinos. In addition, there are options such as the random direction, information about the current number, the dealer's text in the chat, sound effects and nice music.
Conclusion
The goal of the game Money Wheel is to predict numbers, which will be shown when the wheel stops. The game is unusually simple. The gameplay is described above. However it is interesting and useful to play, both from the moral and material point of view.
Where to play for free or real money?
It is allowed to test the video slot Money Wheel on the website of Casino Club Russia. Demo mode is also available on the website Casinoz.

User comments

Comments

User comments