 About
We have already told about principal differences between European and American versions of blackjack in the previous publications at Casinoz numerous times. So, our regular readers should understand the topic clearly.
In this review we suggest you to learn about «Multi-hand European Blackjack Gold» online blackjack which was released by Microgaming company. It is a cool game with quite profitable rules, a magnificent interface, numerous settings, the automatic game and a table of the basic strategy.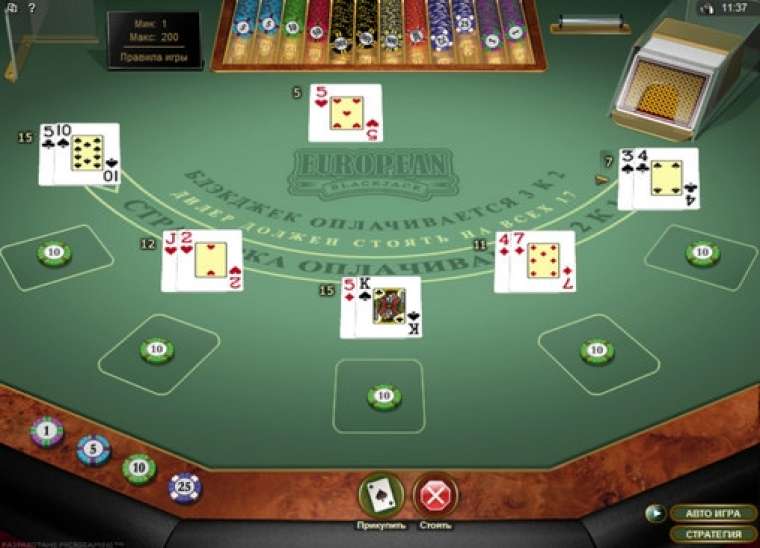 General description
«Multi-hand European Blackjack Gold» is a
free online blackjack
developed by Microgaming company. It is payed with two standard packs without jokers by the European rules.
It is allowed to stake on from one to five boxes. For example, it is possible to stake from one to two hundred dollars in Crazy Vegas Casino.
The general rules of blackjack are carefully explained in the special articles at Casinoz, but in the following review we are going to discuss the main points of the rules of «Multi-hand European Blackjack Gold» game:
The dealer takes one card and puts it face-down.
The dealer stops at any seventeen.
It is allowed to take up to nine extra cards. In case of no bust in eleven cards at the box, it plays automatically.
It is possible to split once.
Only the same value cards are allowed to be split (two nines, two jacks and etc.).
Ace and any card of ten points value at the box made by results of split is not considered as blackjack and works like twenty one.
Double can be made only at hard 9, 10 or 11 points.
Double is impossible after split.
There is blackjack insurance in case of ace in dealer's hand.
There is no surrender here.
The standard winning box of «Multi-hand European Blackjack Gold» is paid as 1:1, blackjack - 3:2, insurance - 2:1.
Bonus games
Any bonus payouts are not provided by the rules of «Multi-hand European Blackjack Gold» online blackjack.
Jackpots
A progressive jackpot is neither drawn here.
Interface
This game is available with the multi-language interface in the downloadable version of Crazy Vegas Casino. However even if you download this blackjack in unknown language, you can easily understand functions of all buttons. That's why there is no sense in our explanations.
The control panel is available in two modes: Regular and Expert. In the second case buttons of the automatic game and the table of basic strategy are available. «Multi-hand European Blackjack Gold» is provided with various user's settings.
Please remember that this model has no hints for the players, so you should carefully follow the buttons you click at. The computer deals you with a card to twenty or stops the deal at seven without any warning if you give such a command.
Conclusion
All games of «golden» series by Microgaming are provided with a very convenient and beautiful interface. «Multi-hand European Blackjack Gold» is not an exception. That's why playing this online blackjack is pleasant not only because of its quite profitable rules.
If you are not sure in your knowledges and skills, please learn the thematic articles about blackjack in
«Content»
and
«Strategy»
departments at our website. They will help you to improve your gambling skills.
Where to play for free or real money?
Crazy Vegas casino provides an opportunity to play «Multi-hand European Blackjack Gold» for fun as well as by the real bets. This version of blackjack is available in the downloadable and flash modes. This game can be also found in other online casinos, powered by the software developed by Micorgaming. It is possible to test this model right at Casinoz without registration by the virtual bets.