 About
At the first sight at this game you can immediately notice that something's wrong here and you are absolutely right, because here is absolutely unusual game, which stands agains the common range of slot machine. «Multi-Player Wheel of Wealth» is exactly the wheel, which you would have to spin to win the desired prize.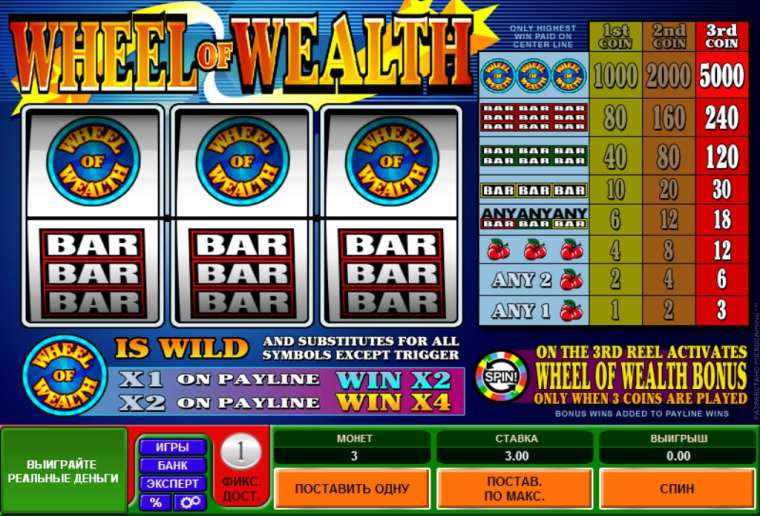 Play Multi-Player Wheel of Wealth
The base of «Multi-Player Wheel of Wealth» is the five reeled non-progressive online video slot developed by Microgaming company, which has twenty five pay lines. This model has Wild symbol, Scatter symbol, extra multipliers of payoffs, free spins and bonus rounds. An amount of the maximal payoff is 50000 dollars.
It is an interactive game with integrated chat. This way you can communicate with other participants, which is an extra feature of this model.
The minimal bet of this game is just one cent, so there is no sense in playing «Multi-Player Wheel of Wealth» video slot without registration, because you are not going to be ruined playing by such low bets. Many players prefer downloading this slot machine free first to learn its rules carefully and then start playing by the real money, but it is not necessary while low bets are available. Moreover, the interactive mode is unavailable in this case. The functionality of this game has something new.
Multi-Player Wheel of Wealth Symbols, Wild, Scatter
The range of gaming symbols is standard for slot machine. The most valuable symbols image luxurious prizes fortune wheel in some unbelievably expensive casino. One of these luxury items is a private supersonic jet. There are also a red sport car, a diamond in square frame, huge golden bars and packed decks of green bills. At the additional symbols you can see six kinds of fruits and berries - consolations prizes from times of the first slot machines, such as a watermelon with cut part, a juicy orange, a lime, a red apple, grapes and a couple of cherries. Scatter symbol of this game is golden-platinum coin with a dollar sign. Wild symbol is a small rainbow icon of the fortune wheel with «Wheel of Wealth» title.
Jackpots
The range of acceptable bets of «Multi-Player Wheel of Wealth» slot machine is from one cent to one hundred twenty five dollars, while an amount of the maximal jackpot is 50000 dollars.
Multi-Player Wheel of Wealth Interface
As it was already mentioned above, «Multi-Player Wheel of Wealth» is not a standard video slot. At the beginning of the session the player signs up in the room with five other gamblers which gaming fields can be seen at the screen around the fortune wheel. AS we have said, you can talk with other players online on any subjects and follow their gameplay, combinations and wins. However accounts and amounts of other players' bets are unavailable as well as other's can't see your's. Moreover, you can play in the bonus round together with other gamblers. The winner is announced right after the bonus round that is especially pleasant if the lucky one is you. Talking in account this feature, there is no illustrated background in this game, because there you can see net screens of the neighbors by the game. Talking about other elements of the design, we would like to note bright colors, clarity and big size of all symbols without any unnecessary decorations, that makes «Multi-Player Wheel of Wealth» slot machine user-friendly and playable.
You can see the following controlling buttons at the screen:
Paylines – select quantity of the active lines.
Coins – select an amount of the bet per line in coins.
Autoplay – the automatic game mode.
View Pays – open the payment table. This button opens a new tab where everything is described in details to let the players understand gaming conditions without any difficulties. All winning combinations are displayed together with prizes which you get in case of win.
These buttons are situated in the bottom part at the side next to each other. There are also bottom buttons, which are located horizontally:
Bet helps you to stake. With help of plus and minus in the bottom part of the button you can set up an amount of the bet. We should say that there are another plus and minus next to the round button of coin denomination. You can set it up according to your gaming strategy.
The traditional «Spin» button start a new spin in this model.
Conclusion
We should say that the players need some time to study out all the details of this game, because it makes a big difference to the classic slots with simple gameplay.
Nevertheless, «Multi-Player Wheel of Wealth» has lots of advantages.
The convenient interface, the unusual form of game and the colorful design would definitely suit the tastes of many players, which can happily go to undiscovered journey playing on «Multi-Player Wheel of Wealth» slot machine. Its name is so promising! Why don't you try it? Slot machines can cots a lot for you sometimes, but nothing can be compared with pleasure they give you.
Where to play Multi-Player Wheel of Wealth for free or real money?
Betfair Casino is the secure establishment which can easily become your guide in the world of online games. We recommend you playing on «Multi-Player Wheel of Wealth» slot machine in this online casino.Please share your impressions of «Multi-Player Wheel of Wealth» slot machine with us and other readers of Casinoz. You can write your responses in comments to the review and rate this game. Your opinion is very important for us.