 About
Do you remember the old folk tale about a hen that lays the golden egg? Many readers of the portal Casinoz were probably falling asleep in the childhood listening to this uncomplicated story that was told by their mother or grandmother. Developers of the company Sheriff Gaming were most likely dropping off to sleep listening to this story and they created a new free 3D scratch card Golden Eggs on the basis of this fairy tale. And we offer gamblers a review of this funny and colorful gambling game.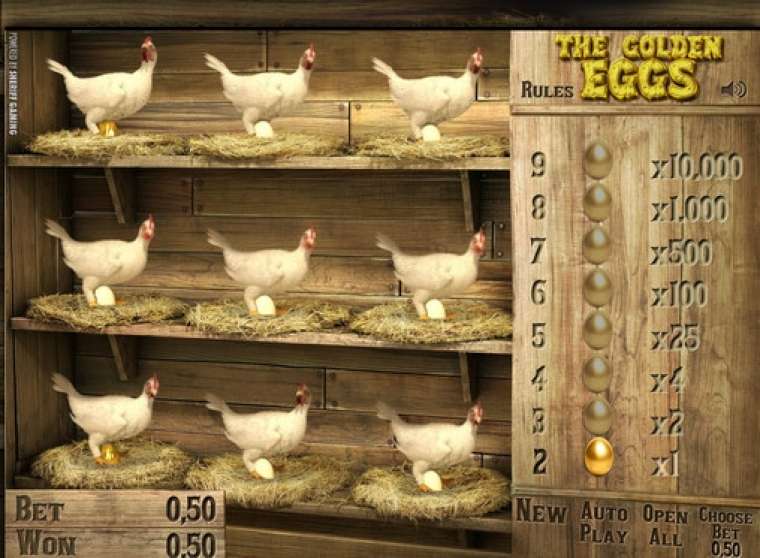 General description
The Golden Eggs
is an original 3D scratch card
, designed in the form of a chicken coop. It consists of nine sections, made of chickens laying eggs.
The aim of the scratch card Golden Eggs consists in finding over two golden eggs in a single ticket. The more of them are found, the higher is the winning sum. The maximum odds are equal to x10000.
The scratch card Golden Eggs allows gamblers to stake from fifty cents to five euro, though ranges in some casino are slightly different. Therefore, buying a ticket of the highest denomination, gamblers can hope to win fifty thousand euro.
The official theoretical payout percentage of the scratch card Golden Eggs comprises 88.96%.
Bonus games
According to the rules for the scratch card Golden Eggs, bonuses are not provided.
Jackpots
The progressive jackpot is not drawn in the scratch card Golden Eggs.
Interface
It is not difficult to play the Golden Eggs. In any case, we are going to explain what features are performed by the major elements of the interface.
New allows buying a new ticket
Open All opens all sections
Choose Bet allows choosing the size
Auto Play turns on automatic mode
Rules allows becoming familiar with rules
Bet indicates the bet size
Won is a won sum
Eggs can be searched manually raising hens one by one or it is possible to get them all up at once by clicking the button on the control panel. It is also possible to turn the sound off. There are no other user settings.
Conclusion
Of course, gameplay of the scratch cards Golden Eggs is not very original, but it has a very colorful and realistic interface with a very funny animation of characters. So it is really interesting to play this scratch card. And the highest odds are quite impressive. Just do not forget that the game has low theoretical payout percentage, so do not get involved in it.
Where to play for free or real money?
The portal Casinoz can recommend that gamblers should visit Come On Casino or Jackpot Red Casino to play the Golden Eggs. Both establishments allow testing gambling games without registration using conditional bets. However the products of the company Sheriff Gaming are offered by many other worthy online casinos. Choose one of them with the help of our reviews. In addition, gamblers can play it "for fun" directly on our website.